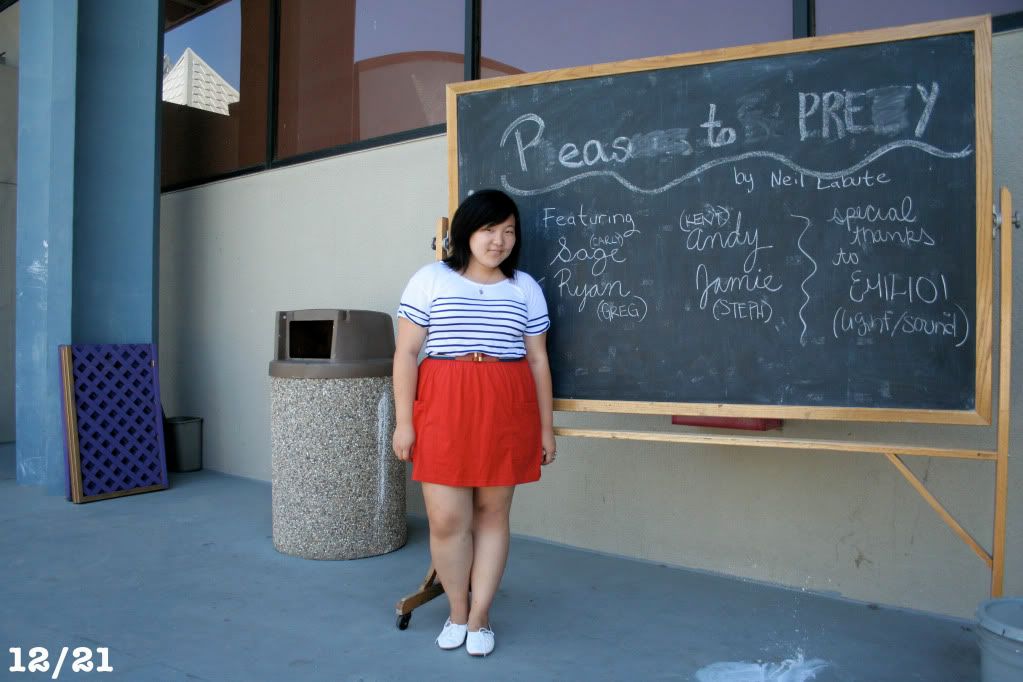 Hello!
Today is mine and Robert's three and a half years anniversary! It's also my parents' 24th wedding anniversary. It's kinda ridiculous how quickly time has gone by over the days, weeks, months, and years. We're not doing too much to celebrate since Robert has a final on Wednesday and MCATs on Thursday so I didn't dress up much at all. We are going to dinner and then after we're going to watch
Salt
; but we are planning a trip to Las Vegas in a couple weeks. I'm so excited because my challenge will be over by then, and I've heard Vegas has become quite the shopping city! I probably won't be able to afford anything anyway. It'll be nice to walk into a store again though.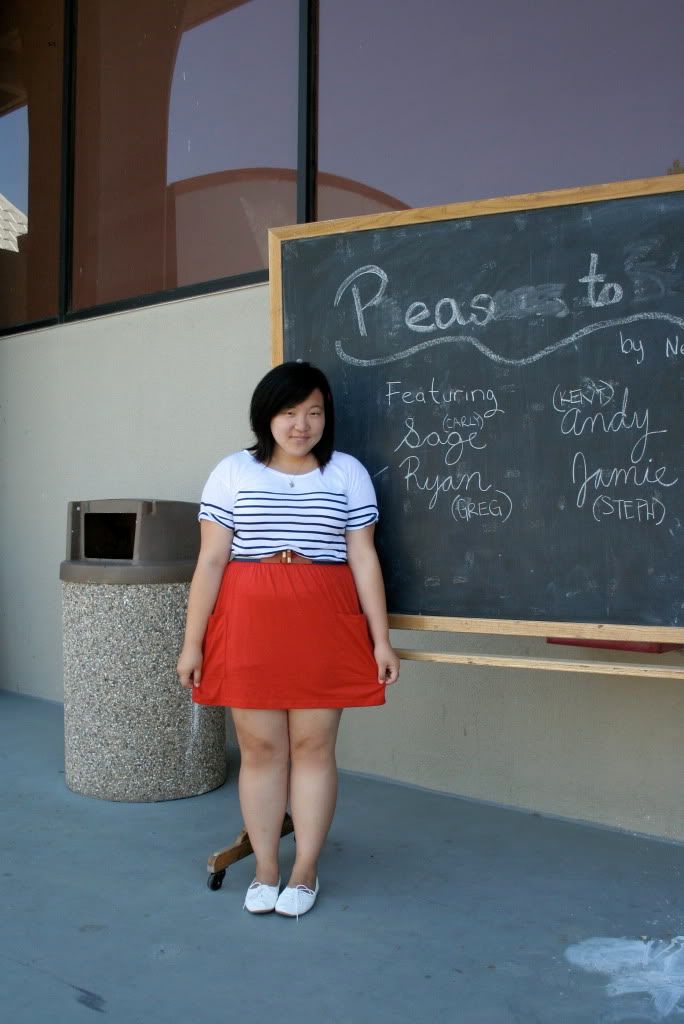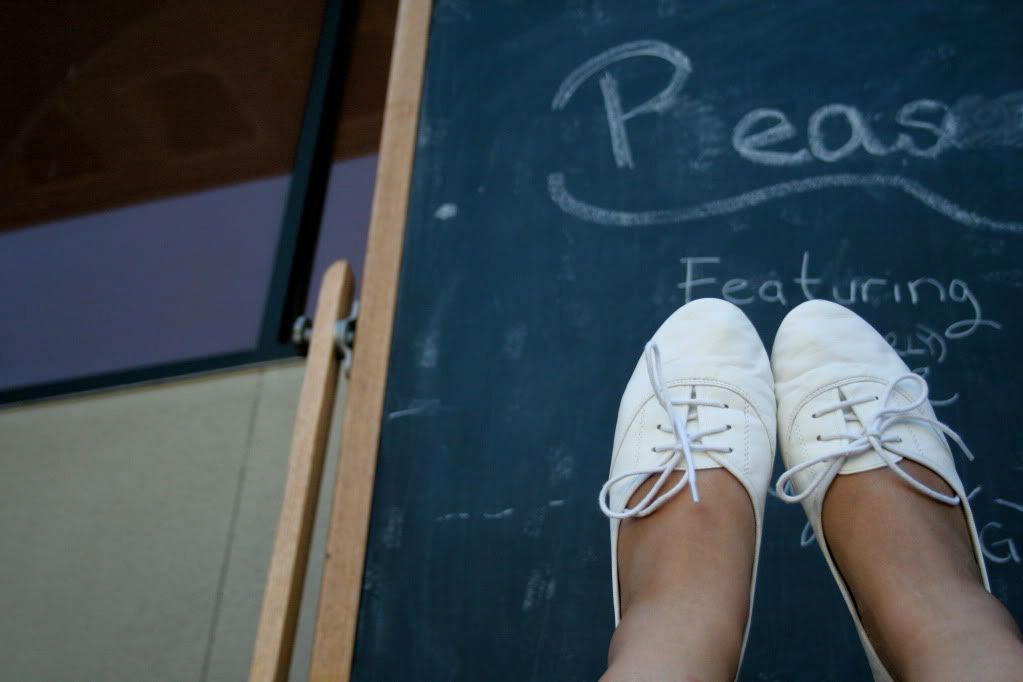 I bought this skirt from the
Hautelook
American Apparel sale, thinking it'd be a red skirt to complete my nautical outfits. But it turned out to be a reddish orange color, and so I am at a loss as to how to style it. I added it in as one of my 21 items to challenge myself, but it's just been sitting at the bottom of the pile for weeks now. I decided to give the nautical look a go with this skirt and am kinda indifferent to how it turned out. But...I do love my new shoes! They were totally worth the wait. I already know they're going to go with everything. Even though they are blindingly white, I'm so worried that they're going to get dirty too quickly. I need to get myself another Tide To Go pen.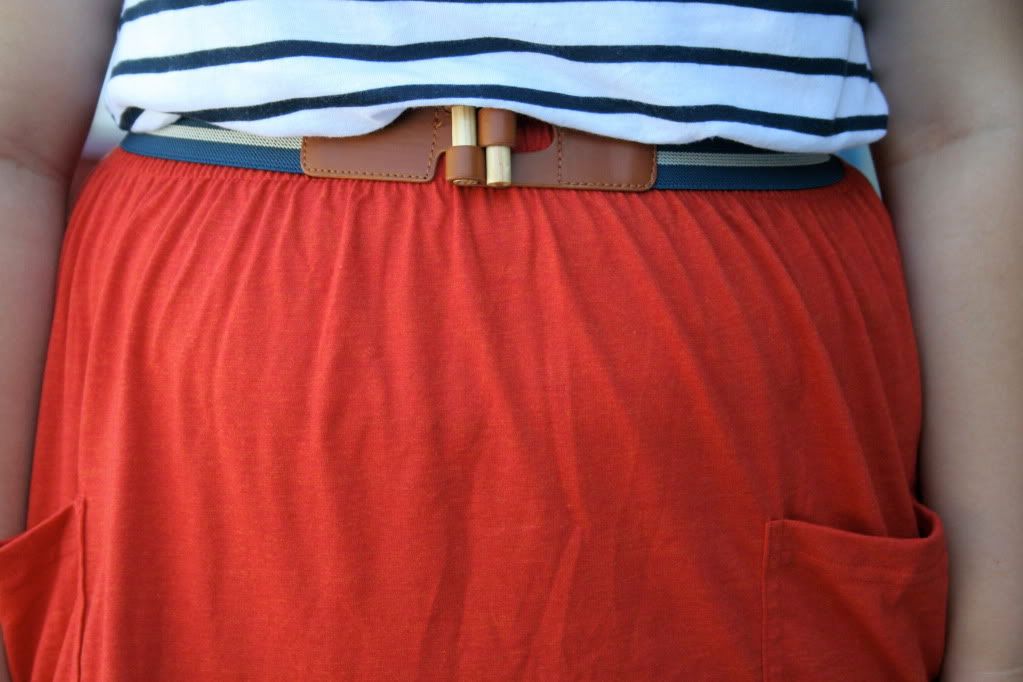 I went to school today to print my photo projects. While Robert and I got lost trying to find the photo lab, we stumbled upon this courtyard. I really liked the chalkboard and its title, "Reasons to Prey," so after I printed my photos, we came back here to take some outfit pictures. As I was walking through my campus today, I was hit with a strange feeling of nostalgia. Tomorrow will be my last day at this university. And while it wasn't the best three years, it's still my alma mater--well my first one anyway. I can't say I'll miss this place, but I can't say that I won't either. Maybe tomorrow's post will be some sort of tribute to the place.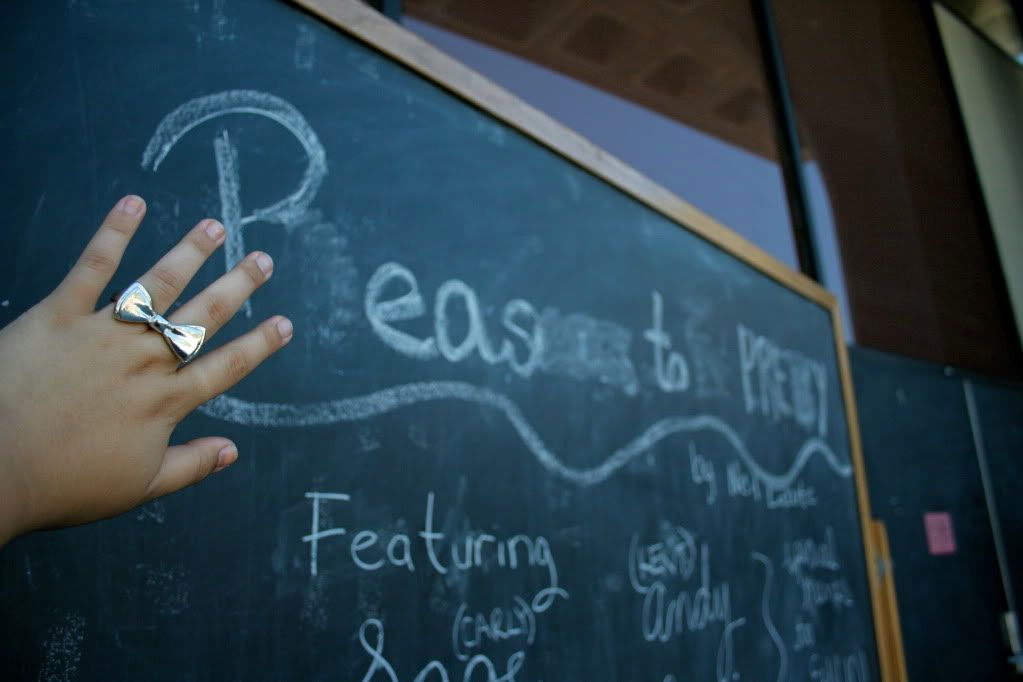 I think I'm starting to feel the detoxification part of this challenge. I haven't shopped/bought anything in 14 days, and yet...I'm no longer freaking out about what to wear in the mornings. I've realized that I do have
a lot
of clothes--a lot of
cute
clothes at that. I'm starting to look at my other clothes with a new appreciation and excitement. I can't wait to start remixing those too. I have really learned the importance of accessories--a simple bow belt can go such a
looong
way. Once my shopping ban is over, I need to buy with my mind and not my heart, because my heart falls in love with everything too easily.
This challenge is really reminding me why I started this blog in the first place--to channel my creativity with clothes and photography; and that creativity shouldn't be/doesn't need to be sparked by a weekly, sometimes even close to daily, new thing. I'm really liking the idea of a minimalistic closet. Actually, all my clothes used to fit in a small cupboard while my closet was used as the family storage; now my closet is bursting. I'll probably have a
shop
update real soon. I think at the end of my closet cleansing, all I'll be left with are a few basics, my collection of striped tops, skirts, and dresses. And honestly, I'm a-okay with that!
12/21
Until next post,
Jasmine
outfit: striped top -- gap; belt -- uo; red skirt -- aa; pink bow -- h&m; bow ring -- f21; oxford flats -- aldo