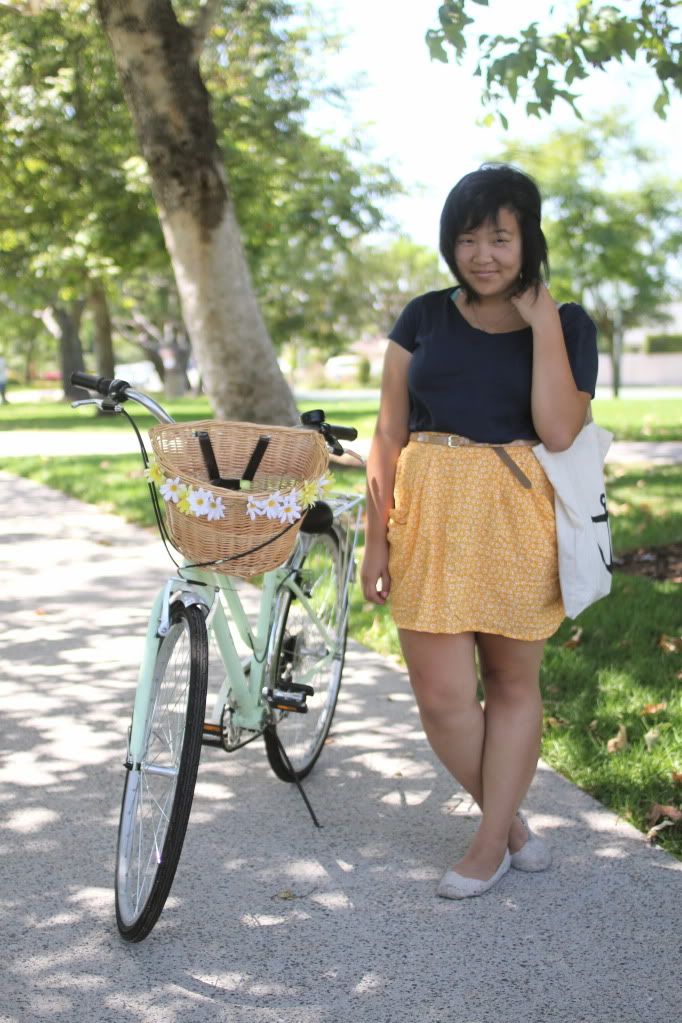 top - h&m / skirt - h&m (via swap with

chloe

) / belt - gap / shoes - aldo / tote bag - lulu letty
Hello!
It felt weird wearing a skirt again after weeks of wearing shorts. Unfortunately I chose a particularly windy day to do so. What can I say? Weather forecasting was never really my forte. I'm sorry (but not really) that blogging hasn't been a priority of mine lately. As I explained in my last post, life is just too wonderful right now to be worrying about what I wear or taking good pictures. As much as I love having photographs to remember these memories, it's even better actually experiencing them. Sometimes I think about quitting this blog, but it has become such a huge part of my life that it's hard to let it go (I'm really sentimental). I just feel that this blog has outlived its purpose of helping me discover my personal style. I love that I have a style that I can call my own. However when creating this blog, I didn't expect that so many amazing friendships would be formed during the process. I'm thinking of following in
Mel's
footsteps and start a new blog--one that's geared towards lifestyle rather than fashion. It's just an idea I'm throwing around in my head. Who knows if I feel the same when/if I stop having such a busy real-life social life...? It's tough balancing two social lives: online and real life. Such stupid and shallow problems to have I know.
The one perk of being a fashion blogger is being able to swap with other fashion bloggers.
Chloe
approached me a few weeks ago and I was so excited! Her package arrived all the way from England carrying this skirt and 3 dresses. The only sad part about swapping is having to return the items, but luckily she has kindly gifted this skirt to me. I love its happy yellow color. It definitely makes getting out of shorts so much easier. I can't wait to show you what else we have swapped!
I'm LA-bound for a few days for some more Summer fun. I'll be back on Saturday or Sunday!
Until next post,
Jasmine