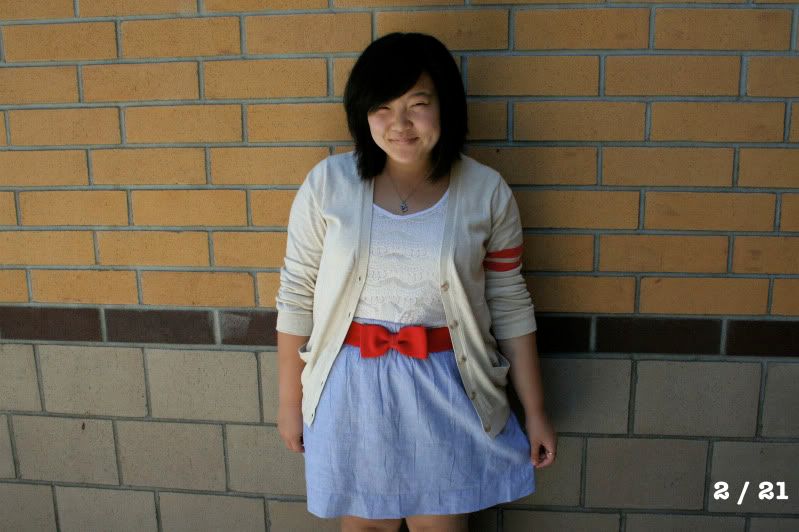 Hello!
Phew! Three posts in a row! I feel so productive today! I pretty much completed my photo projects in class today and have no idea what I'm going to do for three hours in class on Thursday since that day is also a work day. I even did laundry today so that I have my clothes ready this week; it was a little bittersweet though seeing/washing clothes that I can't wear for a while. Today is day two of my 21 for 21 challenge!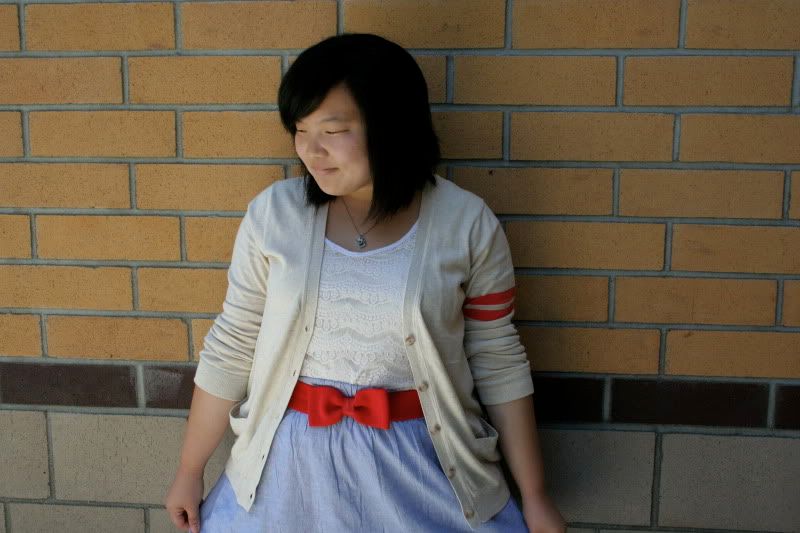 I have been looking for an oatmeal-color cardigan for a while now and am so glad I found this one at Gap. I got it during their buy one, get one free sale yesterday. I also got the same one but in grey to replace the one I lost. It's so soft and comfy that I was so tempted to buy all the other colors (I'll probably stalk them until they go on sale or until I go to an outlet). I will definitely be wearing this through out the year. Crossing my fingers I don't lose either of these! I also finally found my bow belt at H&M! I wanted to buy the black version too and am regretting it a little now; but red will work with just about everything in my closet.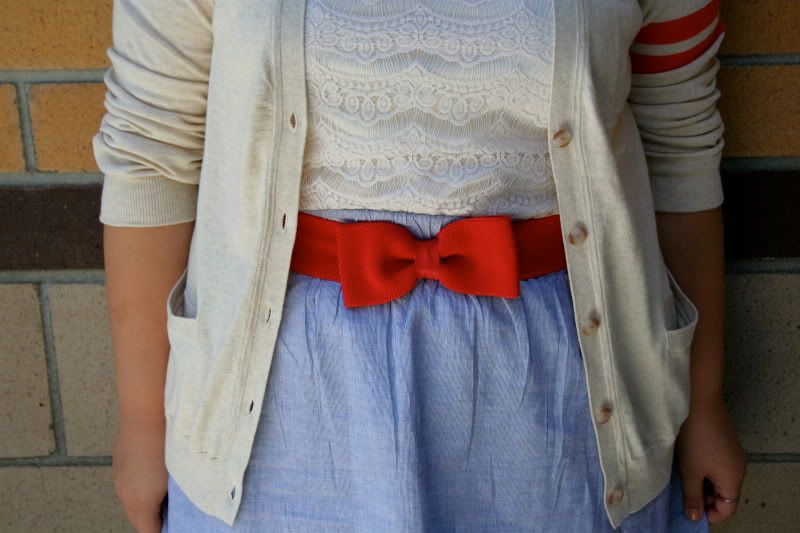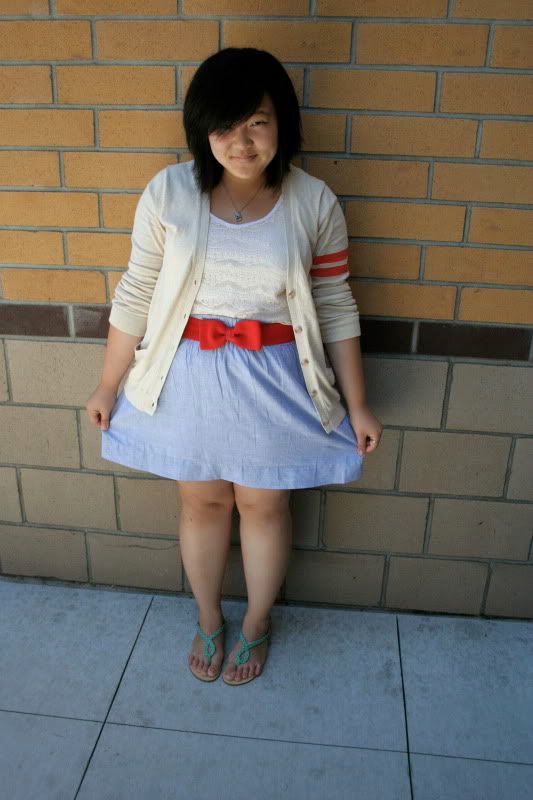 It was surprisingly super easy to pick out an outfit today because my selection is so limited now. I woke up late and thought of the outfit while I was in the shower. Yet, I think this is one of my favorite outfits in a long while. I just love how it's my usual color scheme but in a more subtle way. It's kinda scaring me how I haven't worn stripes in a week and a half, but looking at my
21 items,
that will all change soon. I've also been dressing really girly lately. Ha, I bet tomorrow's outfit is going to be an attempt to be less girly and incorporate all the stripes I can into one outfit just 'cause that's how I am.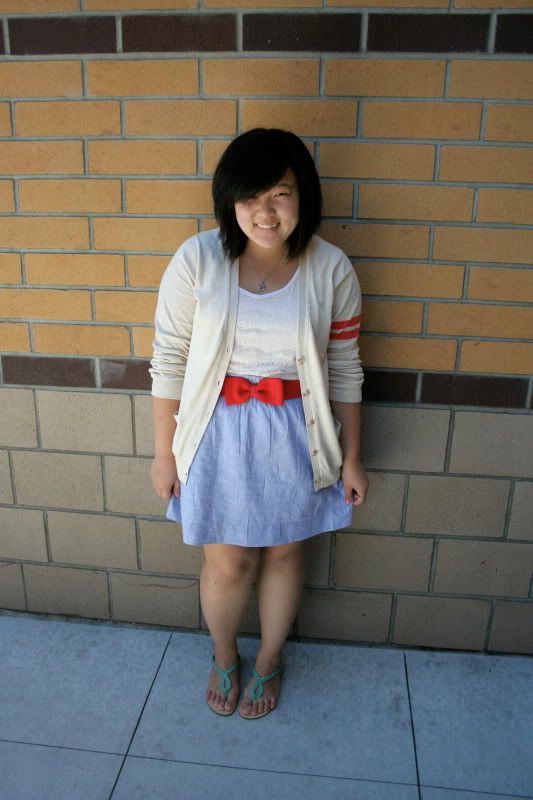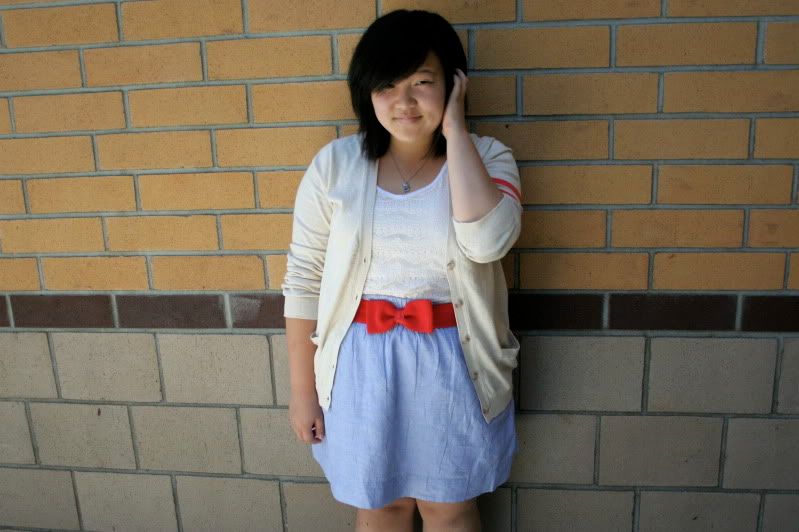 I'm growing more and more less self-conscious of taking photos in public. I forced Robert to take these photos at my school's student center--how much more public can you get? I would've liked to have chosen a more girly background, but we were both starving so it had to be super quick and this was on the way to the parking structure. My frustration at having such a boring background was quickly washed down with our delicious sushi lunch. Tomorrow though, I have to venture out on my own since he'll be in class all day. Let's hope I'll be brave tomorrow!
2/21
Until next post,
Jasmine
PS. Don't forget to enter the
Designer Apparel Giveaway
down below!
outfit:

oatmeal cardigan -- gap; lace tank -- f21; bow belt -- h&m; chambray skirt -- j crew; green sandals -- uo