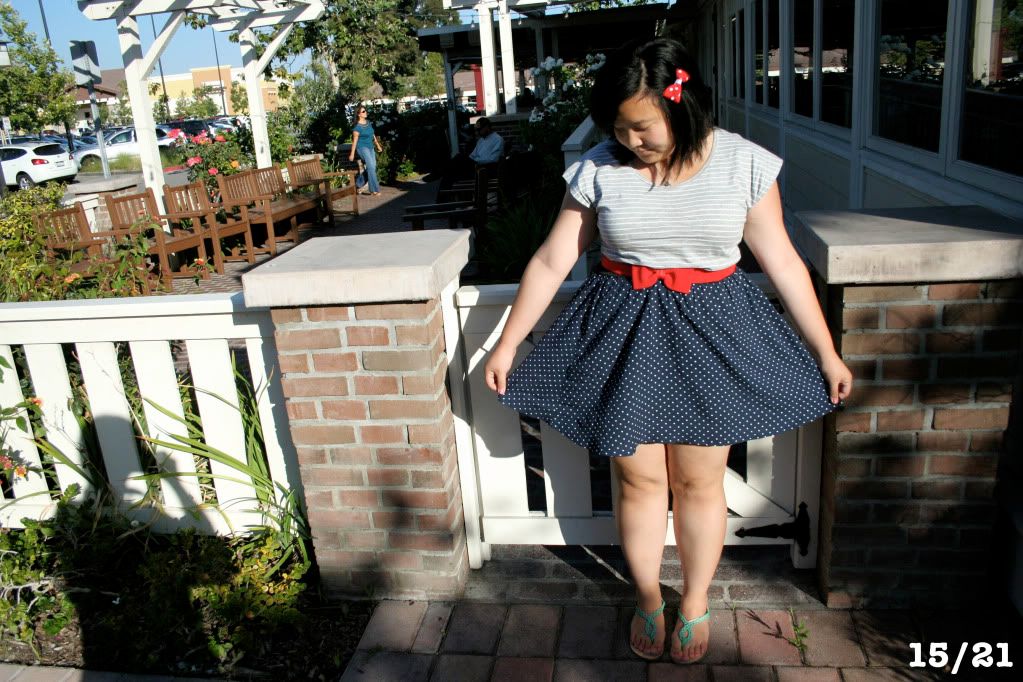 Hello!
So I know these aren't the greatest pictures. They're way too overexposed, but I'm pretty sure you get the gist of my 15th outfit. I did the dress as a top trick again. This skirt and this belt can't stand to be apart so here we are again. We took these photos outside of the restaurant we ate in for dinner, which was Lucille's Smokehouse BBQ . We decided to eat a bit nicer today because Robert just finished his MCATs! It was so delicious and I don't even like BBQ all that much! I want to use jars as cups now.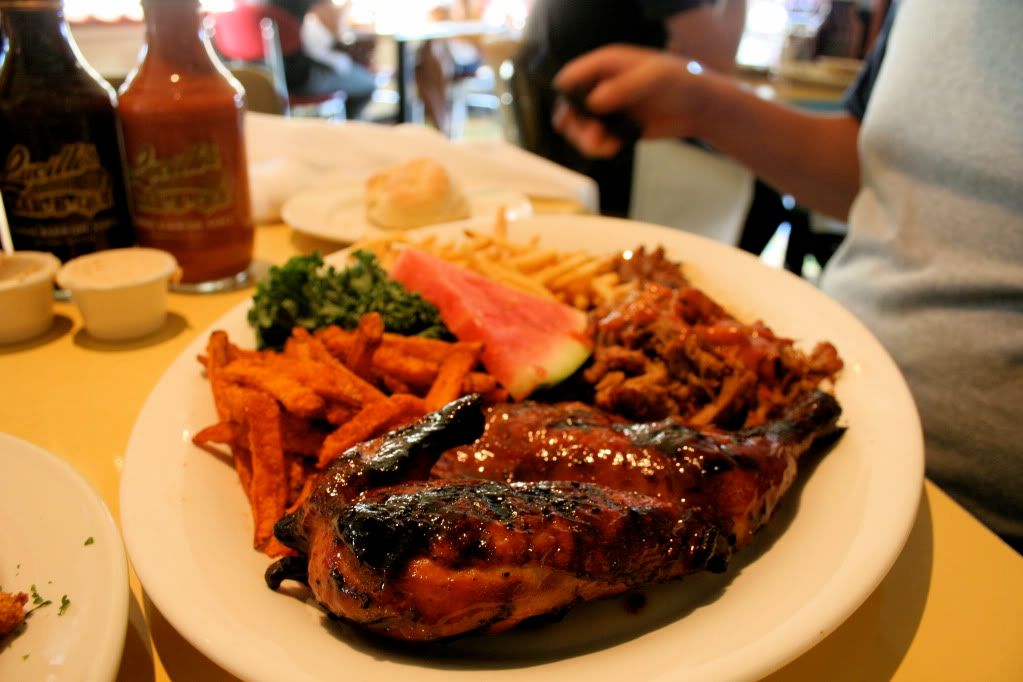 Chicken tenders as an appetizer; and a combo platter: 1/2 a bbq chicken, pulled pork, beef brisket, french fries, and sweet potatoe fries--
scrumptious
! I love how they added mint leaves in their sweet tea! I definitely need to have a mint plant in my future backyard to add to my teas! They also had really good biscuits.
While Robert was taking his MCATs, I stepped foot into a Good Will for the very first time. I'm pretty sure it won't be my last. I didn't look at clothes, don't worry I didn't cheat! I was there to look for things for the house. I scored a cute little box for $2 in which I'm going to store my belts; and a set of four Classic Coca-Cola glasses ($1 each) since my family is
always
running out of cups, and I hate having to wash them just to get a drink of water. So I guess now it'll take a wee bit longer to run out of cups. I have definitely missed the satisfaction of scoring cheap things.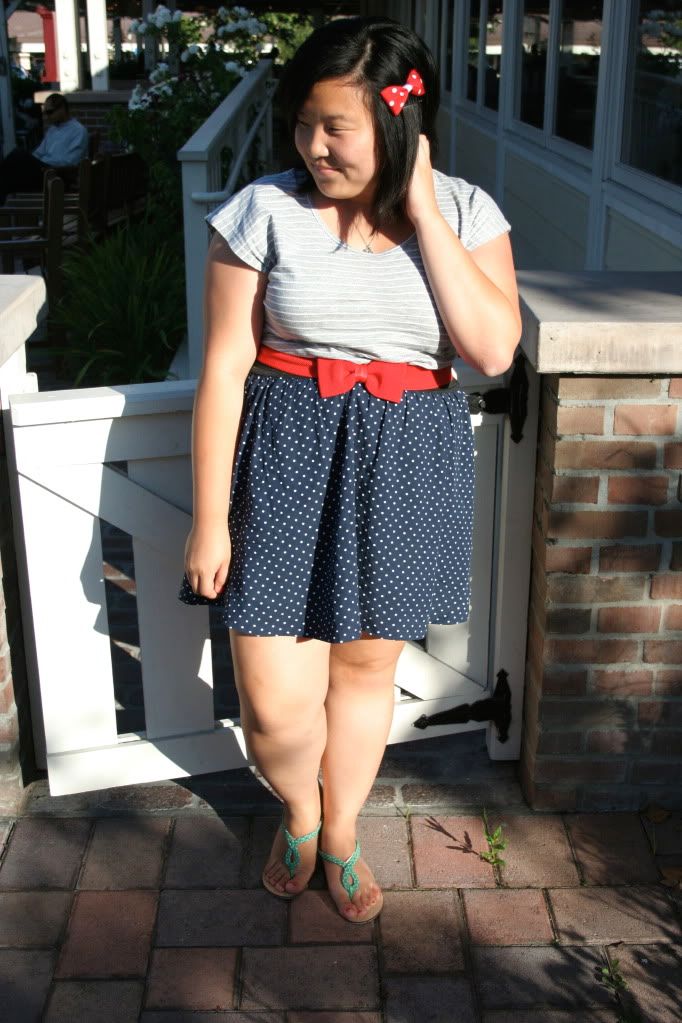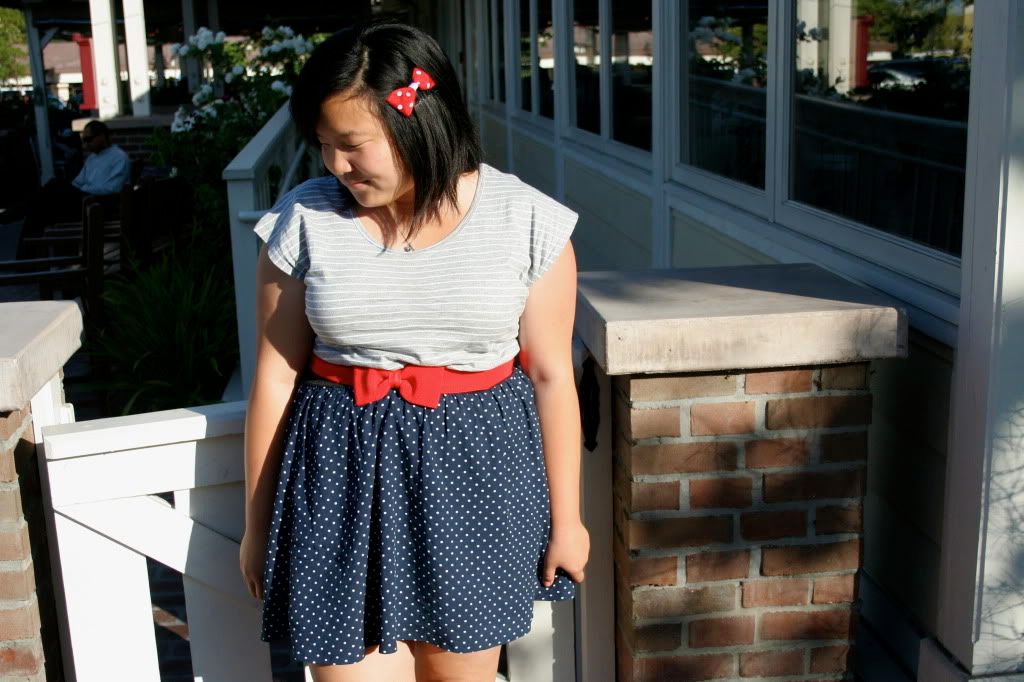 This polka dot bow is also the last of my pre-challenge haul. It reminded me of Minnie Mouse so of course I had to get it. I gave my best friend at work the other one so we can match. Speaking of work, I went in today to check my work schedule, and all the new managers looked pretty intimidating and serious. I'm pretty sure we won't be able to wear our bows together at work anymore. The whole place seems to have a black cloud over it--it's just so somber and serious now. Robert thinks I should embrace this change because it's a fresh start, but I can't help but feel sad and angry. Hopefully work for me will go smoothly tomorrow night. Don't know what I'm talking about? Catch up on
my last post
.
On a lighter note--only six more looks until my challenge is done! Yay! Now back to watching Project Runway.
Until next post,
Jasmine
PS. Currently obsessed with Eminem's "Not Afraid." The title of this post is one of my favorite lines from that song.
outfit:

dress/top and skirt -- cotton on; bow belt -- h&m; polka dot bow -- etsy; sandals -- uo