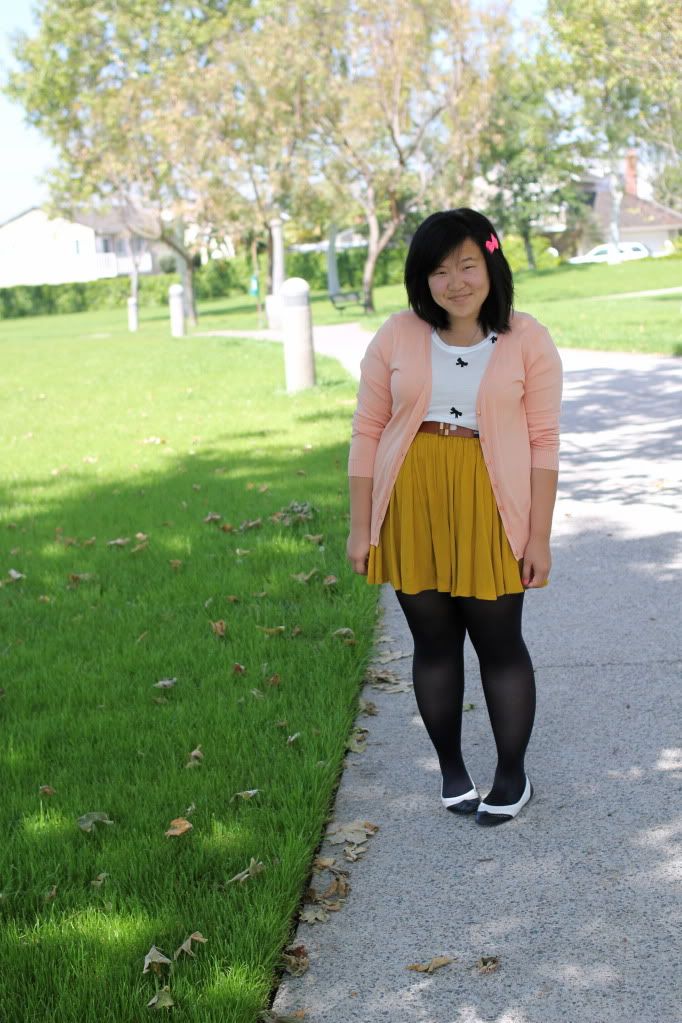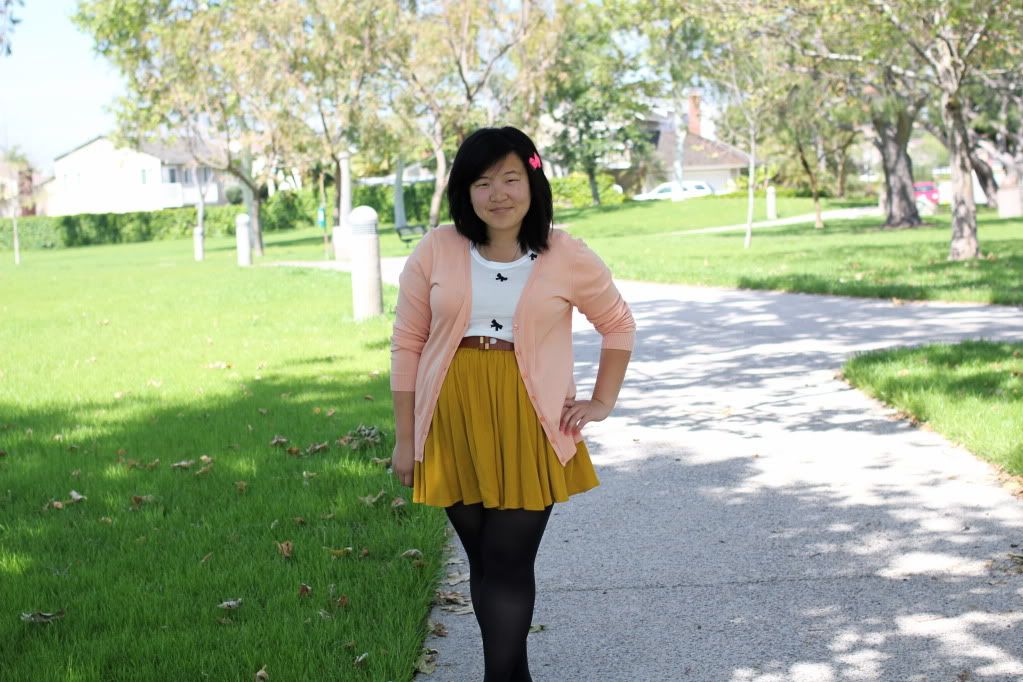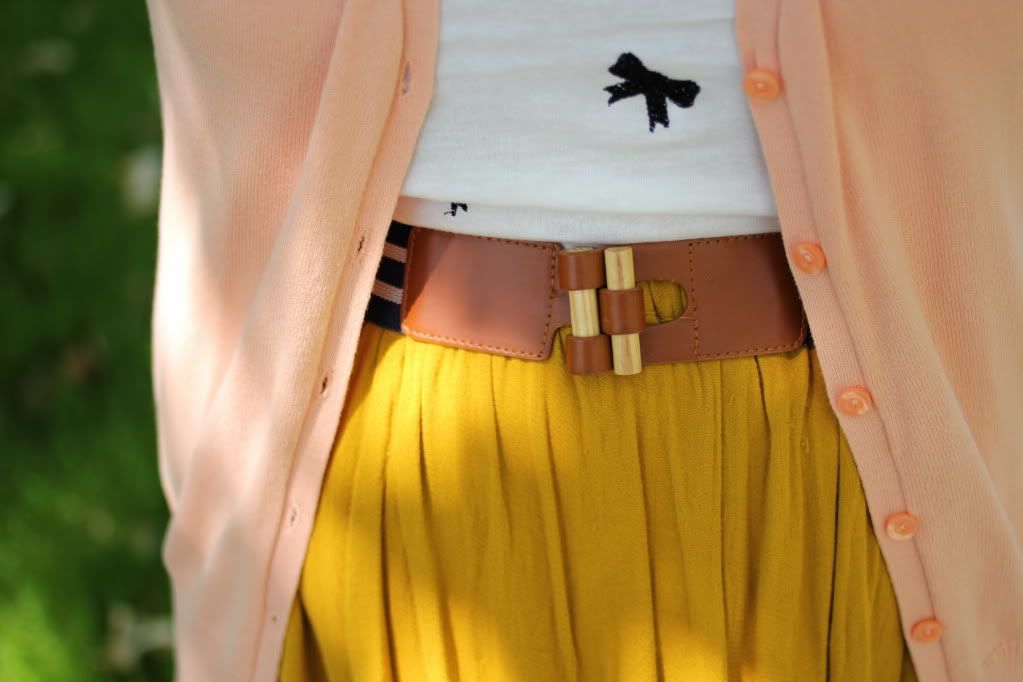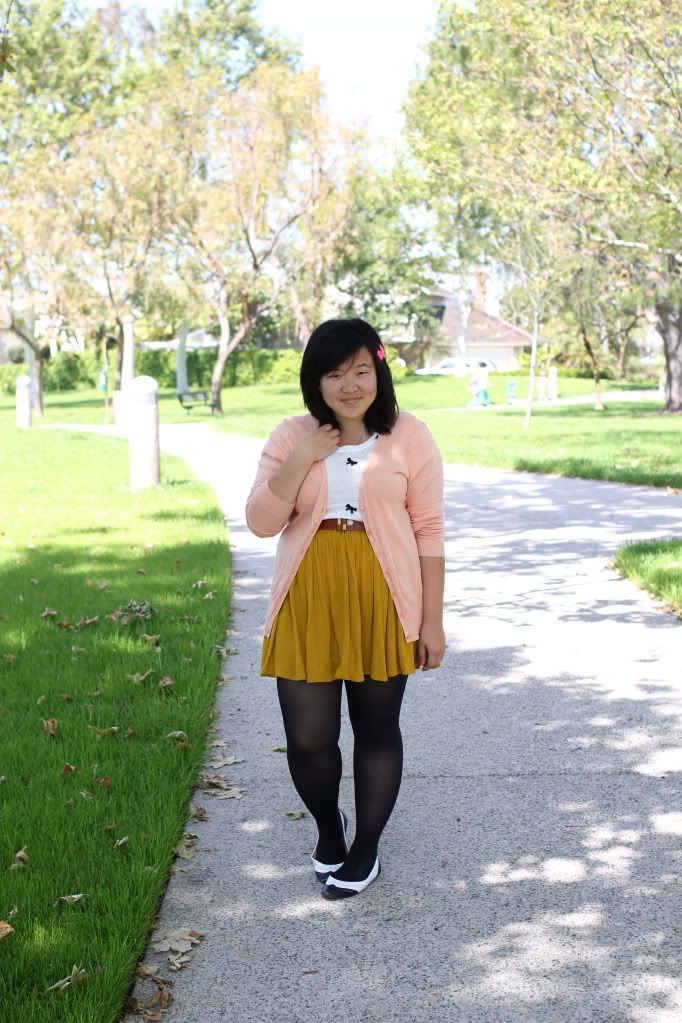 outfit: top and bow -- f21; skirt, belt, and shoes -- uo; cardigan -- h&m
Hello!
I told you I was trying to breathe life into clothes I already own, of course the easiest (and kinda counterproductive) way to do that is my remixing them with new clothes. Today I pulled out this peach cardigan that I wore once in Fall and it went into hibernation. I already know this cardigan and my mint green one in my last post are going to be my very good friends this Spring and Summer. This top is another thing I got from F21's 100% for Japan event. I first saw it on
Maggie
(she has it in grey) and I knew I had to have it! Bow-printed things make me so weak in the knees! Like my cream peter pan collar top, it's such a great alternative to a plain white tee. Spring is definitely here in California. Today is supposed to be a beautiful 86-degrees! I heavily considered going to the bathroom and taking off my tights while at work yesterday, but my bare legs just aren't ready quite yet.
I wore this outfit yesterday, in which I had a great morning. I woke up with the hugest craving for an iced coffee, which is really strange since I can't function without tea. So after I finished my homework and did my morning bike ride, Robert and I checked out the Madewell that recently opened up here, where one of the workers recognized me from my blog (Hi Reena!) and where I walked away with a new top. We got my upside-down, iced caramel mochiatto from Starbucks and McDonalds--satisfying two food cravings is better than just one right? Not really--I felt kinda sick for the rest of the day. I guess my body isn't used to intaking so much crap all at once anymore. Lesson learned: no more crap.
Until next post,
Jasmine