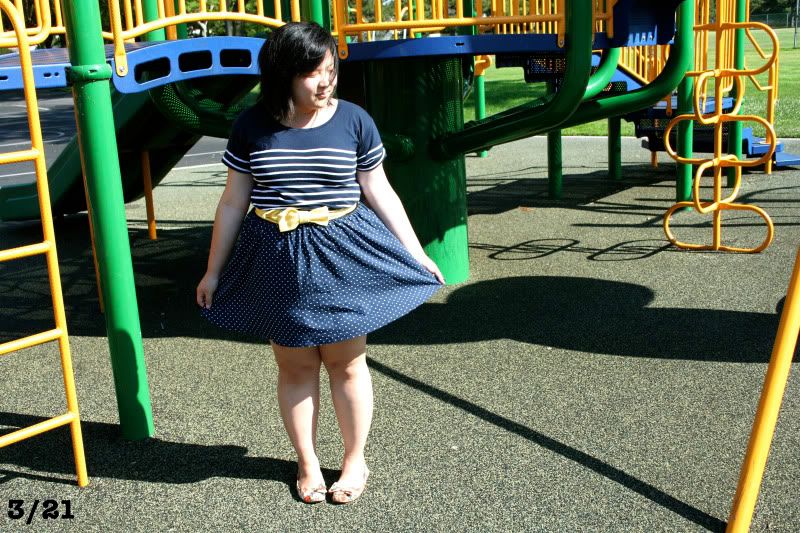 Hello!
So I already sold my first item from my newly opened
shop!
This is so exciting! Setting that up took up most of my afternoon. While Robert was in class, I ventured outside to take my own photos. I stopped at this one park and spotted a old creeper peering out of his window while I was setting up. He didn't even look away or flinch when I looked right at him so I just got back in my car and drove away. I then tried to take some photos at the lake again, but it was much too bright and the sun kept casting weird shadows on my face (which is why I'm looking away in so many of these photos). So I waited for Robert to finish class, and we went to my old elementary school. I like how my belt matches all the yellow in the playground.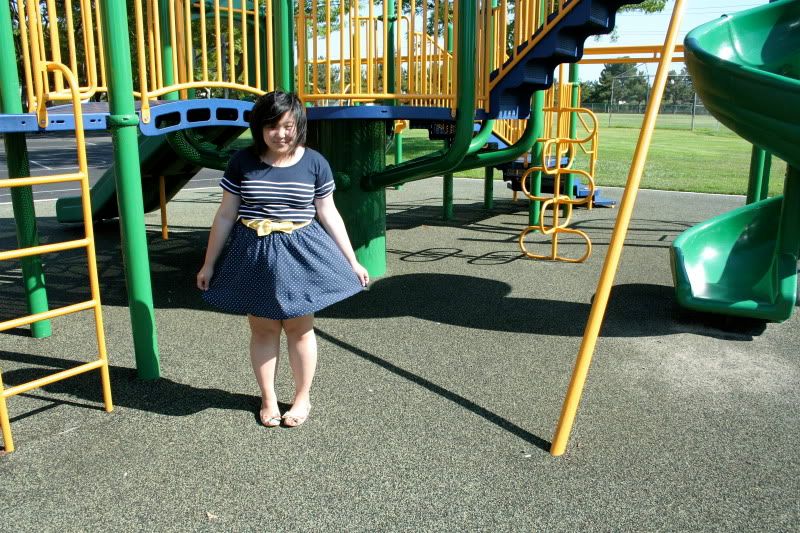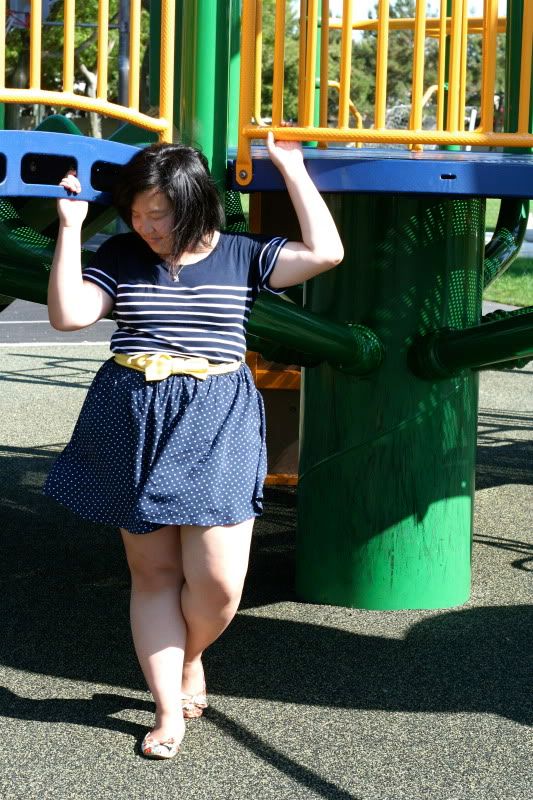 Robert has become quite the photographer. It seems like with each and every shoot we do, I have a harder time narrowing down which photos to use. He even told me he looked up photography tips--now that's love! It's so much quicker than searching for a trash can or something to prop my camera on. Since I'm not allowed to shop for clothes for the next 18 days, I swore I'm going to buy myself a tripod since I have no excuse now. I usually choose clothes over a tripod. We also took my 50mm lens out for a spin today. Can you tell the difference between the photos above and the two photos below? A new lens is another thing I need to buy before my challenge is over.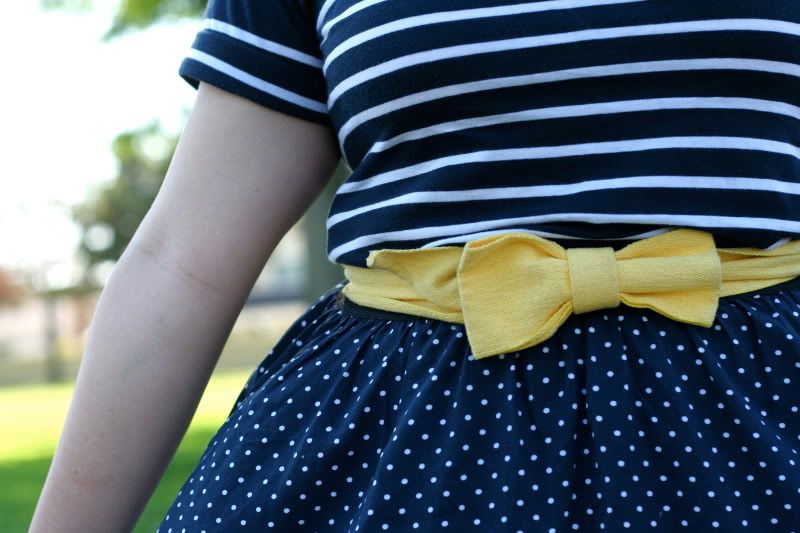 I bought this belt on Etsy about a week ago, and even though it's a bit small--I love it. I had to take it off after dinner though hehe. It's because of this belt that I didn't go for the black H&M one. I was a little hesitant in buying it because I don't wear much yellow, but it was only $6. Yellow and blue actually go quite well together despite their being my university's colors (I have no school spirit whatsoever). My underwear today even went with today's color scheme!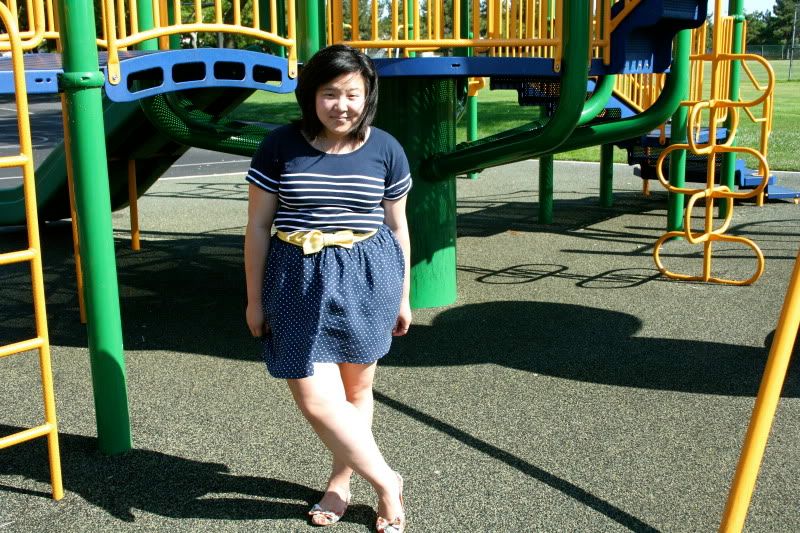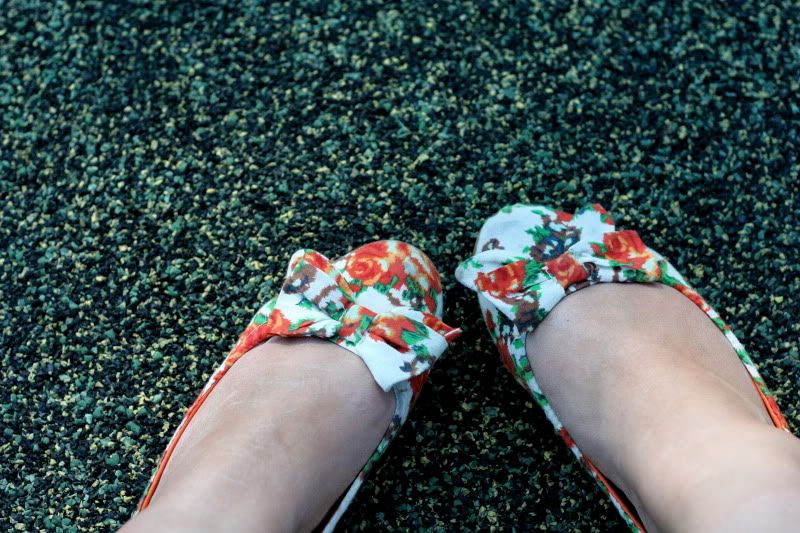 It feels good to be back in stripes again. I almost bought this top for full price ($20) a month ago. Robert and I even got into an argument over it (silly, I know), but I really was looking for a breton striped top like this for a while. Thank goodness I waited/we got into a little argument because I got two of them for the price of one!
Jen
has one in grey too and she's using it as one of her 15 items. I smell another
dynamic duo
in the mix! I didn't notice I used three (stripes, florals, and polka dots) different patterns until now. My en route Aldo shoes would've been a better pick but I gotta work with what I have at the moment.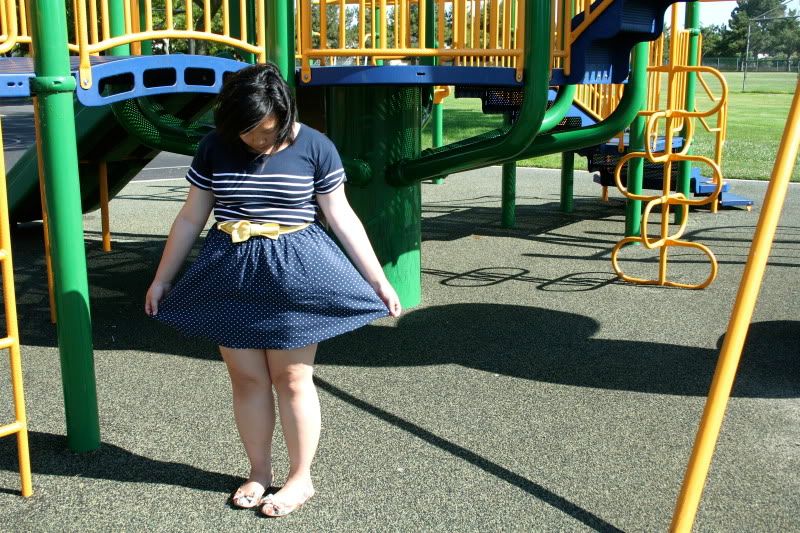 Every time the timer is going or every time Robert is ready to take the picture, the wind decides to blow. I think the wind is out to get me. Usually the wind in the hair is sexy, but not on me. I also think I need to get my hair trimmed soon.
3/21
Until next post,
Jasmine
outfit:

striped top -- gap; polka dot skirt -- cotton on; floral flats -- f21; bow belt -- vintage/

etsy
currently obsessed with this song: count on me -- bruno mars
PS. Don't forget to enter the
Designer Apparel Giveaway
!