Hello!
I am so excited for today's post! It has been a crazy week. I worked five-days straight Saturday-Wednesday and I was so exhausted yesterday that I ditched class and just stayed at home with Robert. I slept in until 11 today and I feel so rejuvenated!

Ever since
Erin
started her Cycle Chic features, I've wanted a bike. And since my year-long bus pass has expired, I needed a new way to get to work and to my new school in the Fall. I saw this bike at Target and instantly fell in love! It has such a great vintage look yet it has hand-brakes, which is what I'm used to. It also has leather handles. It was only $170 too; a monthly bus pass here is $55, so I think this was the better deal! I love Target even more now. I already have a wicker basket and a bell on the way, and I'm going to paint this baby my favorite color, mint-green, soon. I also have this mini-license plate with my name on it that I got as a kid in San Francisco that I want to put on the back of it. I can't wait to show you the final product! It's been such a great work out too! I'm actually excited to go to work on Saturday. Now I just need to convince Robert to get a bike and we can bike all summer long!
I was kinda scared about not being able to ride it since I hadn't in years, but the saying "It's just like riding a bike" is so true! I felt like a kid riding down the same street where I learned to ride my first bike 10+ years ago. I love the feeling of the wind in my hair and the sun on my body. I am going to get so tan over the next few days since I have work Saturday, Sunday and Monday.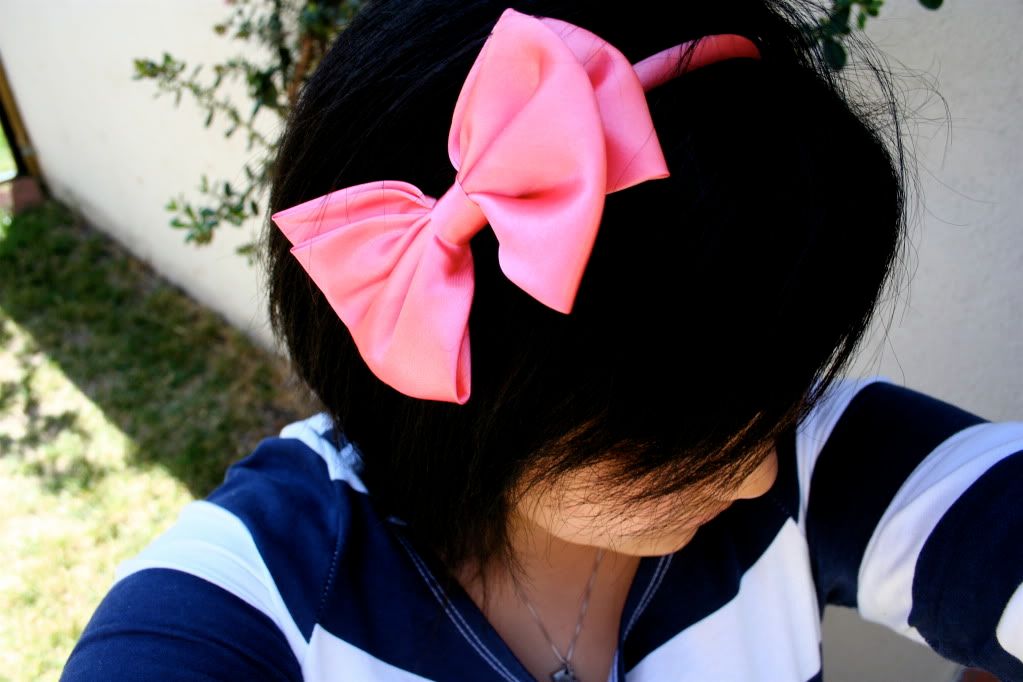 This is my newest bow. I told myself I wouldn't buy any bows until my friend got back from China but I just couldn't resist how ridiculously girly and cheap ($1.50) this one was. I also think I have found my perfect red bow on Etsy. Ah well, I can never have enough bows! I have also become obsessed with belts lately. I need to find a bow belt soon.

Taylor, of
Auburn not Red
, sweetly sent me this bow for the upcoming holiday and I thought it'd look way cuter on my bike than on me. Have a great holiday weekend everyone! I'll be stuck at work, but thankfully I can see fireworks from my room when I get home.
Until next post,
Jasmine
PS. My interview with Lydia for EIU made the front page of Chictopia! Check it out
here.
outfit:

striped top, red belt, blue skirt, green sandals -- uo; pink bow -- f21; schwinn gateway bike -- target