Hello!
Since my blog's birthday and New Year's Eve are so close together, I decided to do a huge flashback and reflection of 2010 altogether. It has been an amazing year for me, probably one of the best ever and I'd like to think it was all because I started blogging. A little over a year later, I am more sure and confident of who I am; have developed a unique style; and have made so many friends along the way. While in the beginning, blogging stressed me out (and still does sometimes), it is without a doubt one of the best projects I've started and continued. It's kinda cool to see how much I have grown as a person, as a fashion blogger, and as a photographer since my very
first post
.
I feel like I came into my style in July during and after my
21 for 21 challenge
. It's kinda ironic and poetic that during a time when I was most limited, I became the most creative. My subsequent and present outfits have followed the similar style and pattern of those 21 outfits, and I don't think my outfits have ever been better than they are now. I think that challenge really reaffirmed my love for stripes and bows by showing that I could wear them for weeks (now months) without growing tired of them. Even though sometimes I get into ruts with all my striped tops, solid bottoms, and basic dresses, I honestly would not have my closet be filled with anything else. I love my clothes and my style.
Here are my top 10 favorite outfits/posts: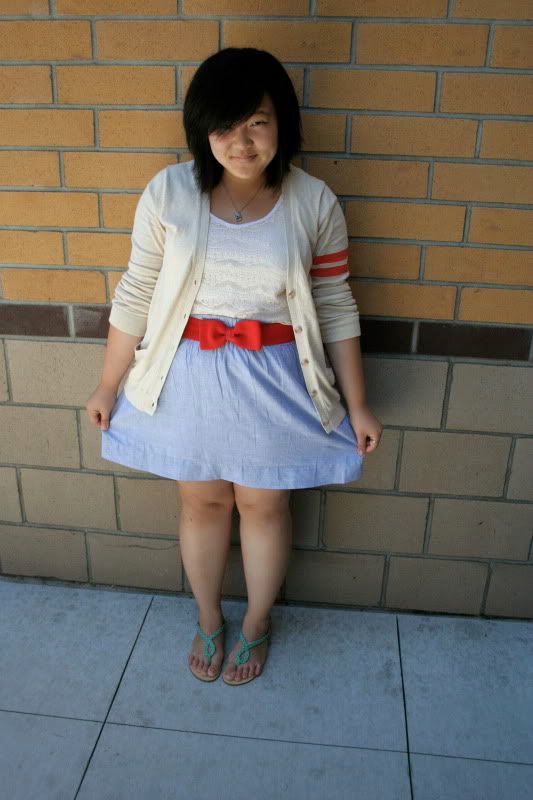 #1
On My Way Down
For many of you, this was your favorite outfit of my entire challenge and it was only my second one! I just love how sweet this outfit is with the lace and the bow belt. This was my first outfit with this belt and it has been so loved ever since.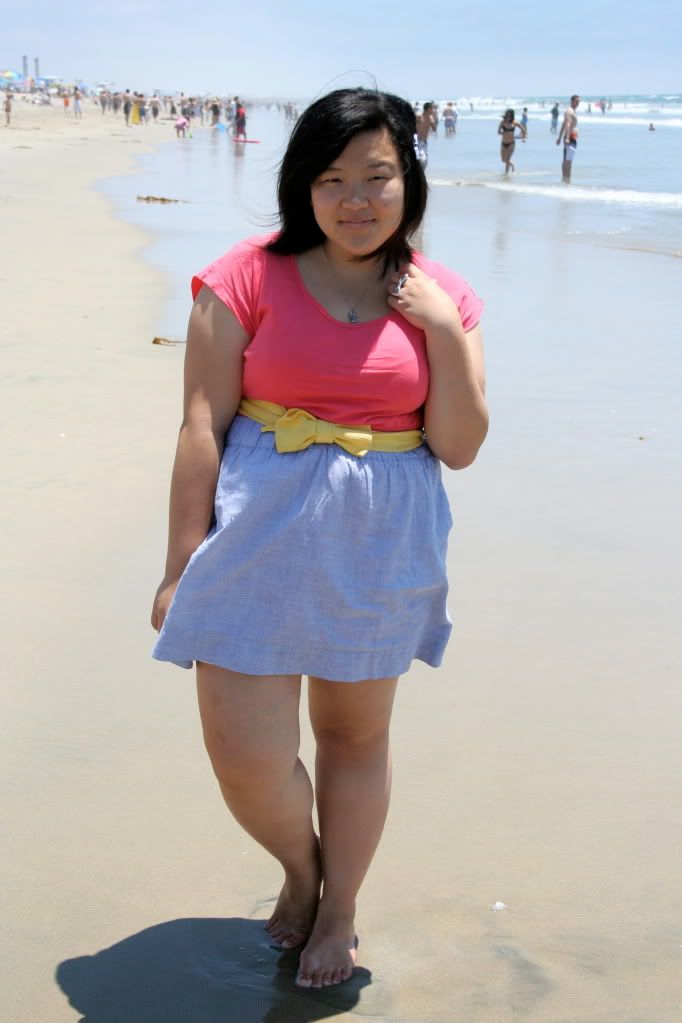 #2
Soak Up the Sun
I adore all the colors in this outfit--they look so delicious! This was such a spontaneous outfit. I had planned something entirely different for the blogger meet up that day, but I love the way this turned out.
#3
The Little Blogger Who Could
This was my last outfit in my 21 for 21 challenge. It was the first time I layered a shirt over a dress to make the dress into a skirt. I felt so good in this outfit and so good that I had actually finished a challenge. I need to get around to doing another one sometime soon.
#4
Dynamic Duo: Better Together
This photo pretty sums up that weekend in NYC with Jen in all our dorky glory.
Dynamic Duo
has been one of the best parts of blogging. I love
Jen
. Meeting her (and all the other bloggers) in September was so indescribably amazing--life changing actually. That entire weekend was life changing. I love how similar yet different we are when we style our DD items. The entire purpose of DD really encompasses the best parts of blogging: friendship and collaboration. This reminds me we need to get around to doing one or two DD posts during winter break.
#5
Over My Head
I debuted this dress in this post. I've worn this dress so many times afterward. It's so comfy and easy to slip on when I don't know what to wear. Look at shiny and fresh my Topshop flats used to look too...!
#6
Slow Me Down
I love the print mixing going on here. Stripes and bows? Seriously perfect for me! This skirt began as a Dynamic Duo item and is now one of my favorite skirts in my closet.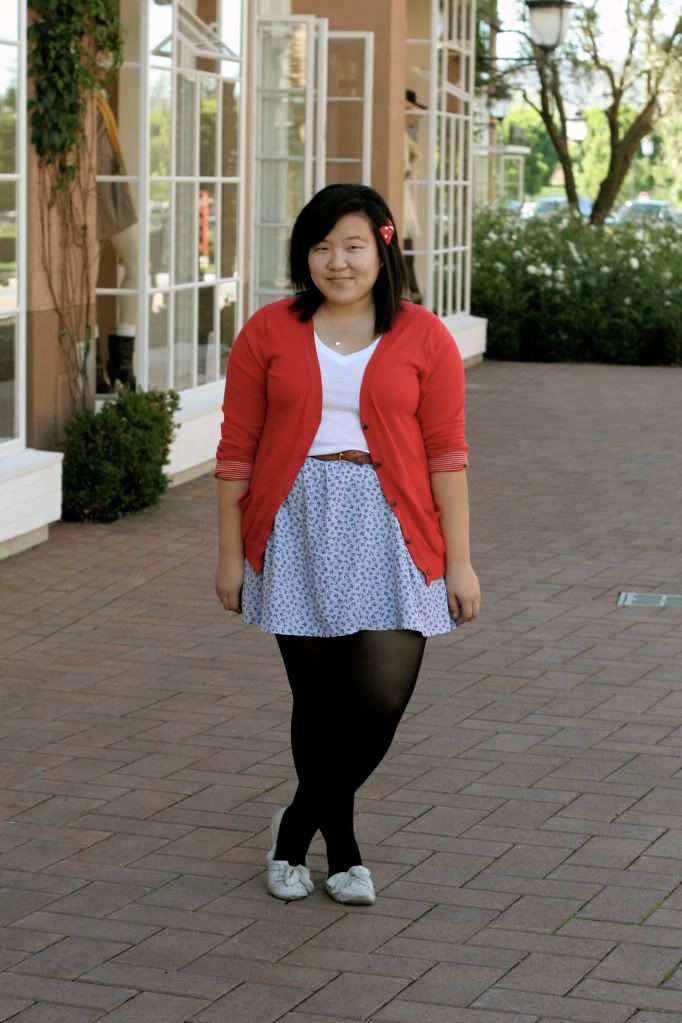 #7
Ordinary Days
This is such an everyday outfit for me: a plain t-shirt with a skirt, cardigan, and a bow and I'm out the door. I absolutely love how this one turned out. I like this red, white, and grey color combination. I need to try it out again.
#8 Separate Ways
I wore this to a Thanksgiving dinner with some friends. This dress has become one of my favorite finds in the sale section of UO (my way of "thrifting" hehe). I love it paired with the red tights.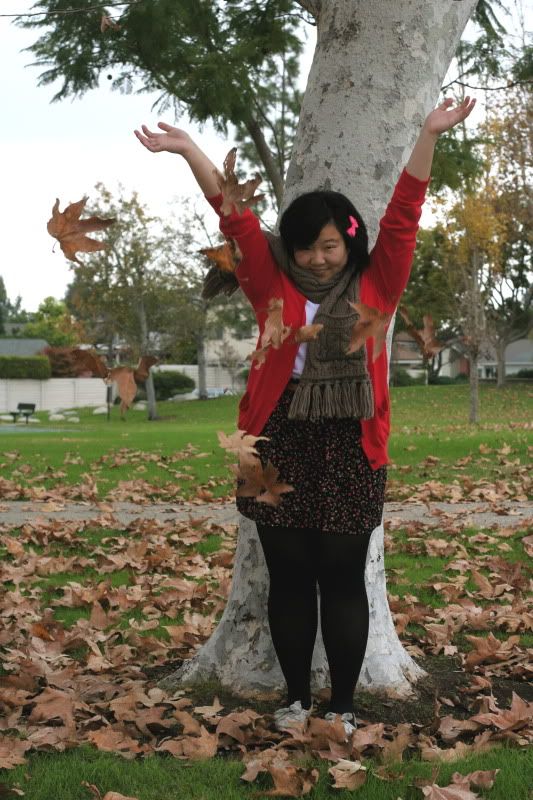 #9
Blanket of Leaves
I like this outfit mostly because of the amazing scarf, that has pockets. Need I say more?
#10 Night Life
I wore this to my first time clubbing ever while in Vegas with my first pair of heels. I think this outfit shows how much I've grown. I don't think I would've ever dared to wear anything like this last year, but look at me with heels, printed tights, a metallic skirt, a blazer-like cardigan. I can only wonder the great lengths I'll go next year!
Thank you to all my amazing followers! I'm going to try to be a better blogger in 2011, hopefully by hosting more giveaways and trying to comment back on your blogs.
Until next post,
Jasmine