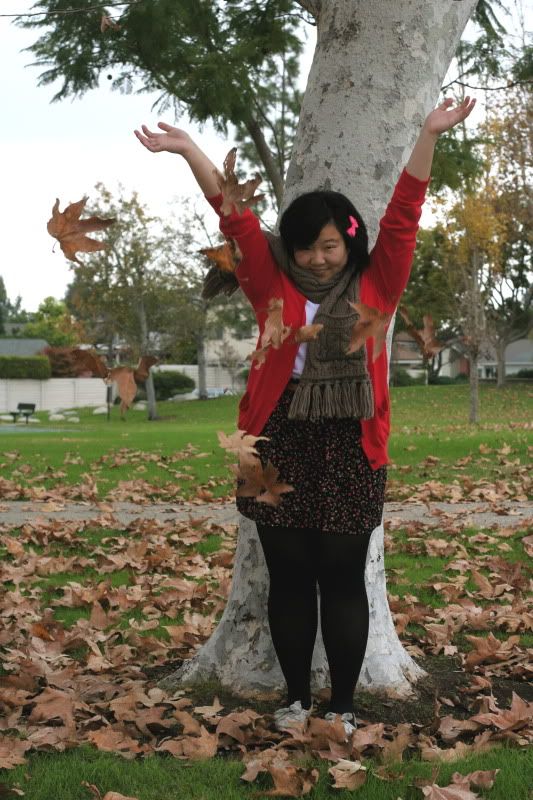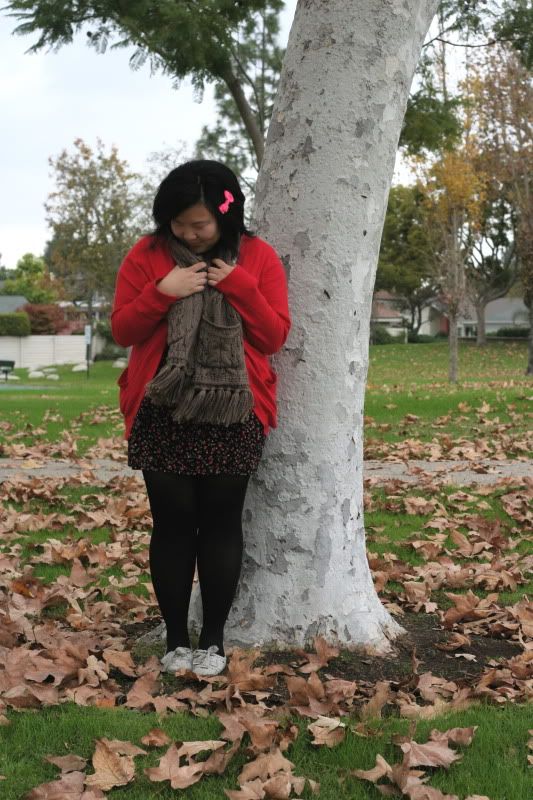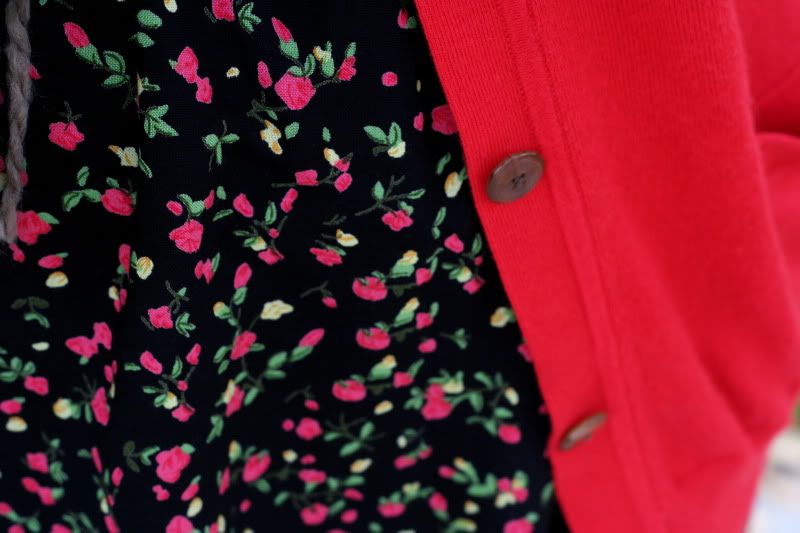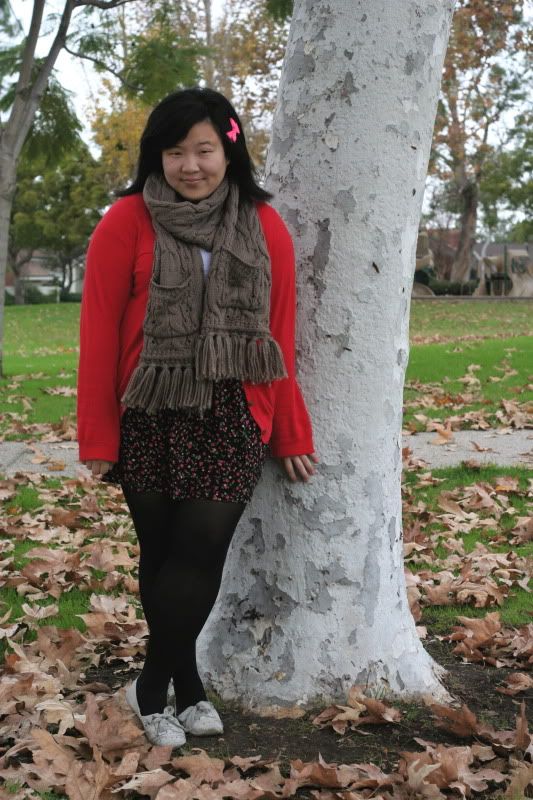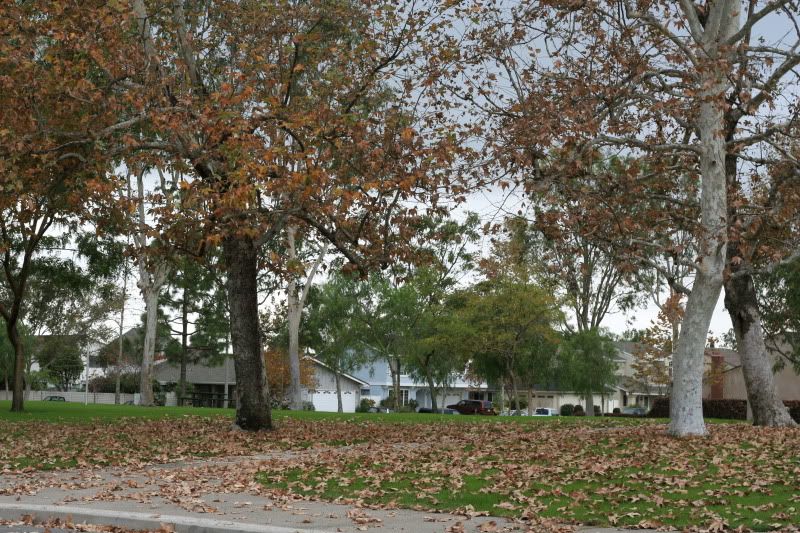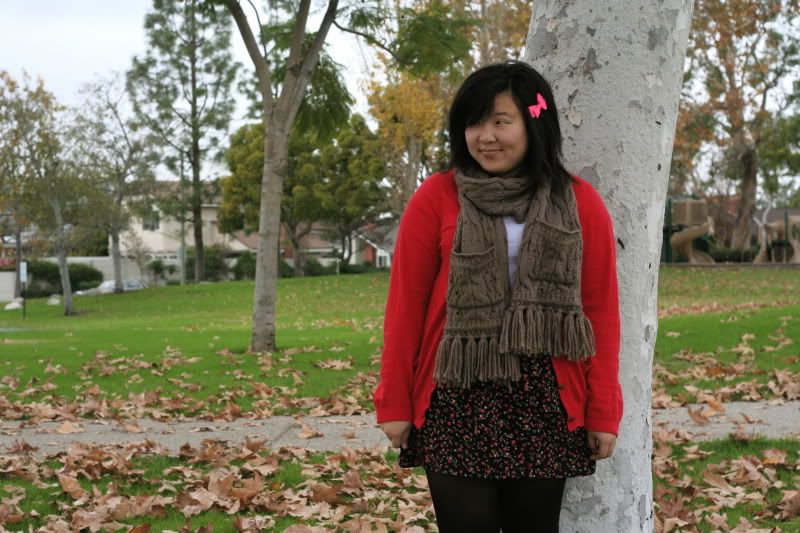 outfit:

t-shirt, cardigan, scarf -- gap; belt and shoes -- topshop; skirt, bow and tights -- f21
Hello!
Can we just take a moment to notice how/obsess over freaking amazing this scarf is?! It's chunky
AND
it has pockets!!!
It's starting to really look and feel like Fall here in California. Just look at all the leaves littering the ground! It feels like it happened overnight since the week started off with 85-degree weather and will end with rain. With this scarf, I couldn't be happier or more prepared for the 45-60 degree weather. Most of you probably woke up to a blanket of snow, but here, we wake up to a blanket of leaves. I'm such a wimp when it comes to the cold. I honestly don't know how those of you with real winters survive, let alone still manage to look cute (like you--
Tieka
).
This skirt is the newest addition to my skirt collection. For some reason, I don't own a lot of black. I guess I think having black hair is enough black in my outfits, and since black doesn't really have any shades I don't like to wear black on the top. The only black I ever really wear comes from my tights or when it's a stripe's color, so this is refreshing among my pastel and colorful skirts. As soon as I put it over my black tights, I regretted not pairing it red tights instead so I grabbed my red cardigan instead. I didn't realize it was a rose print until this morning (just goes to show you how much impulse buying I did on Sunday...). I hope to find a sunflower printed skirt or dress one day since the sunflower is my favorite flower. A Jasmine flower printed skirt would be pretty awesome too.
I finished finals tonight and so tomorrow, I'm off to finally celebrate my 21st birthday in Las Vegas! I'll be back on Saturday. I'll miss you all! Have a wonderful weekend everyone :)
Until next post,
Jasmine