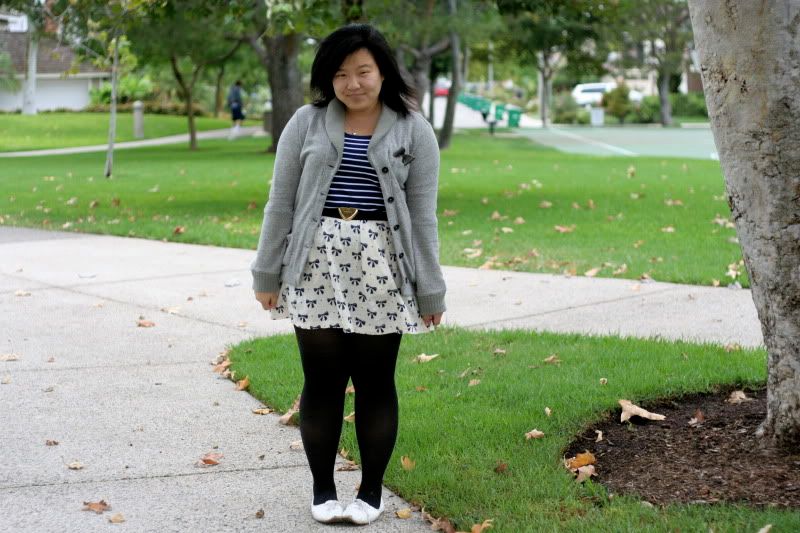 Hello!
Don't you ever just want to post the pictures without providing commentary? I have been staring at this screen for half an hour now, debating whether I want to talk about how much work has gotten better; or how school sucks; or how ordinary my day was; or how my outfit put itself together subconsciously because I saw how lacking I was in (obvious) stripes and bows in my last outfit. Right now, I don't want to talk about any of that. Sometimes, I don't know the difference between a diary and my blog other than that my blog is public, which kind of defeats the purpose of it being a diary. I said in my last post that I am craving a change, but I just didn't know what it was. I still don't know what it is. I'm not really sure I have the time to give it some proper thought since work is on my mind from the moment I wake up until I fall asleep. There are too many things going on in my life right now. Something or someone somehow is always neglected. I am physically, mentally, and emotionally exhausted. I really just want get away so I can sleep for days.
The other teachers at the school preschool are like me and also have two jobs. I just don't know how they do it since they also have kids. I think the reality of doing what you love may not be enough to live on has suddenly hit me. I knew going onto this career path that teachers were at the bottom of the salary pool, but I never knew it'd be
that
bad. Being rich isn't a huge goal of mine otherwise I would've tried harder in Biology, but I don't want to have to work two jobs for the rest of my life. On top of all this, I have been having problems at home and also realized that even with my two jobs, I cannot afford to move out, which only reaffirms the harsh reality of being a teacher. Albeit both of my jobs are part time, and Orange County is one of the most expensive places to live in, but neither detach from the possibility that I may have to work two jobs in the future. I am completely lost as to what to do. Ever since I started pursuing this career path recently, I haven't been able to find my footing and it's starting to scare me...
Until next post,
Jasmine
outfit:

cardigan and striped top -- gap; skirt -- uo; tights -- f21; oxford flats -- aldo; belt -- zara; bow pin -- madewell