Hello!
Ugh, I am dreading this weekend somewhat...There's so much to do! But knowing that my midterm isn't until Thursday, I will not study all that much this weekend...Blah! I'm such a bad student: I'm updating this with such a useless post instead of studying.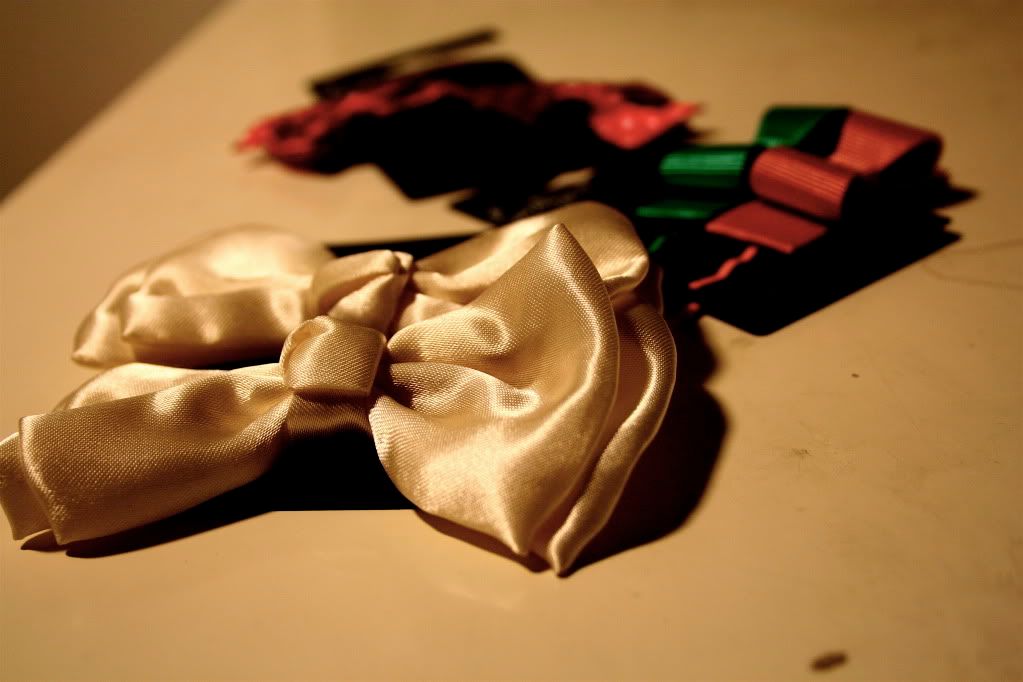 So last night while shopping with my bestie, I managed to
double
my hair-bow collection! Six bows for less than $5! Each pair was $1.50 at Forever 21, how could I resist? I think I spent more time trying on all the bows than looking at the actual clothes...hehe! I forgot to swap one of the white ones for a different color (
*
Is this considered stealing?
I paid for a pair of bows. I just wanted different colors. The cashiers never say anything when I do this...), so I will probably do a giveaway for that extra white bow. It's weird that the cost to ship the bow will be more expensive than the bow itself ($0.75), but I am grateful for my readers! I'll probably do that sometime next week so the lucky winner can wear it out for Valentine's Day!!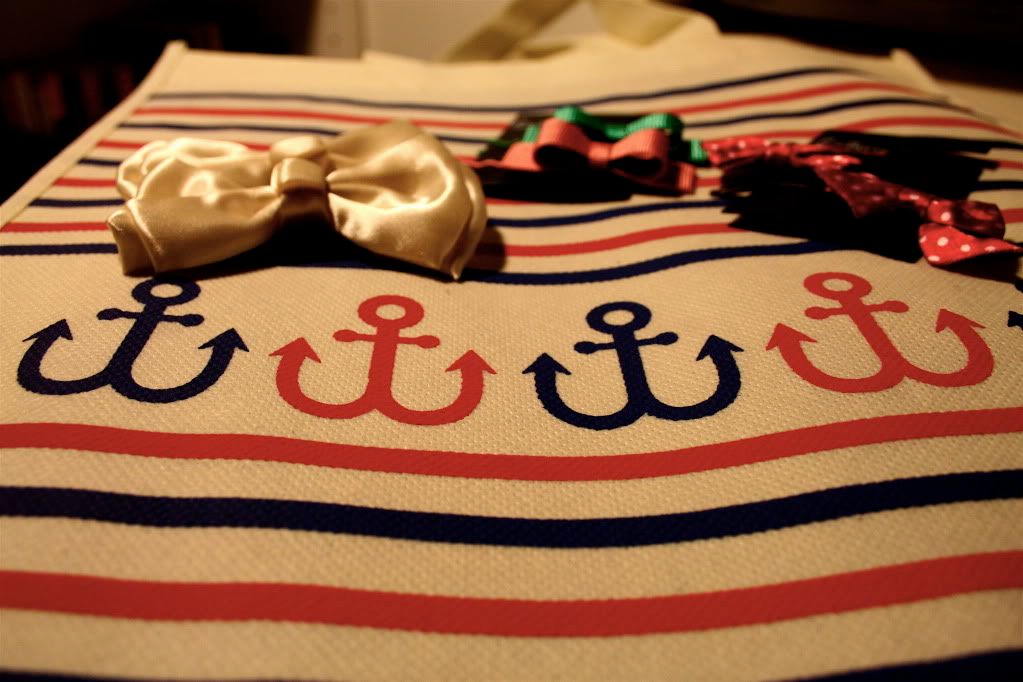 I also bought a pair of gray tights from Walmart, and one of those reusable bags from Forever 21 too! This one just screamed summer, which is what I'm craving despite the warm weather we're having lately (I've actually been sweating!). I can't wait to use it as a beach/pool bag! Summer isn't just about the heat; it's about that carefree laziness that could either be boring or liberating. I've seen girls on Chictopia with gray tights, and I've been itching to try that out. I'm going through tights so quickly...The kids at my internship like to pull on them...so thank goodness for Target!
We finished the night with great conversations and milk tea! :) I'm so proud of myself for not spending that much last night, even though
UO is having a sale (50% off all sale items!!)
. I went into the dressing room with an armful of striped tops, but left with nothing! I just kept thinking about all the camera equipment I need to get; and that after this weekend, I will have had not worked for two whole weeks and won't get a paycheck...
I hope everyone enjoys their weekend!
Until next post,
Jasmine
PS. Has anyone checked out the Heritage 1981 kids collection at Forever 21?!?! SO cute!