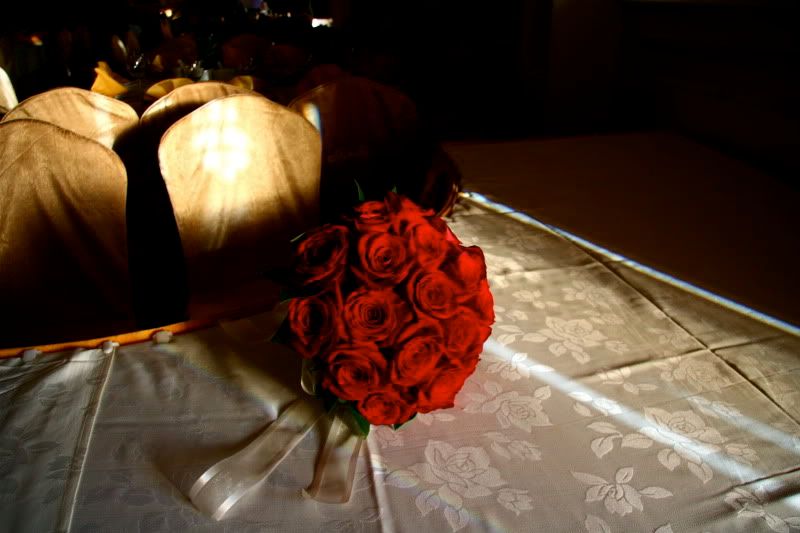 Hello!
The skies have finally cleared up, and I have survived my first wedding gig! Yesterday seems like such a blur when I thought about it when I woke up in my own bed, alone, with a mess of camera equipment beside my bed. It was such a long, exciting day. Robert and I woke up at 6:30, showered, packed, and headed over to the bride's house at 8, where we snapped away as she and her parents got ready for her big day. I was so nervous during my first couple of shots, but as the day wore on, I got the hang of things. She was stunning! The groom is such a lucky man.
Their wedding was very a traditional Chinese wedding with two tea ceremonies, and a whole-day extravaganza. My friend let me and Robert borrow his DSLR and some lenses. I'll be sad to give all these back this week. I really need to stop spending money on clothes and saving on camera equipment, because as much as I'd like to believe that
I
make the shot, it is a balance between equipment and photographer.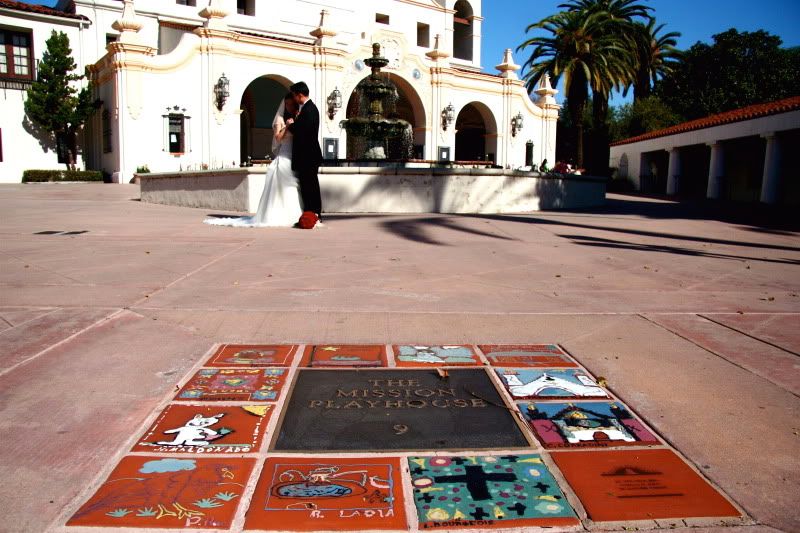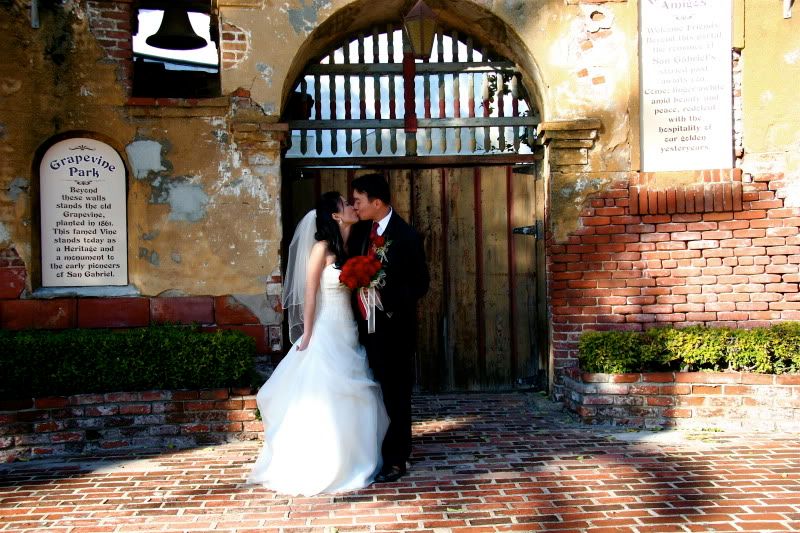 The photographer they hired was so obnoxious and bossy. He was getting on my nerves. I really, really hope I don't end up being like that. After the "real" photo-shoot at a Mission, the couple was nice enough to let me do my own photos. I really did have so many creative ideas, but they seemed so tired, I only did a few. I was so nervous, but I absolutely cannot wait until I'm the main photographer and can execute all of my own ideas. I secretly hope my photos came out better than that obnoxious idiot..hehe! This might actually be soon! The same friend who hooked me up with this wedding might be able to hook me up with another wedding, where I will be the sole photographer. Ah!!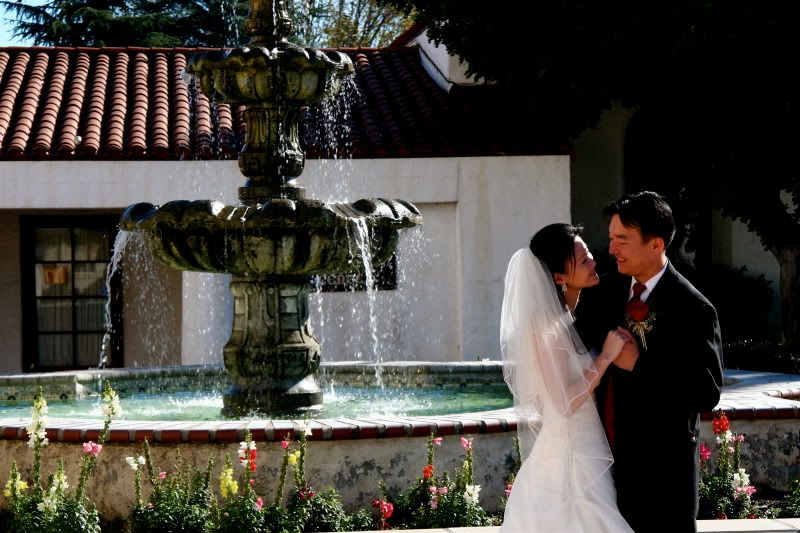 I have about 800 photos to go through and edit, so I'll post some now and do a proper post some other day. There are so many photos that I'm really ambivalent as to whether I did a good job or not. I don't even really know where to begin! I think I need to upgrade my Photoshop first. I'm probably just going to let the photos sit for a couple days so that when I look at them again and edit, I'll have a refreshed perspective.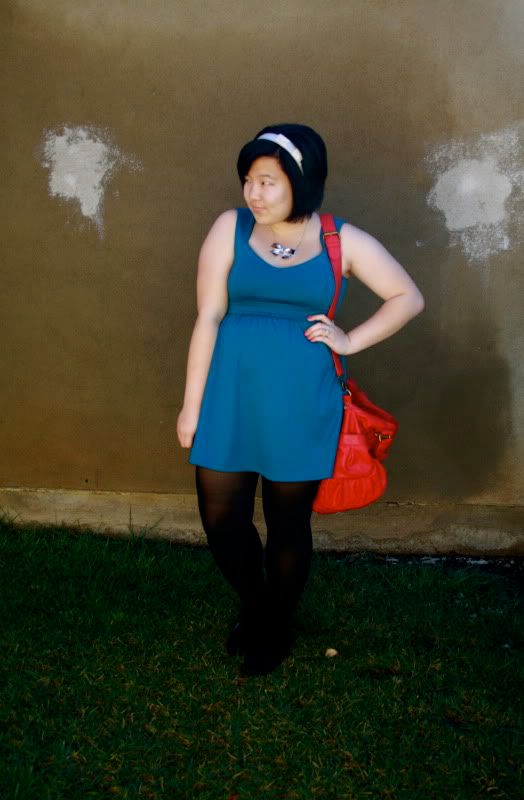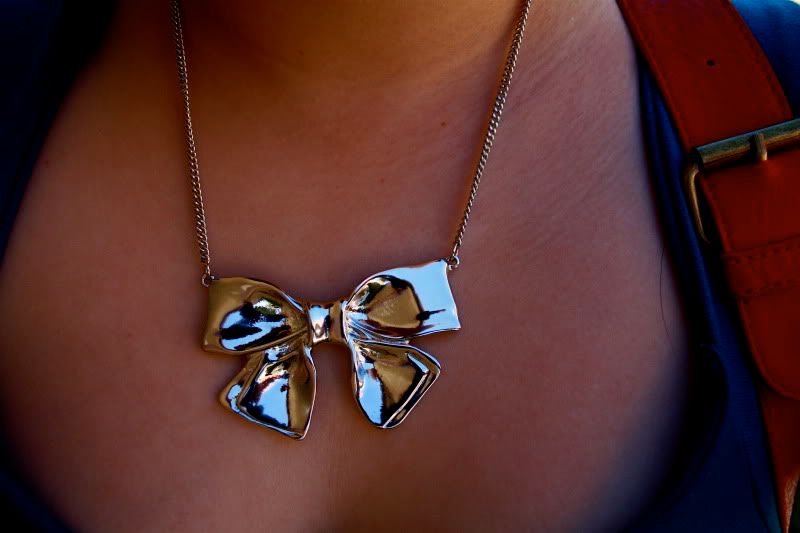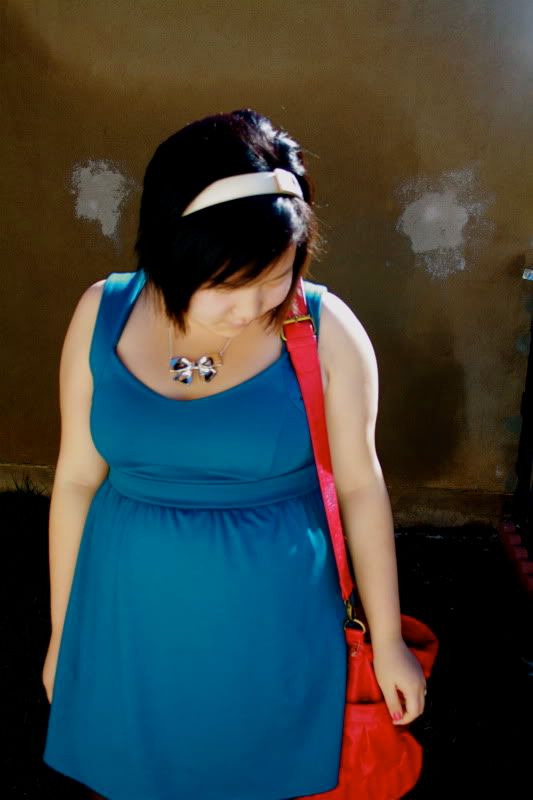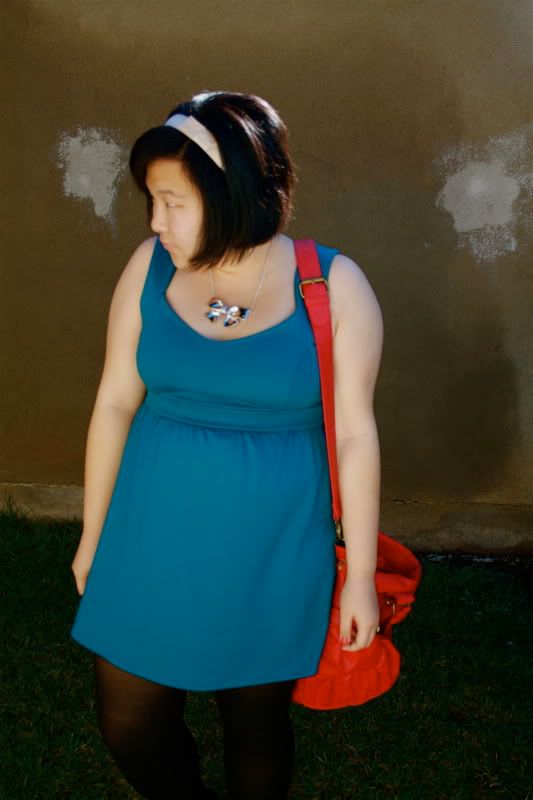 (wearing: blue dress and red bag -- urban outfitters; white headband and bow necklace -- forever 21; black tights -- target)

I didn't get too many shots of my outfit yesterday, so as you can see I took these outfit photos in my backyard. I am so disgustingly pale (I miss my tan!!!!) so I wore a cardigan for all of yesterday, but I wanted to show you the dress! I love it! I cannot wait to get better shots of it when Robert and I celebrate our anniversary/his 21st birthday/valentine's day. I cannot believe our three-year anniversary will be on Tuesday.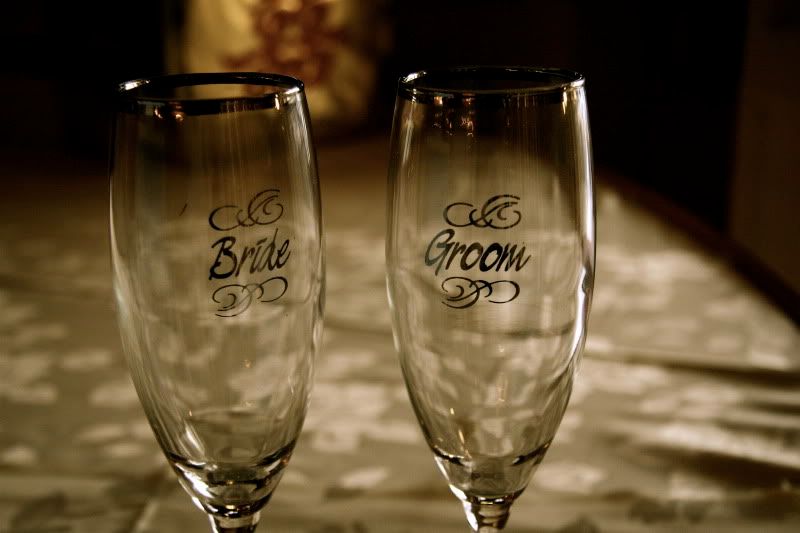 After this first experience and actually loving it, it's even harder to focus on all the schoolwork I have to do this week. I'm so, so,
so
behind on everything. The quarter is almost half-way over and I have done none of the readings and haven't really listened (or even really
gone
) to lectures. It's time get my head out of the clouds and back to reality because the reality is that I haven't graduated yet and need to do well in school.
But first...I must catch up on all your blogs! I hope everyone had a great weekend! Thank you to those who submitted photos. I shall get on that collage as soon as I can!
Until next post,
Jasmine
PS. Thank you to
Sybil
and
Kristy
for giving me awards! You both know how much I adore you!