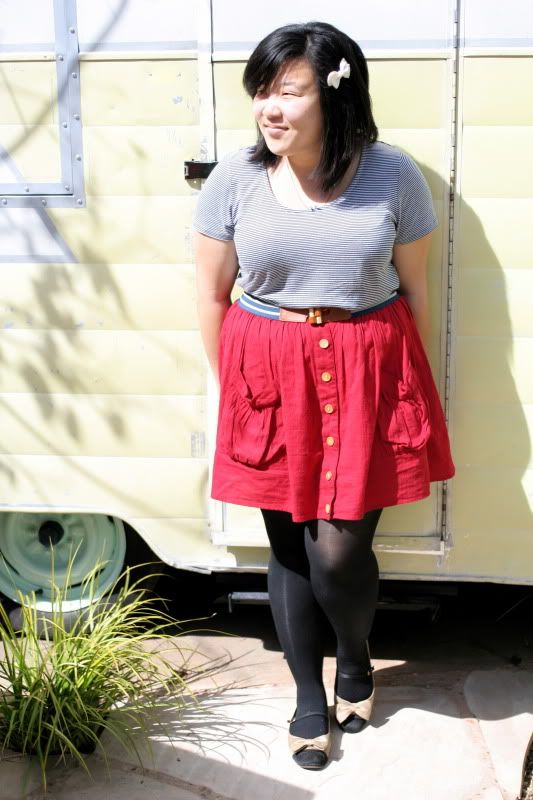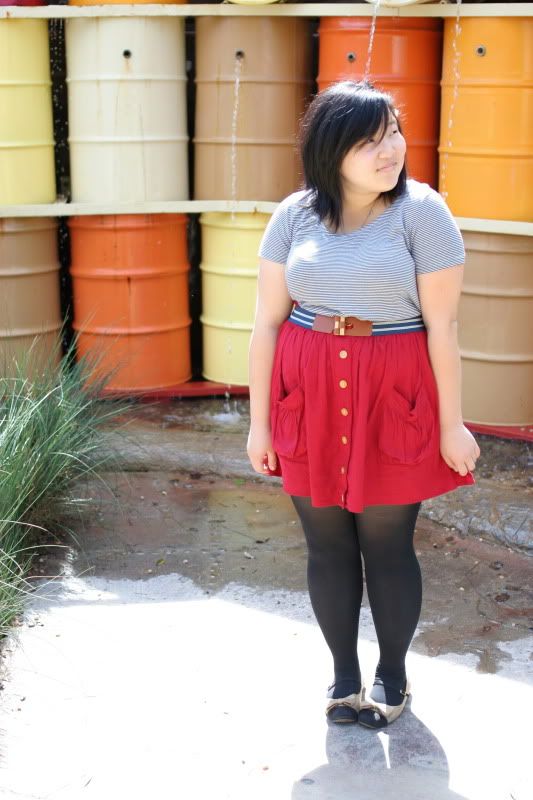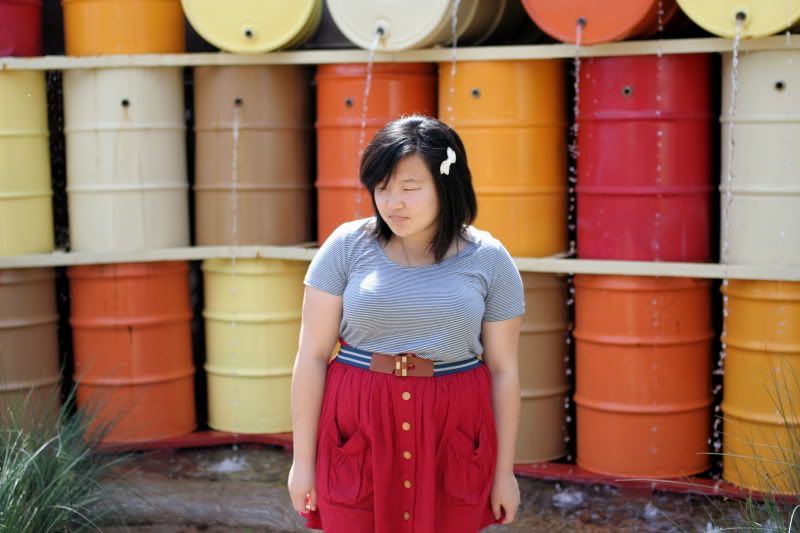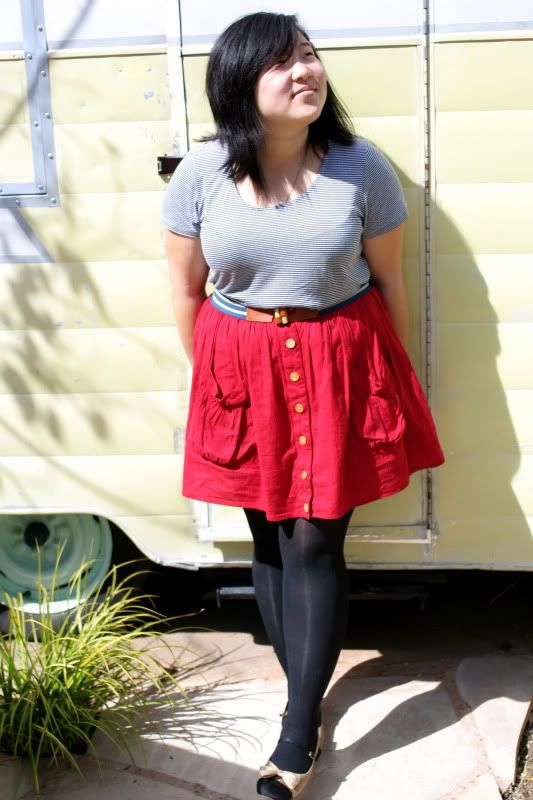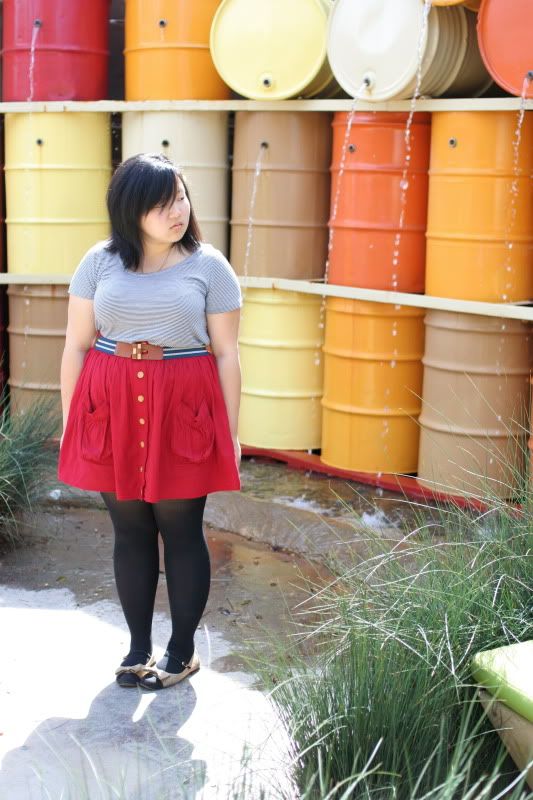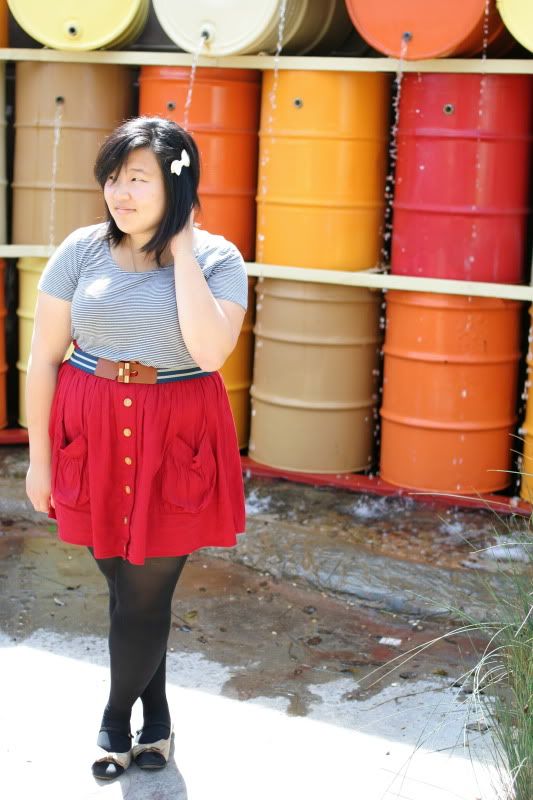 outfit:

top -- thrifted; skirt, belt -- uo; shoes -- marais usa; bow -- f21
Hello!
On Monday, Robert and I visited the Anti-Mall so I can exchange and sell things at Buffalo Exchange. I adore the look of the Anti-Mall--it's just as urban and cool as it sounds. I wish I could've got more photos but my camera died in the middle of this photo shoot. I was incredibly sad that my beloved Canon XT didn't work anymore after years of service and memories, but I managed to revive it later that night after diagnosing it by browsing photography forums. I was pretty relieved because that gave me a bit more time to upgrade. But...Robert surprised me the next morning with a new
Canon T2i!
How lucky am I to have him?! He is the
bestest!
I can't wait to use it for everything and to take it with me places. He's even become more willing to take blog photos for me now because of the better camera! I love you honey bear!
I found this thin-striped cropped top at Buffalo Exchange. This outfit just fell together in my head while I was in the fitting room. I love when that happens. I was craving one of these to have for Spring. I even tweeted it at some point and considered hacking off some length on one of my old striped tees. It will definitely be heavily used so don't worry about not being able to see it to well in these photos. I love all the Spring clothes I've been picking up lately. I'm craving lace, pastel colors, dainty florals, ruffles, and of course--nautical things. Typical Spring things, but I feel like since I embraced Fall and those rich Autumn tones like maroon, navy, forest green--this year I just might embrace Spring more with a more feminine look. I'm super excited for Spring this year for some reason. I guess it's because Winter felt especially long this year (I know some of you are thinking--"What are you talking about California girl?" hehe) or maybe I'm just excited to wear brighter, "happier" outfits! Spring is probably my favorite season. I just love watching flowers bloom a wee bit more than I love watching the leaves change colors in the Fall.
Until next post,
Jasmine