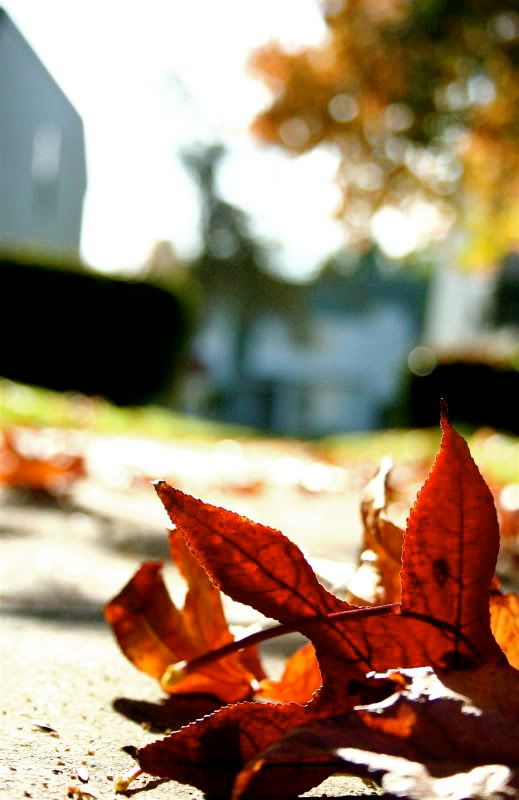 Hello!
It's been actually hot lately, like
80-degrees
hot. Ridiculous right? I don't mind so much since I'm a wimp when it comes to the cold (and spiders). Still, it'd be nice to actually have four seasons for once...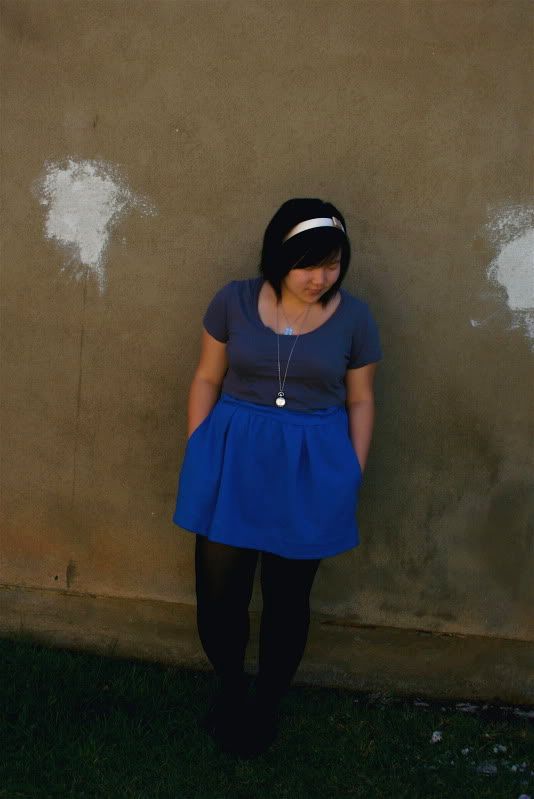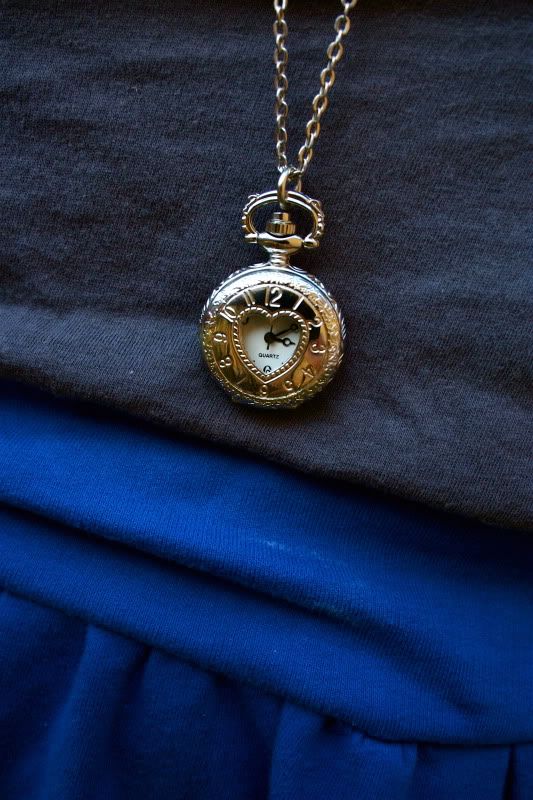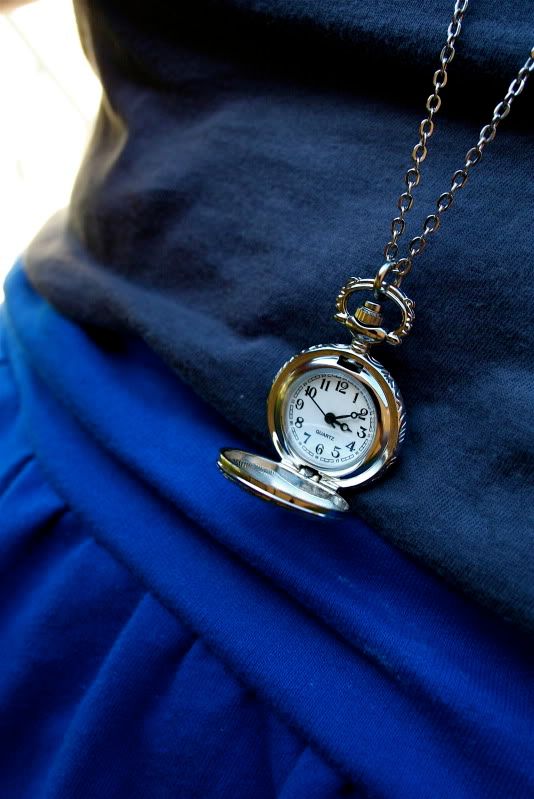 (Wearing: Gray T-Shirt -- Forever 21; Blue Skirt -- BDG at Urban Outfitters; White Bow Headband -- Forever 21; Pocket Watch Necklace --American Eagle)
I didn't really do much today. Robert and I were supposed to watch "Did You Hear About the Morgans?" this afternoon, but my friend texted me asking if we wanted to watch "Zombieland" at the dollar theater. Even though we've seen it already, we went since it's a good movie and because we haven't seen them in a while. So instead, we did a bit of shopping, but yet again walked out empty handed. I'm starting to not like shopping so much...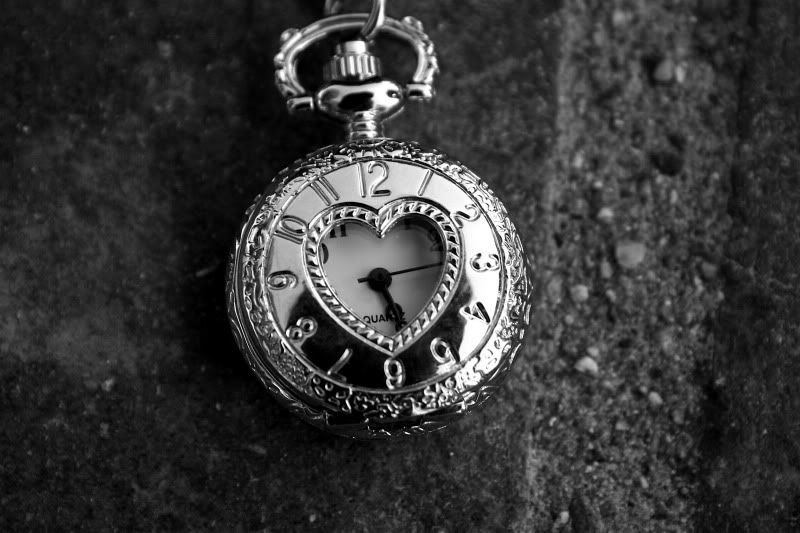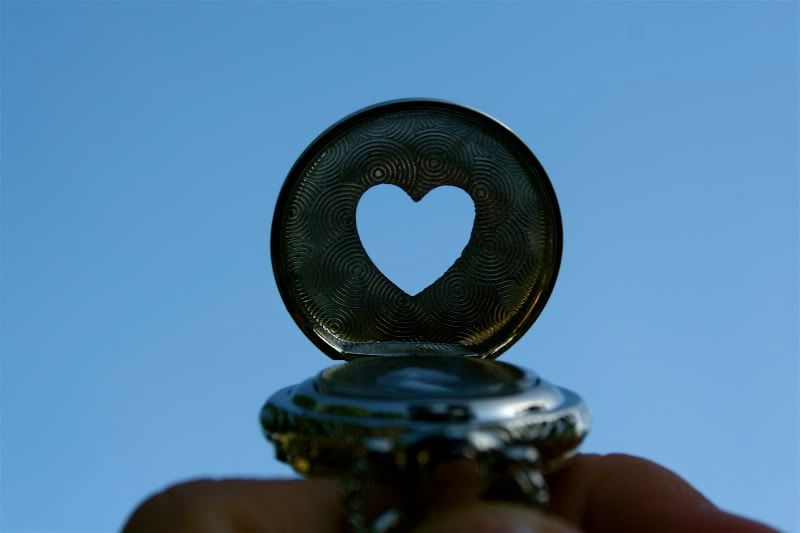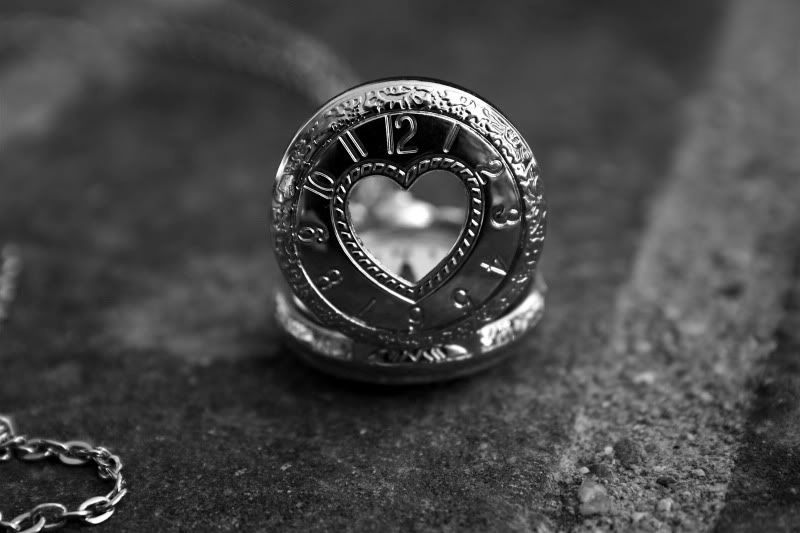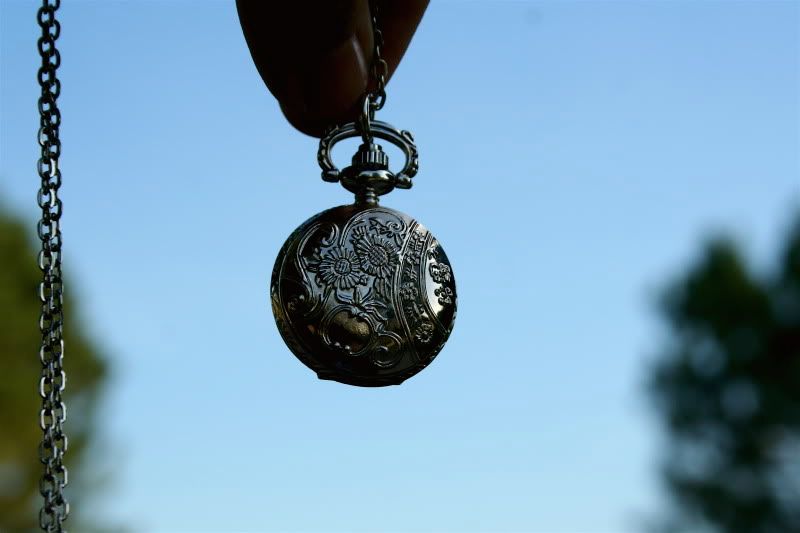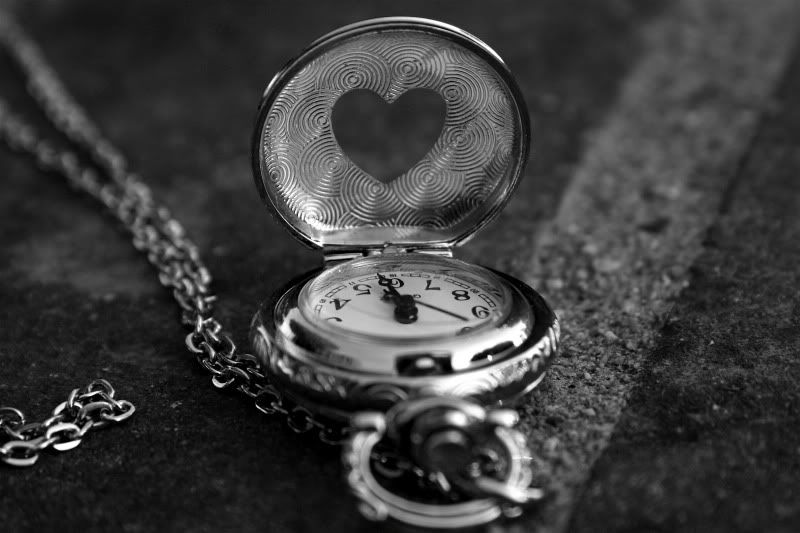 Anyway, this is my new necklace that I got yesterday! It's from American Eagle. I've been looking for a pocket watch necklace ever since I fell in love with one that was $35, but this one was only $20; $17 with my coupon. I rarely spend this much on jewelry (or even a shirt for that matter), but this was the last one, and Robert and I liked it a lot...It just seemed like it was destined to be worn around my neck. So now it's here hanging on the wall with my other necklaces!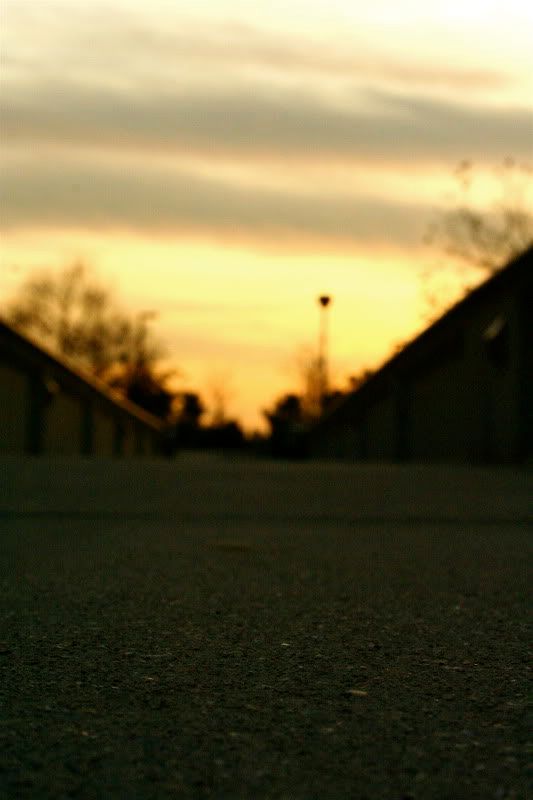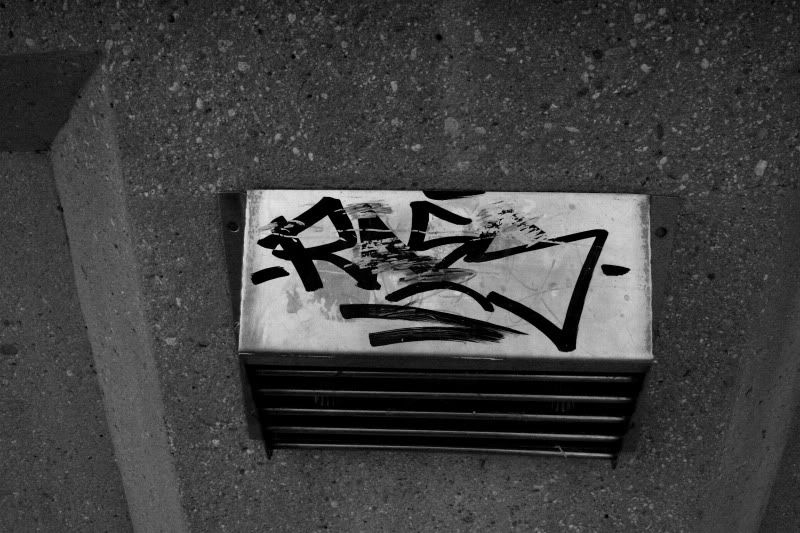 This was the sky at 4pm--not even sunset yet! I was a bit disappointed that the movie started at 4:30 since the hour between 4:30 and 5:30 is my favorite, but it looks like the sky just wanted to be photographed today. Luckily this bridge connected the parking lot of the movie theater and a park where we got a clear view of this gorgeous skyline.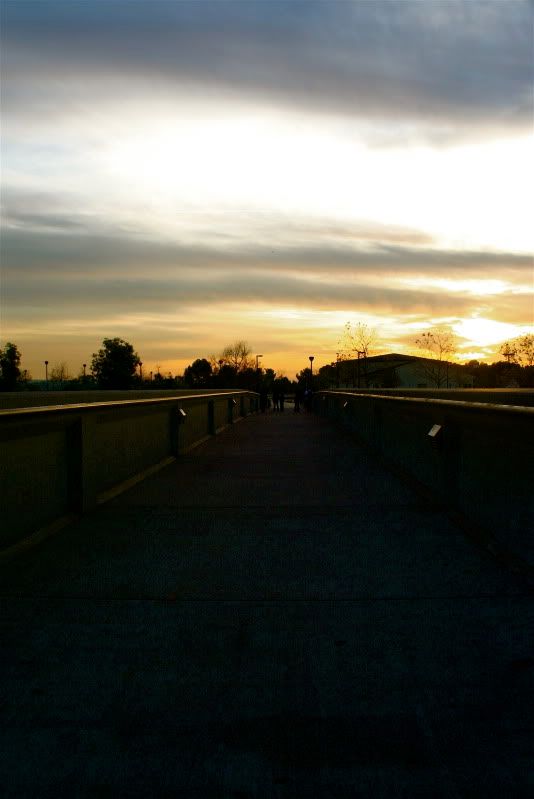 "It doesn't matter how far apart we are now
You can add up all the miles in between
If you take a good look all around now
All you see is you and me.
When I look at myself in the mirror
I see you standing there smiling at me
And I'm right back at the beginning
Lost inside this memory
I won't ever let go, all that I want to hold onto
And we belong together
Like the moon and stars and midnight
We'll be strong forever
'Cause we belong together"
Together -- Michelle Branch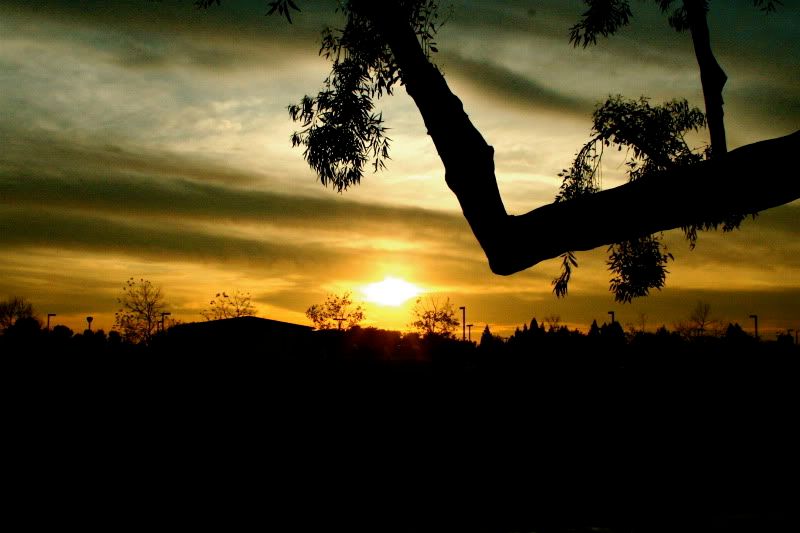 I can't believe Robert and I are approaching our third year anniversary in about a month from now. Every day I'm so thankful that I have him in my life, even when we're fighting. I asked him if we were still going to be this crazily in love when we're married and wrinkly-old, and he said "Of course; probably even more in love." I am a bit bummed that I won't get to see him all that much next week, but a little break is good here and there. Besides, it'll give me some time to reorganize my room and work on my photography! The Arts Institute brochure came in the mail today! It looks promising! I should do more research on this school and other Art schools.
I have work from 10:30 to 5pm tomorrow and Sunday; so if I don't get off early, I probably won't have anything to post unless you want more Christmas lights pictures.
Until next post,
Jasmine