*Warning: Extremely picture-heavy and word-heavy post! So just sit back...and enjoy!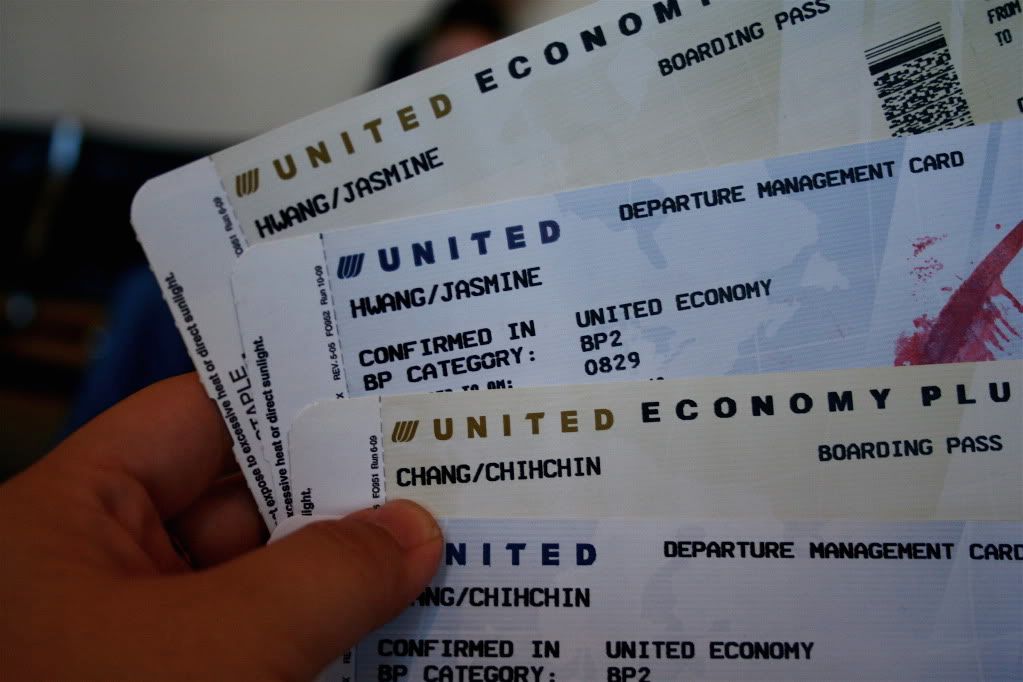 A whirlwind of events and five plane rides later, I am finally back from New York. Oh my goodness.
Where do I even

begin

?!?!
I can't even find the words describe how amazing this trip was, and especially how sweet and stunning all the bloggers are. I tried my best to document the trip as best I could. I feel like I should have a lot more photos, but everything just went by so quickly and I was fighting a cold the entire time. However, I'm sure with all the photos from other blogs combined, you'll all get a sense of how crazy and wonderful this weekend really was!
So I guess I'll just begin with...
Day One: Friday, February 2010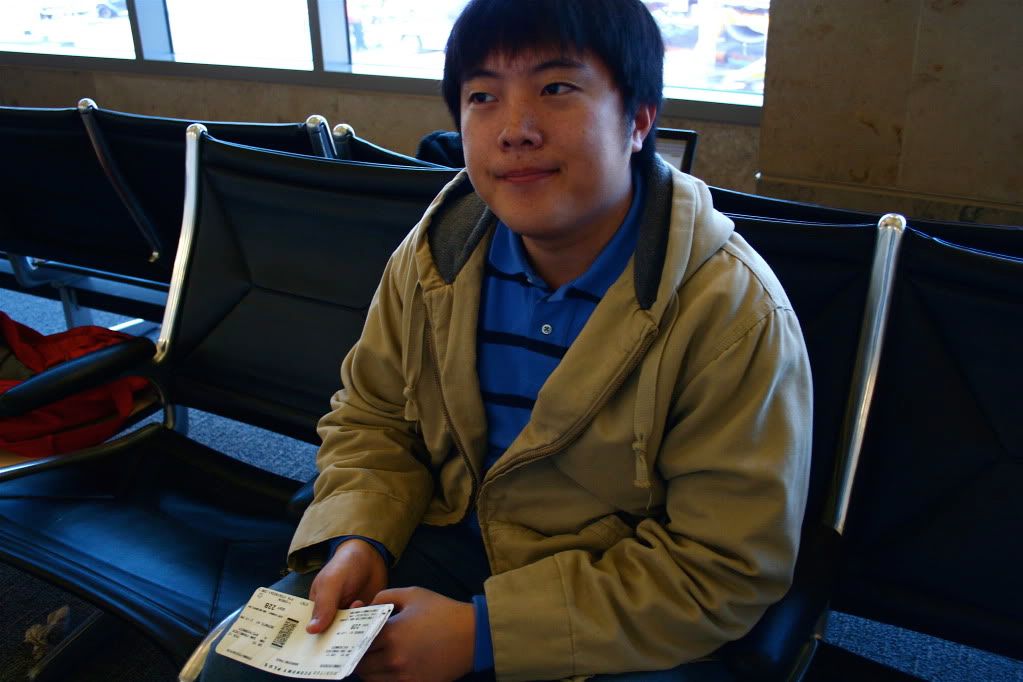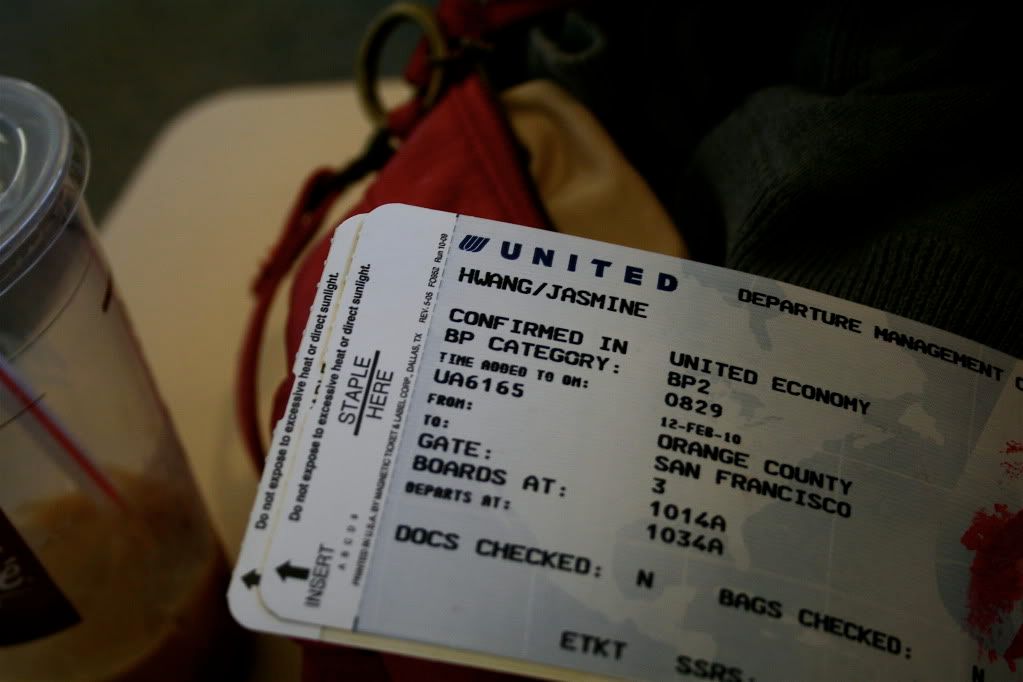 Robert and I left Orange County for San Francisco early in the morning. This was my first flight in about ten years, so I was a little queasy and miserable during that short flight. From San Francisco, we went directly to New York. We arrived at New York at 11pm Eastern time, and the cold seriously shocked me! This was my first time experiencing snow. It was exhilarating for the first couple of steps, but once that excitement was blown away with the sharp winds, I was cursing inside and wishing I had doubled up on everything--scarves, cardigans, tights, etc. We took the subway to our hotel and got there around 1:30 am. We were starving since we didn't want to pay for food on the airplane, so we searched for a pizza place that delivered. Thank goodness there was a CVS right next to our hotel, so we grabbed some drinks and snacks, and had dinner on our bed while watching the opening ceremony of the Winter Olympics.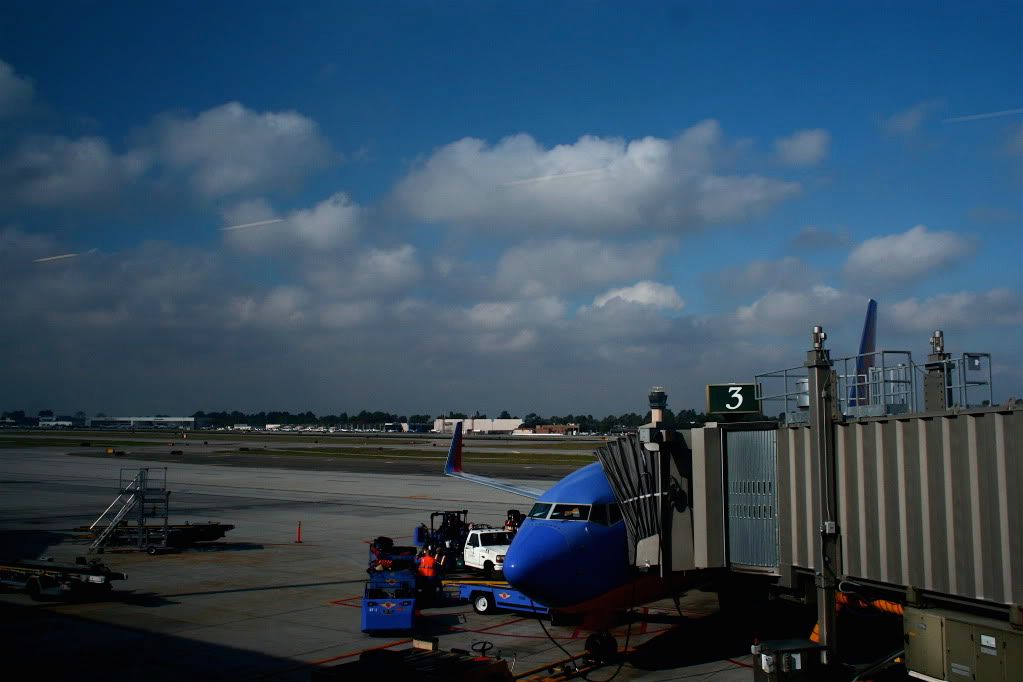 Day Two: Saturday, February 13, 2010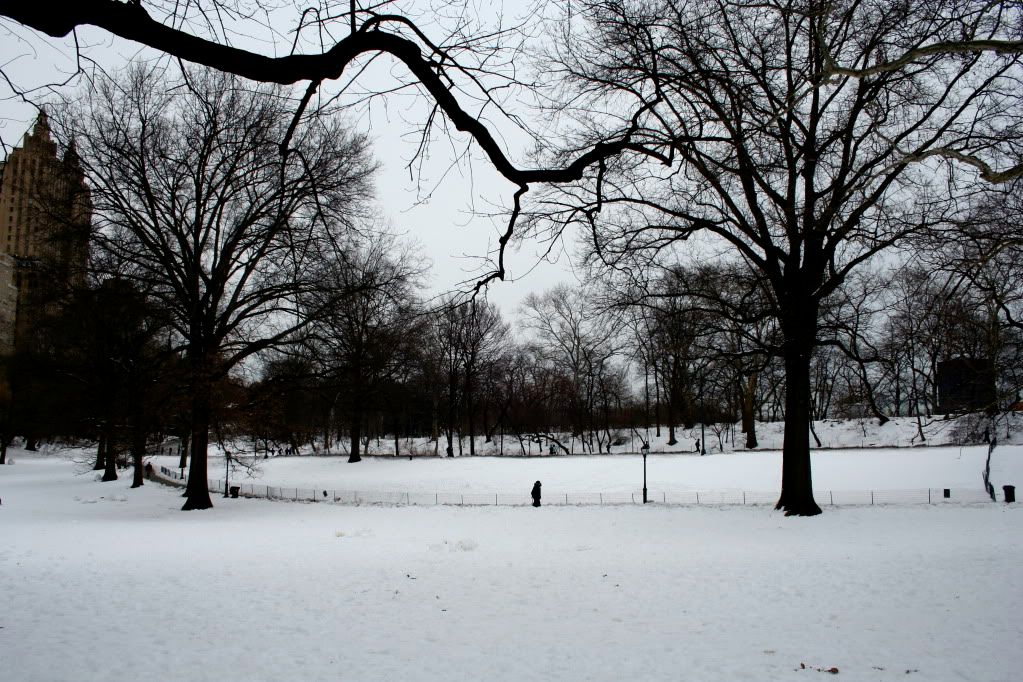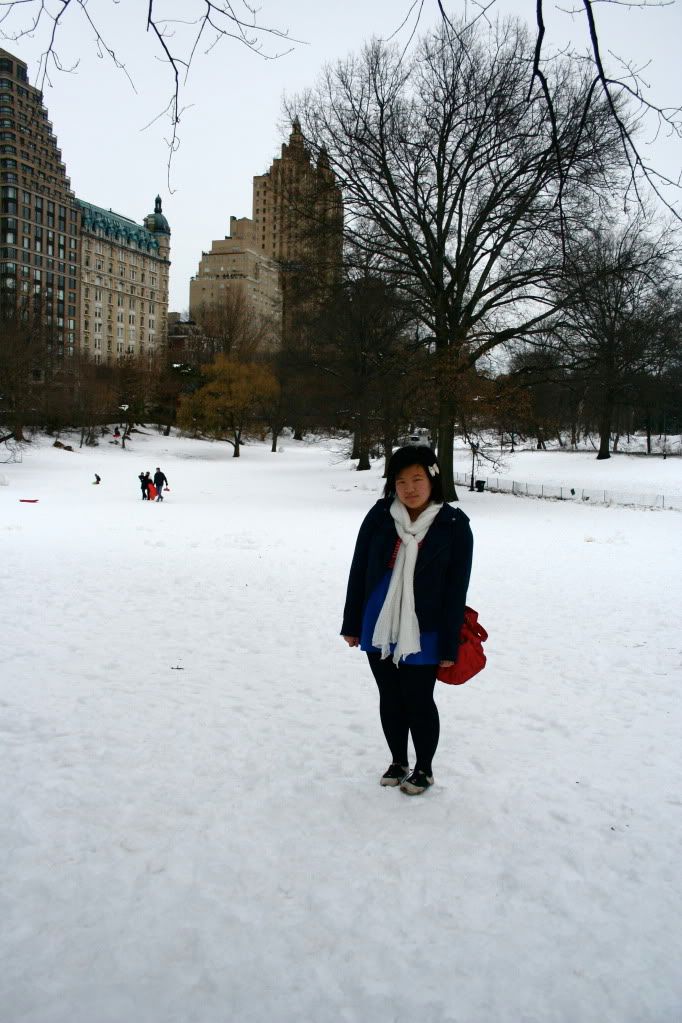 (I will repeat this outfit for sure. It was too cold to take off all my layers...But what I was wearing was: blue jacket, red striped crop top, white hair bow--forever 21; blue skirt and saddle oxfords--urban outfitters; white scarf -- h&m)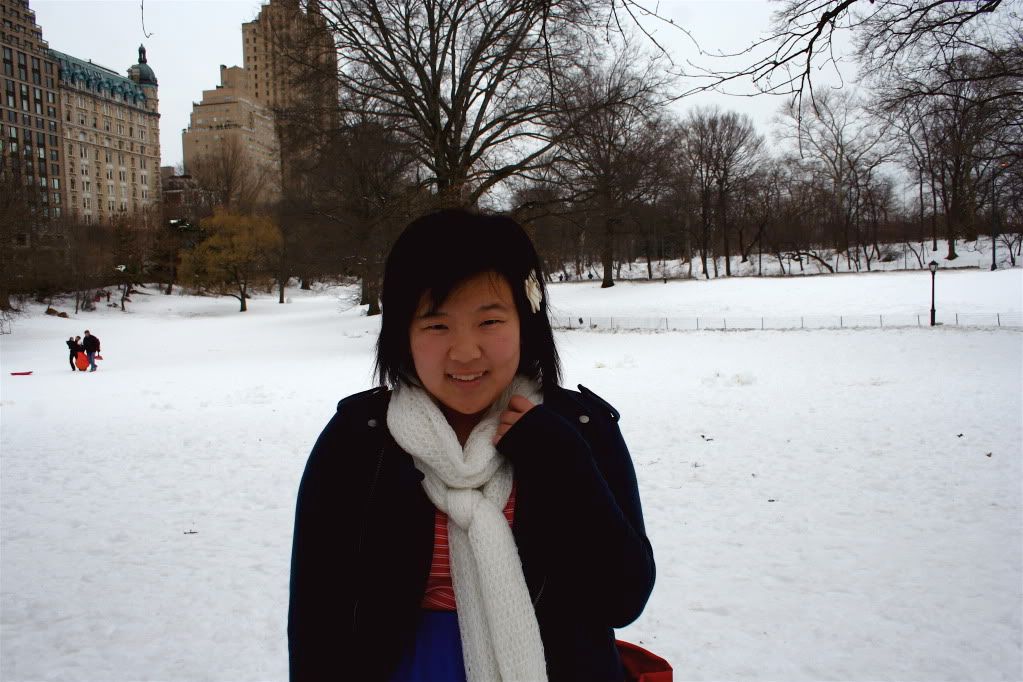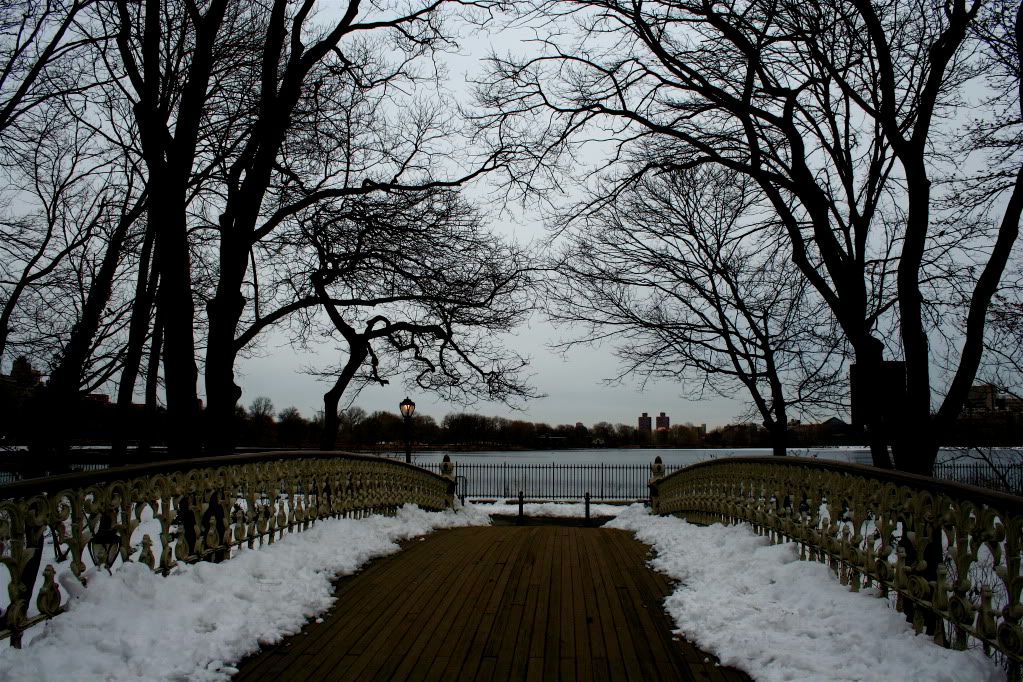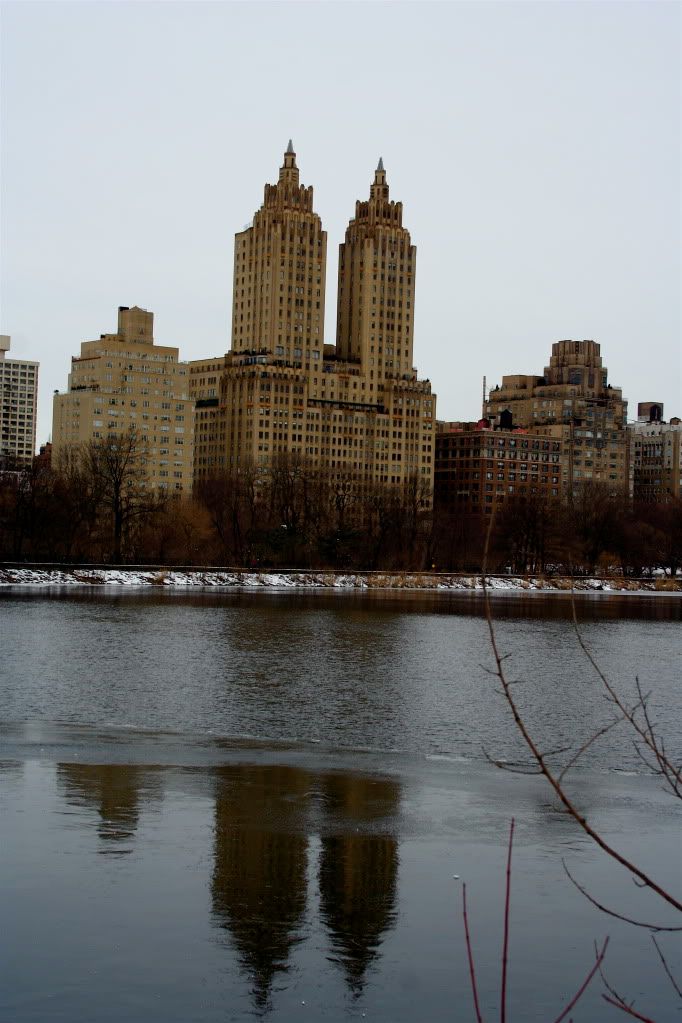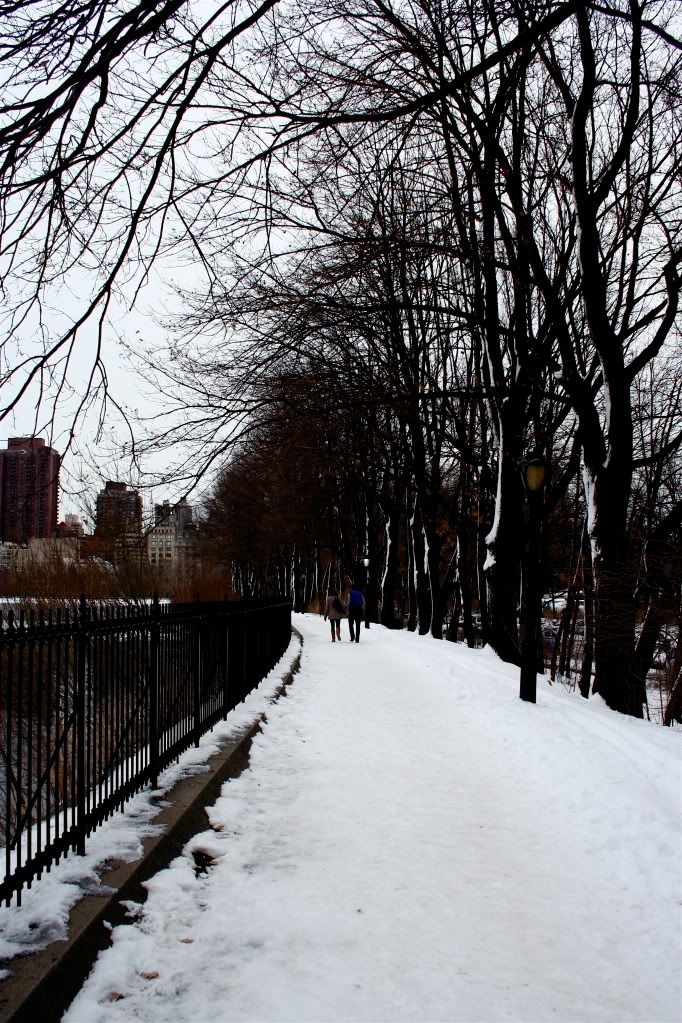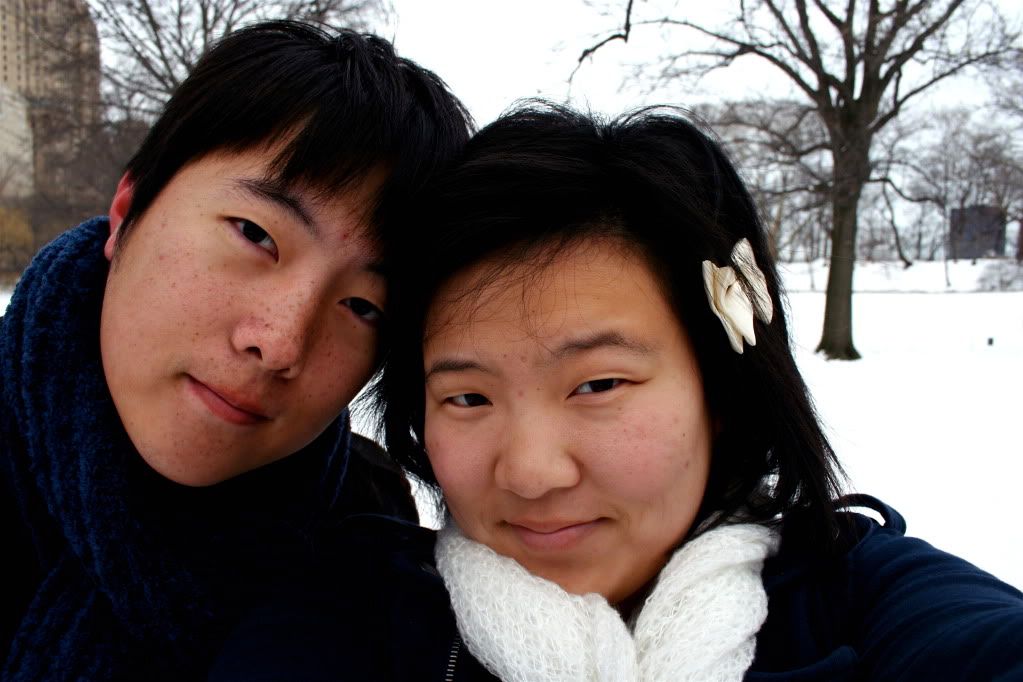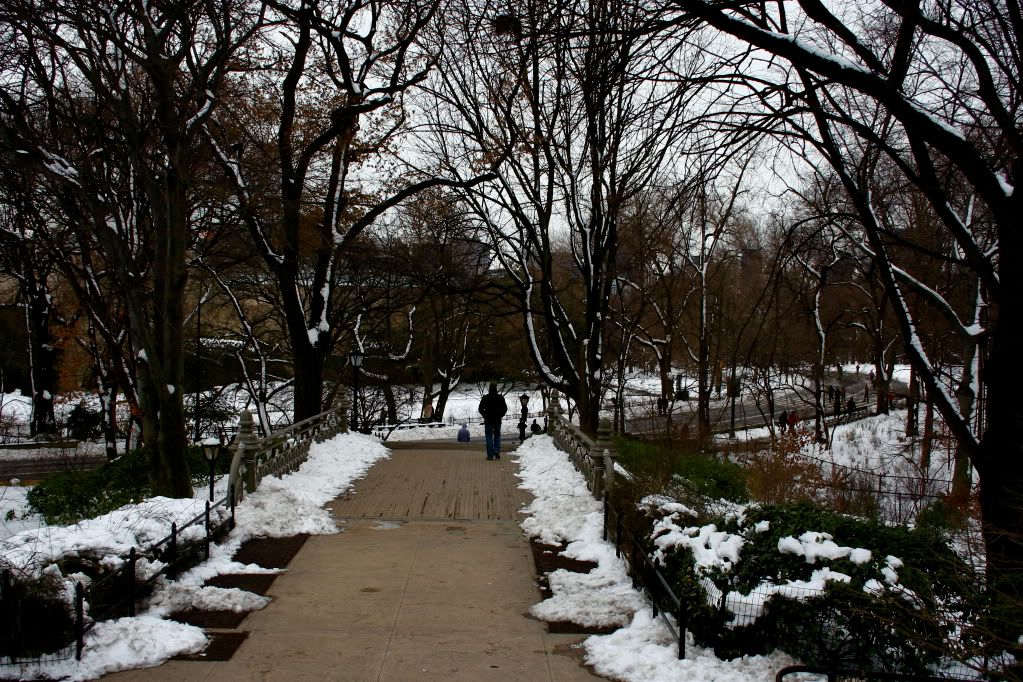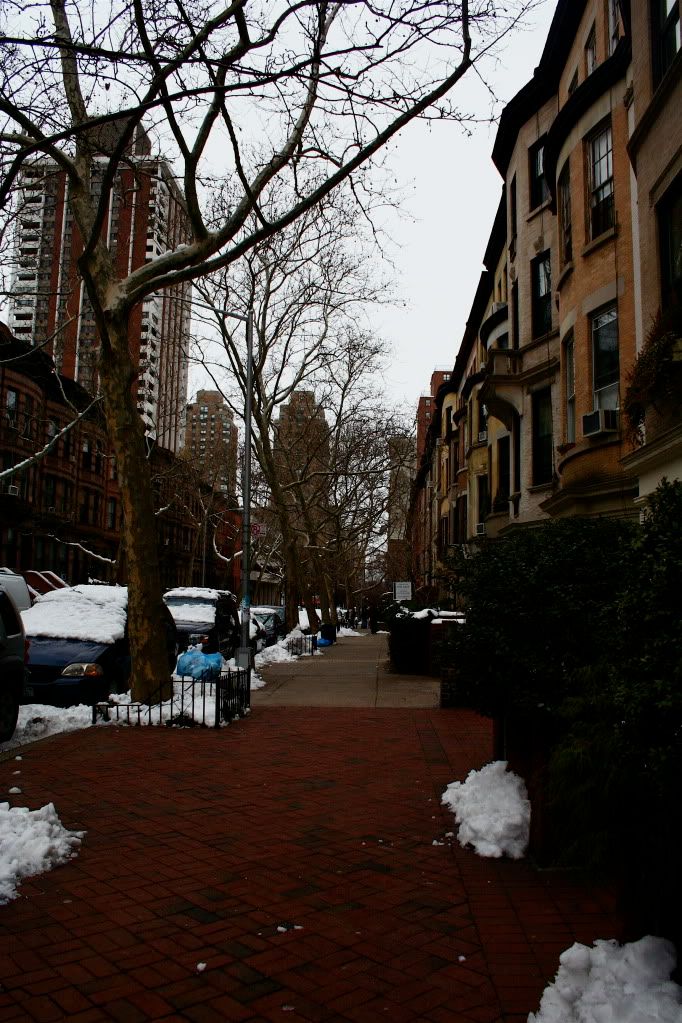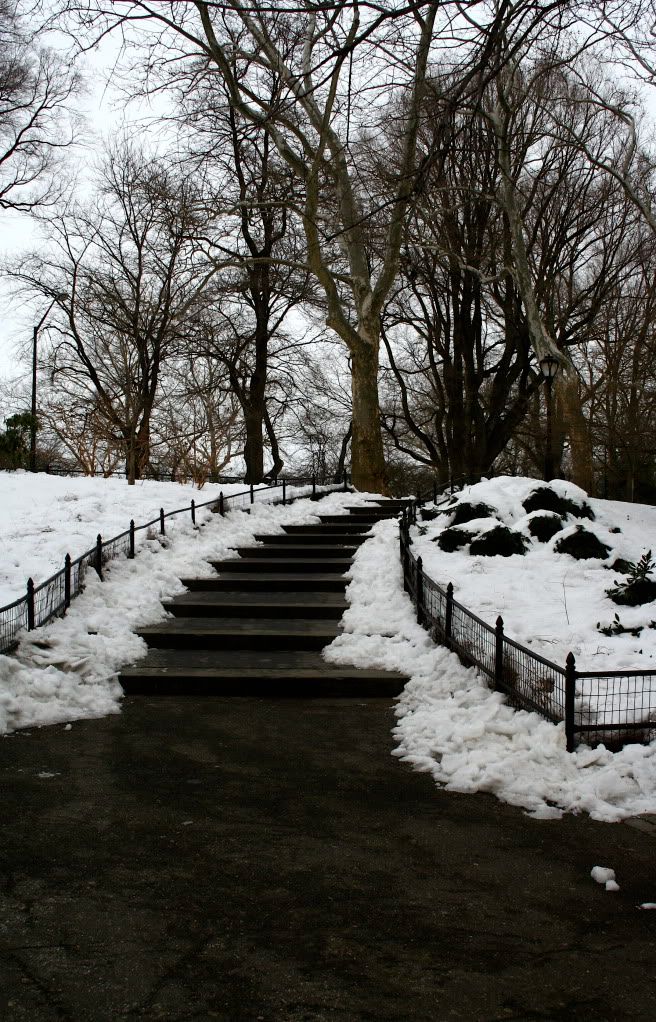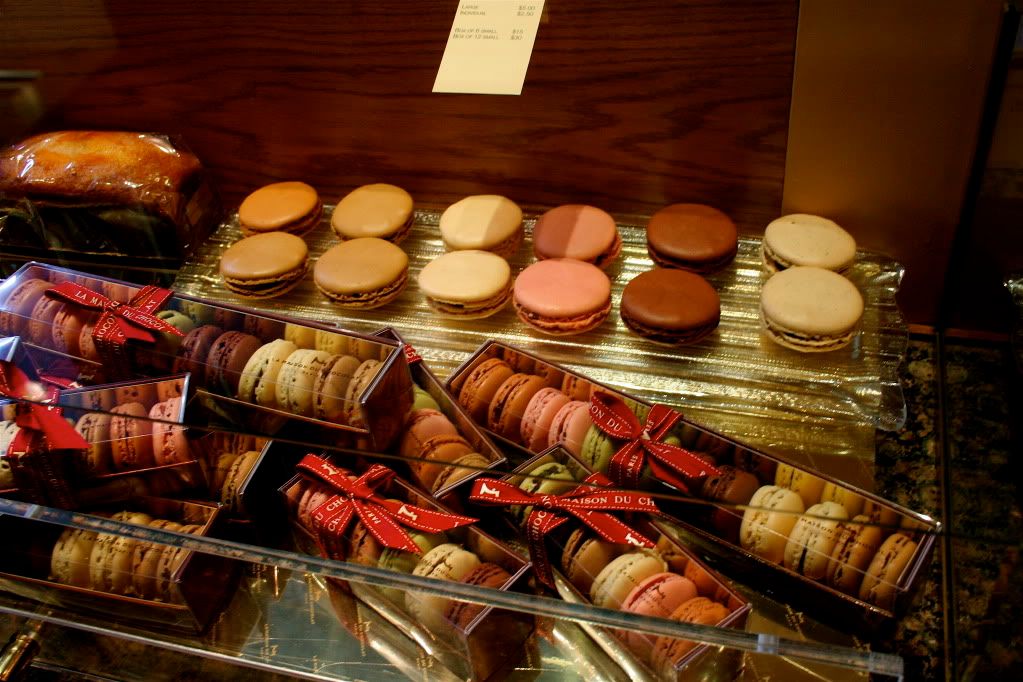 We had planned to wake up bright and early so we could fit in a bunch of sight seeing before the Conference, but with the three-hour time difference and an exhausting night, that didn't really happen. Our hotel was a couple of blocks away from Central Park, so we took a cute little stroll there. It really was like a winter wonderland with dogs rolling around in the snow and children sliding down hills. It was so surreal walking along miles and miles of snow and in a park where so many movies have been filmed. We then ended up in Upper East Side (aka super rich side) of Manhattan and hunted down this cute chocolate store that Robert went to last time. We bought some ridiculously overpriced chocolate for his parents and then headed to Chinatown where the conference was being held. We got some ramen and dumplings at a small restaurant near the gallery. Cheap, hot, and delicious--that was all we could ask for.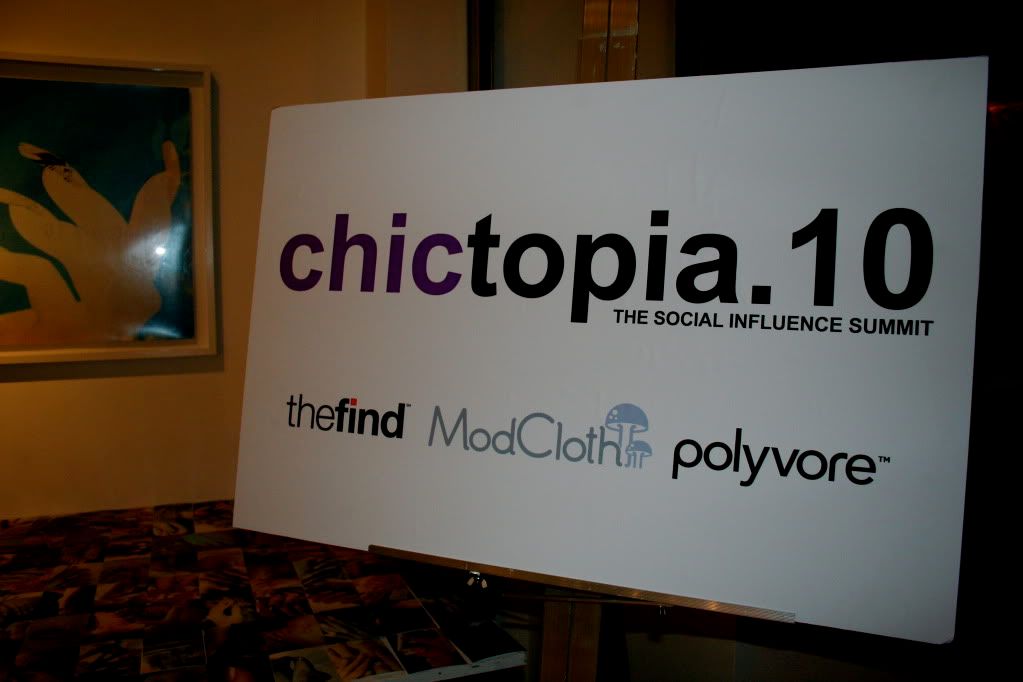 (Suits designed by JCheikh)

(Goody bags we got! Designed by Danny Roberts)

The gallery where the conference was held was small, and I was really surprised with the turnout. Apparently the event was sold out! I met so many of my favorite bloggers there! I was so excited that the first person I saw was
Tieka
, who I love even more after meeting her in real life!! She is so cute and bubbly! Everyone is seriously so much prettier and sweeter in real life. I was so star-struck in that room. I didn't even know what to say. I could barely get passed the initial
"OMG-You're-

REAL!

"
phase. The conference took up the whole day (2:00-8:00pm). It was really informative, yet kind of boring and a bit disorganized in the beginning. We heard from bloggers (like
Liz
and
Rebecca
), and other important people (ie. the founder of Modcloth). I honestly thought it'd be more of like a fun get-together rather than like actual lectures on marketing and advertising...but I'm really glad I am a part of such an accepting and open-minded community that is so passionate about what they do. It's so cool that we're all a part of the initial boom of fashion blogging.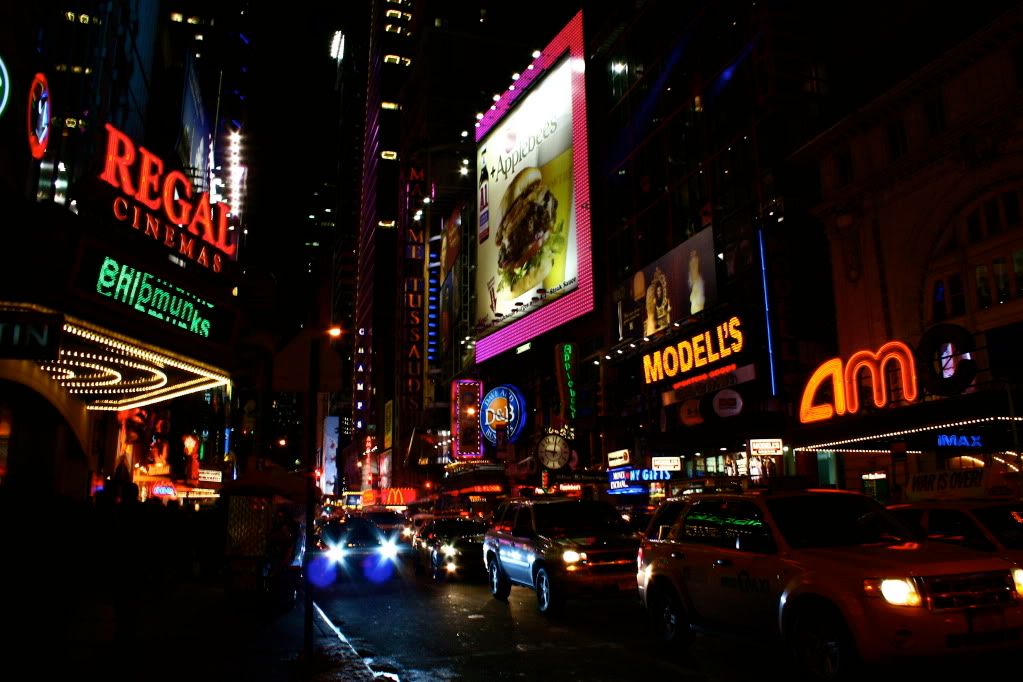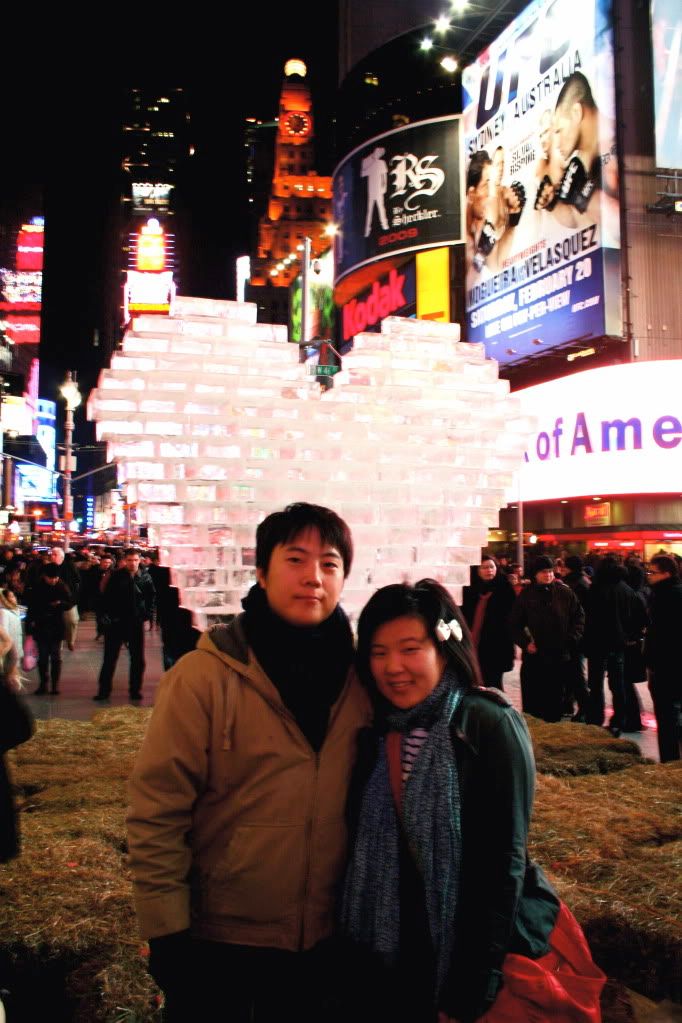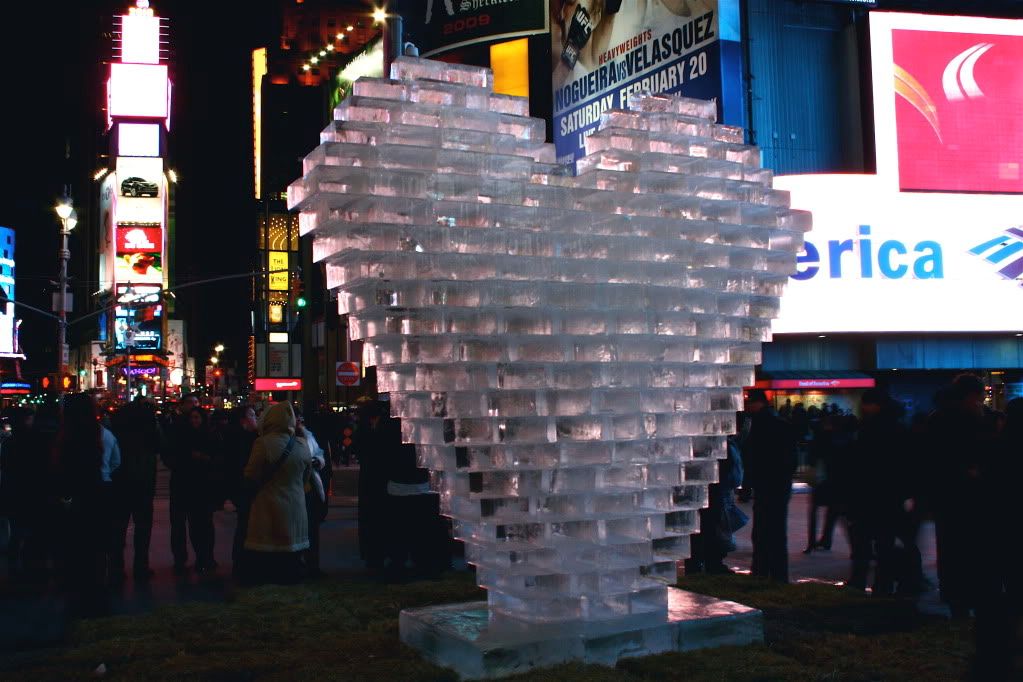 After the conference, Robert and I headed back to the hotel to drop off some things and change. We then headed to Times Square. Times Square is so breath-taking, but in a different way from Central Park. All the bright lights and the crowds of people were just so eye-opening. You have to stand in the middle of it all for a few minutes just to soak in everything. There's going to be a huge Forever 21 opening there soon too! We visited the humongous Toys-R-Us, the three-story M&M's story, and the Hershey Store (I don't really know why we didn't do any clothing shopping there...). We bought some goodies and headed to the Chictopia 10 After Party at Tribeca Grand, where we met up with the girls again and danced until 1:30 AM. The party was a bit...weird. It was way too dark for people to see each other. The only way I found Tieka and the other girls was seeing
Andrea's
(who is so lovely and nice enough to give me some tips about the field of photography!) amazing, big hair! Once we got back to the hotel, I collapsed from exhaustion.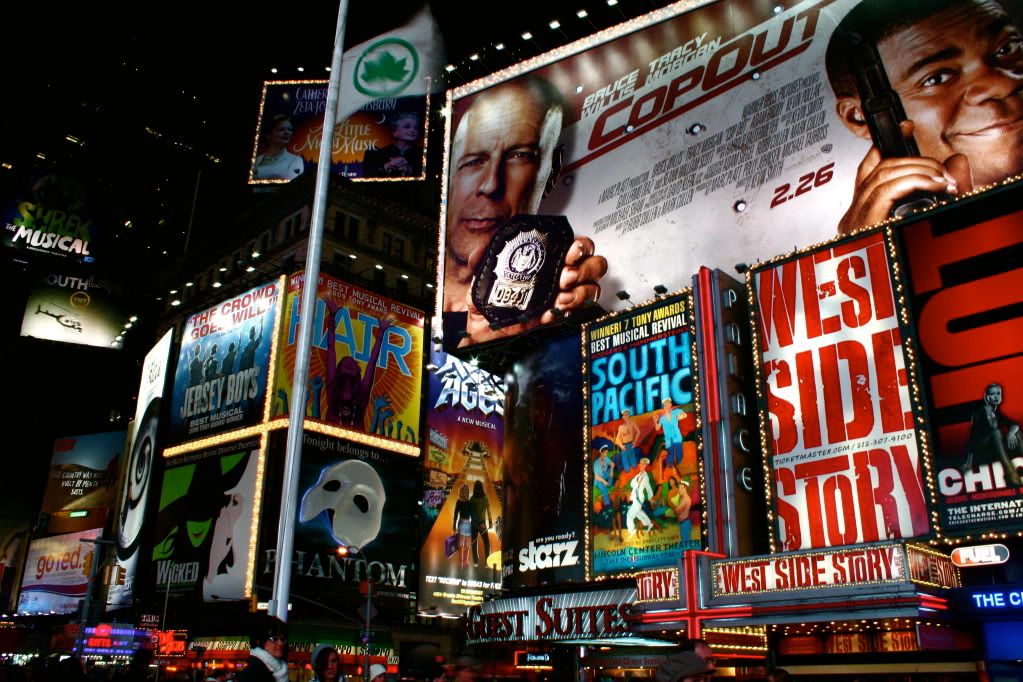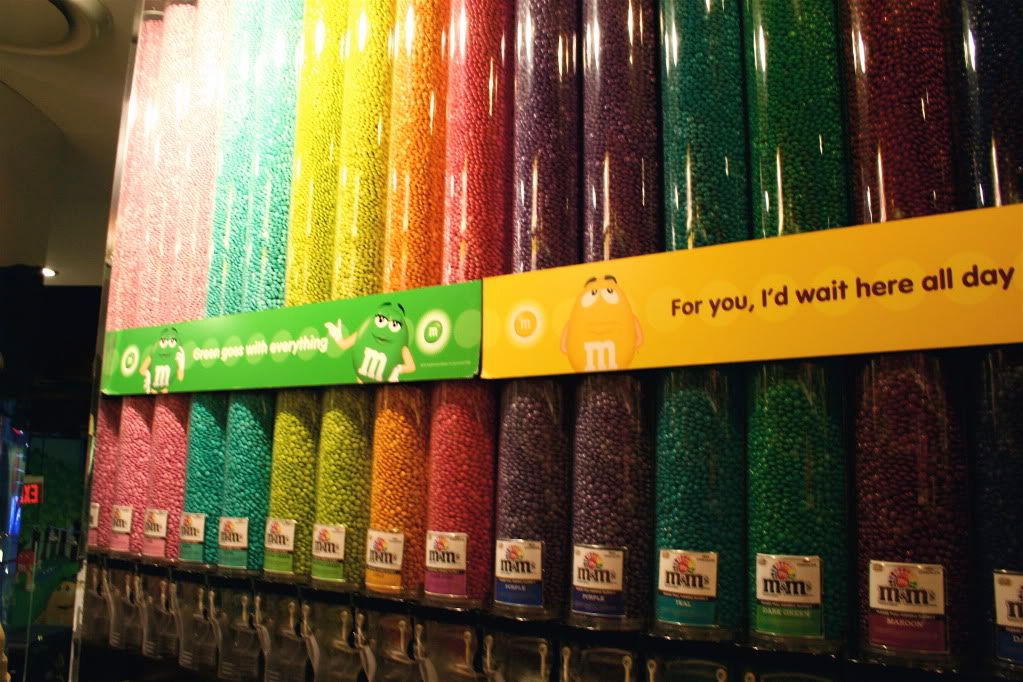 (

Tieka and I

at the After Party!
She was one of the people I was most excited to meet! After only months of communicating through comments, emails, and even snail mail, we've become instant friends! It was so amazing meeting her in real life! I can't wait until the next time we meet, and hopefully that will be a double-date!)
Day Three: Sunday, February 14, 2010
(Valentine's Day and Chinese New Years!)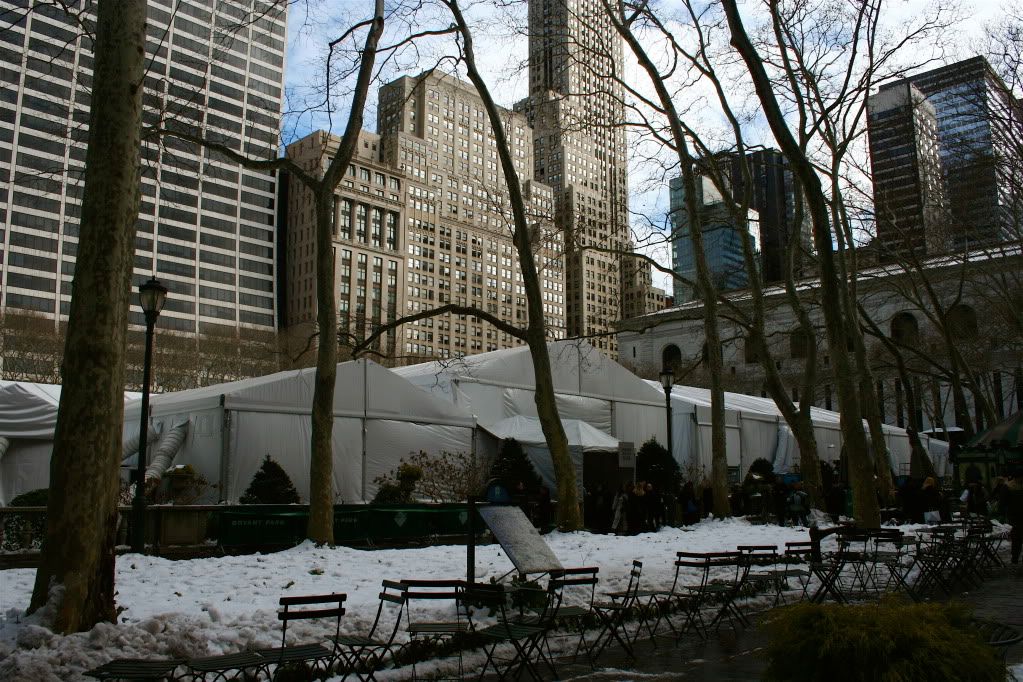 Since we failed at waking up early on Saturday morning, we had hoped to do it on our (supposed) last day in New York, but of course, we didn't. We woke up late and hurried to get dressed, pack, and check-out so we could get to the photo shoot at Bryant Park on time. Since we were (supposedly) flying home that day, I didn't want to wear a dress or a skirt, and showed up in a super casual outfit--
BIG
mistake! Everyone else was extremely chic and fierce with their gorgeous dresses, skirts, and furs. Ugh, I felt
so
out-of-place! Actually, I felt like that the
entire
trip...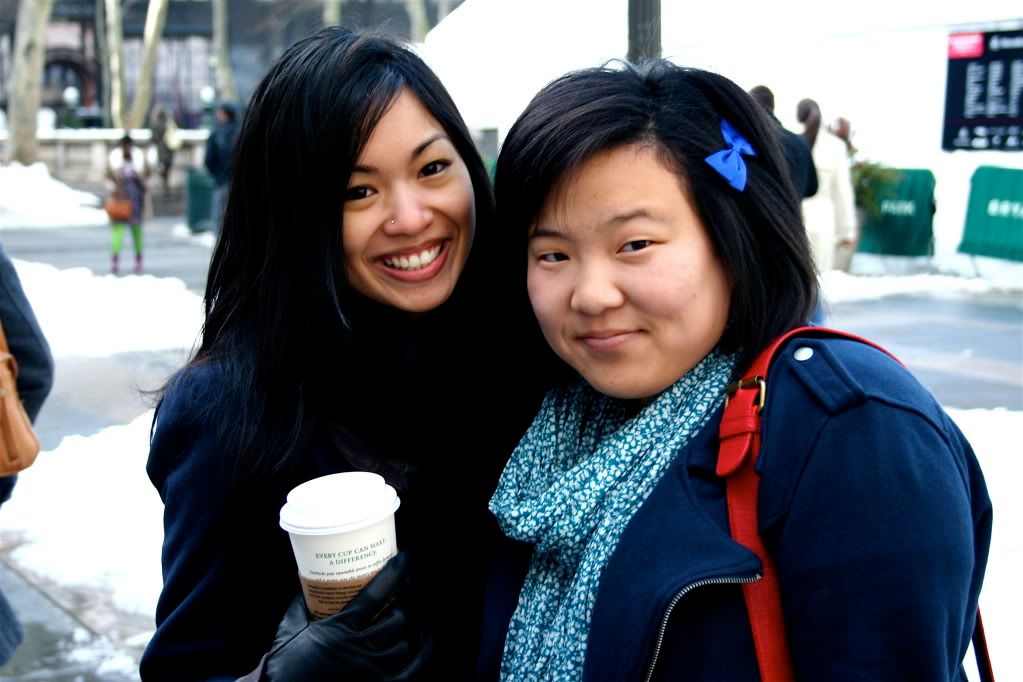 (Kristine [the editor of Everybody is Ugly at Chictopia] and I! She was another person I was extremely excited to meet in person! She is such an inspiring person with her amazing jewelry store, her ability to write well, and her effortless sense of fashion. Her humility despite all her talents makes her even more inspiring. I was in awe when she approached me first at the conference! She is so sweet and nice!)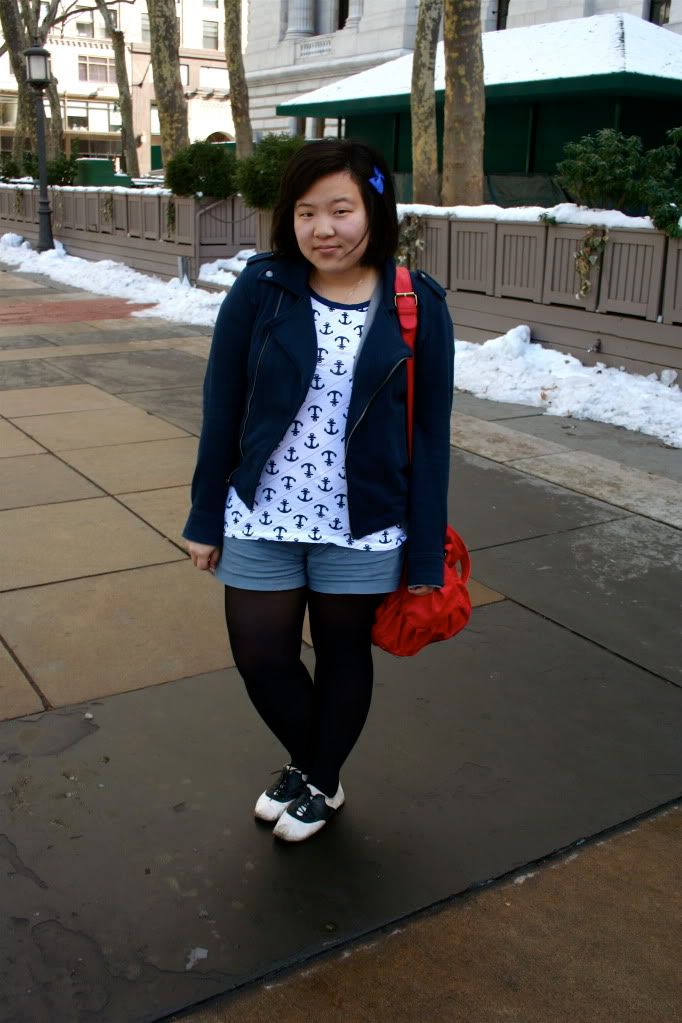 (wearing: blue jacket -- forever 21; anchor t-shirt, saddle oxfords, gray cardigan -- urban outfitters; blue bow -- h&m; black tights -- target)

My style has always been way too casual, but it's alright in Southern California since everyone else is casual and laid back. But in New York, I felt like such a slob! While shopping for the trip though, I saw all these chic things like leather jackets, furs, etc. and thought that I should be getting those things instead of what I usually buy (ie. striped tops). In the end though, I am glad I stayed true to my own style. I have been so inspired by all the street style in New York though so I hope my outfits this week will reflect all the culture I've soaked in.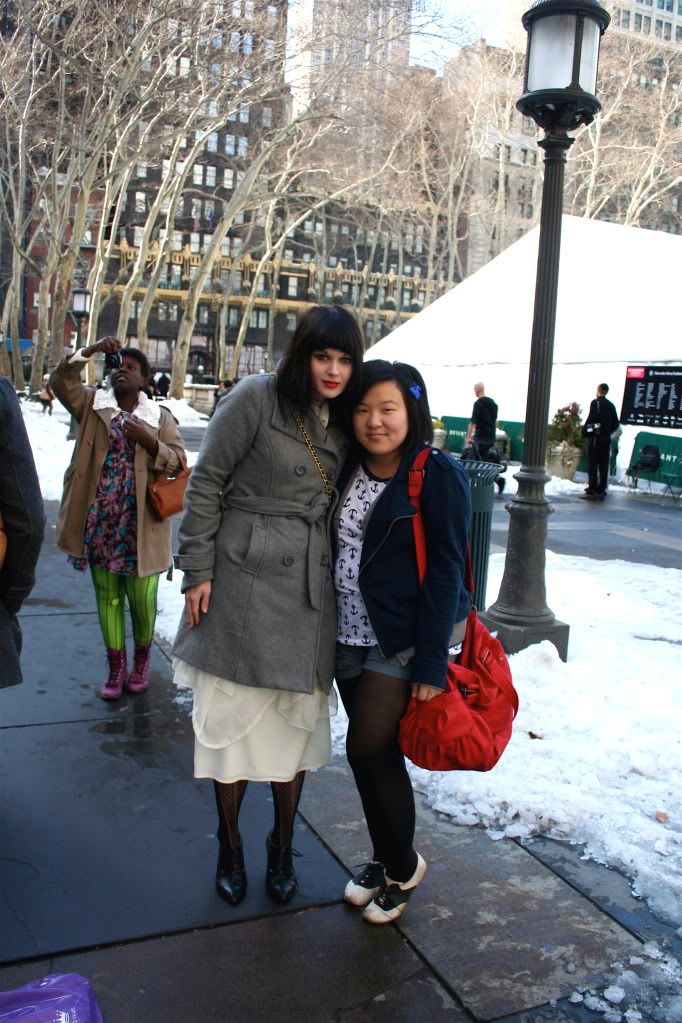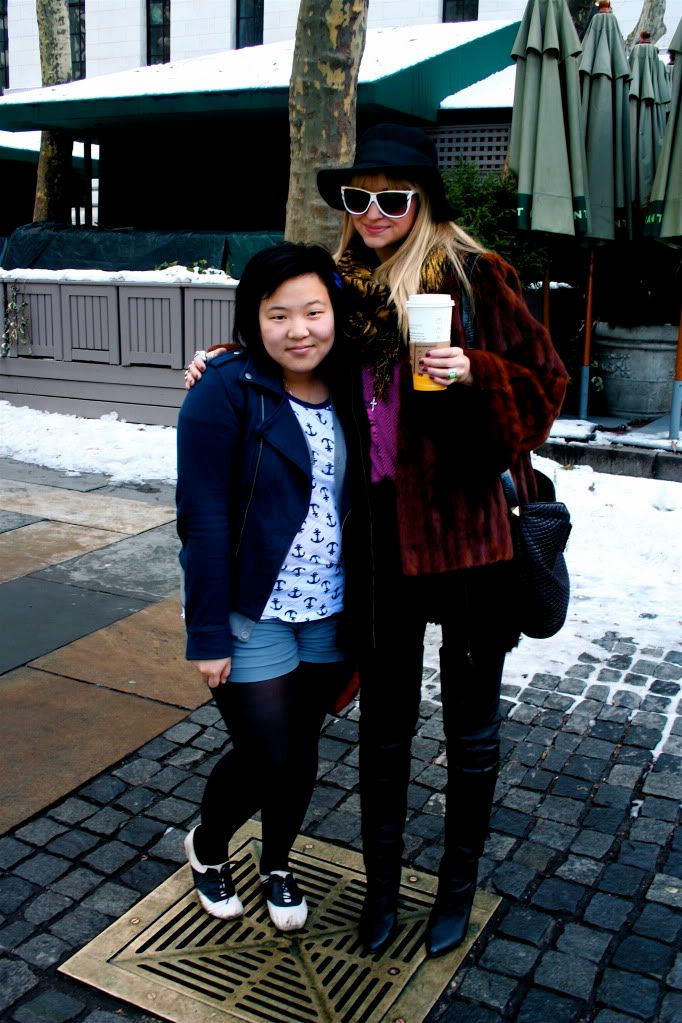 (
Brittany and I
--Brittany is so sweet and was seriously so fierce in that white dress! Her luggage was lost for all of Saturday and yet she still managed to look amazing at the conference!;
Liz and I
--I got to chat with Liz for a while during lunch since we sat at the same table! She is so charming, intelligent, and so down-to-earth!)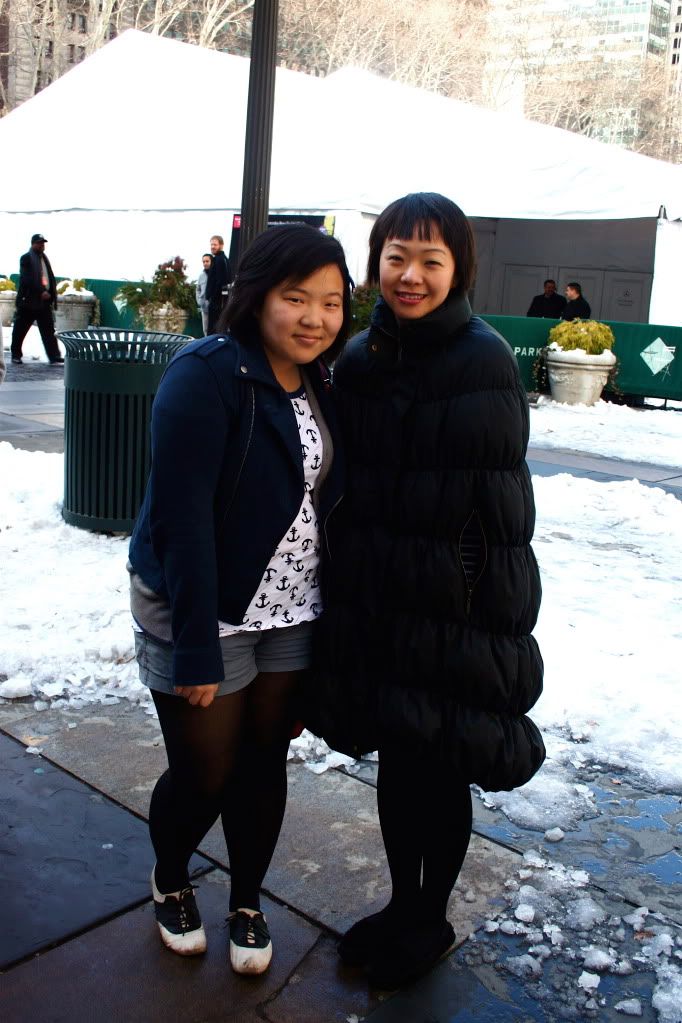 (Helen [co-founder of Chictopia] and I; Lydia and I)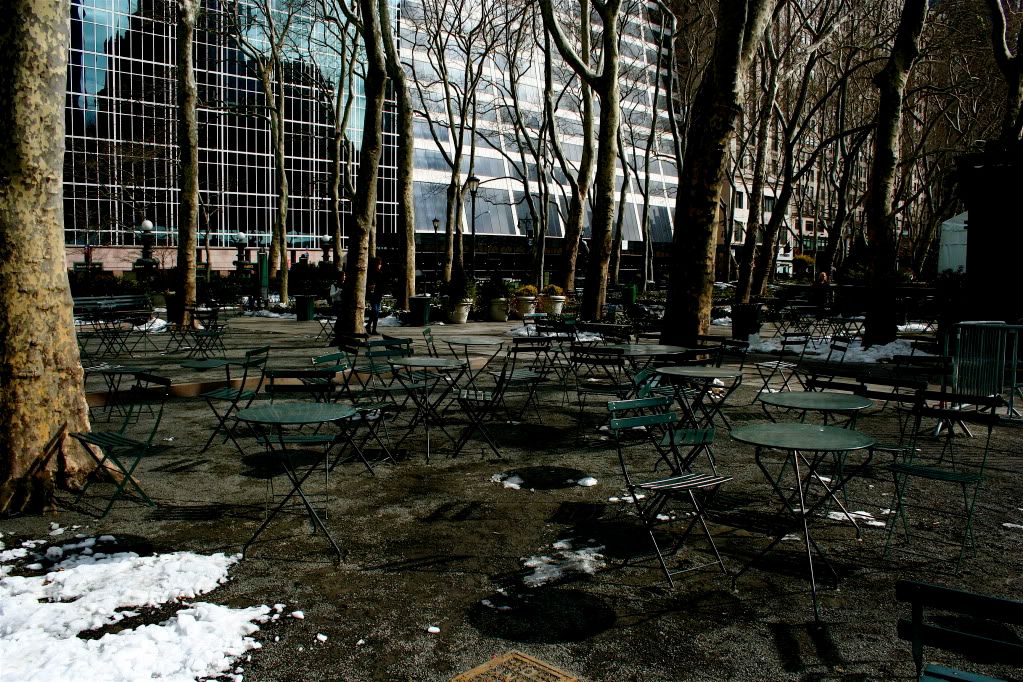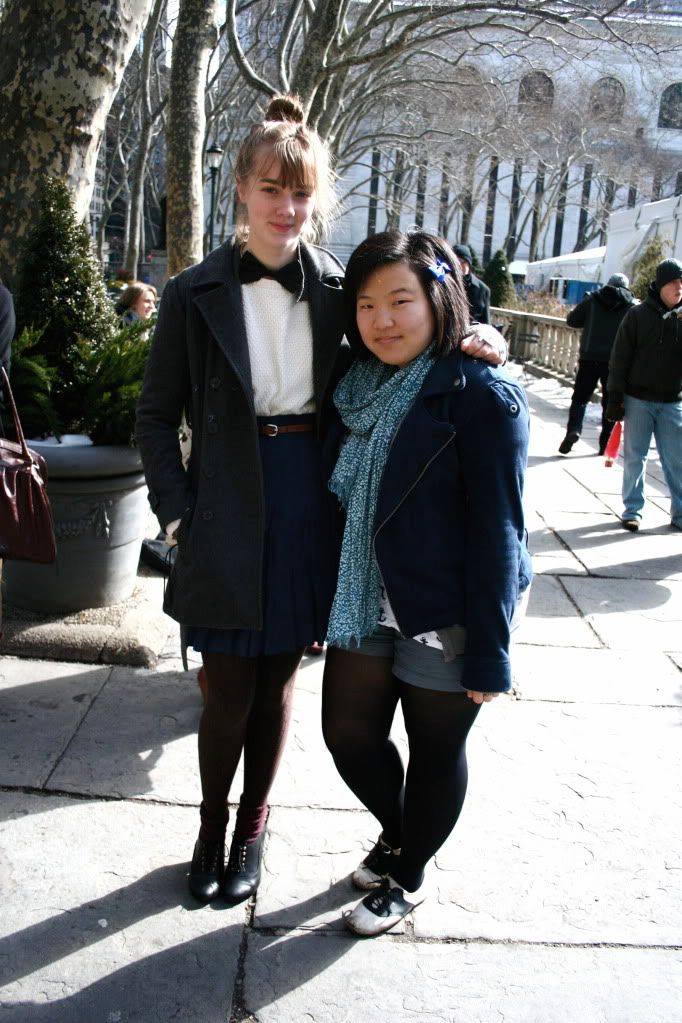 (Pauline and I--Pauline is so sweet and stunning! It's so hard to believe that she's only 16-years-old and already that chic!; Annie and I--Annie was supposed to be my roomie through out the trip, but that was before Robert decided to come with me. She too is so gorgeous and sweet in person and her outfits on both days were fantastic!)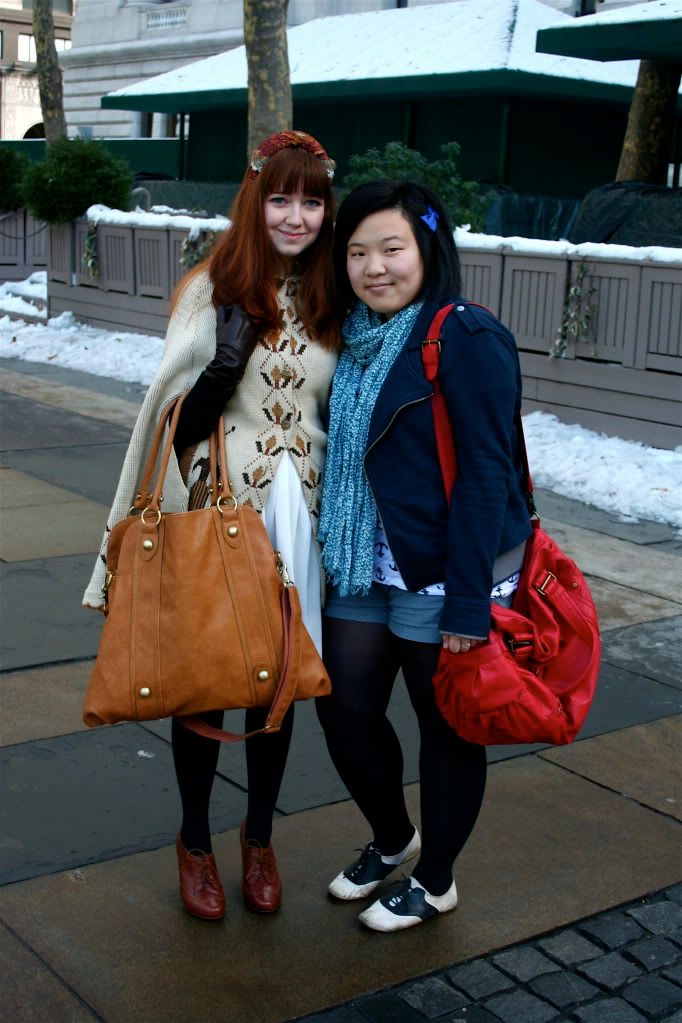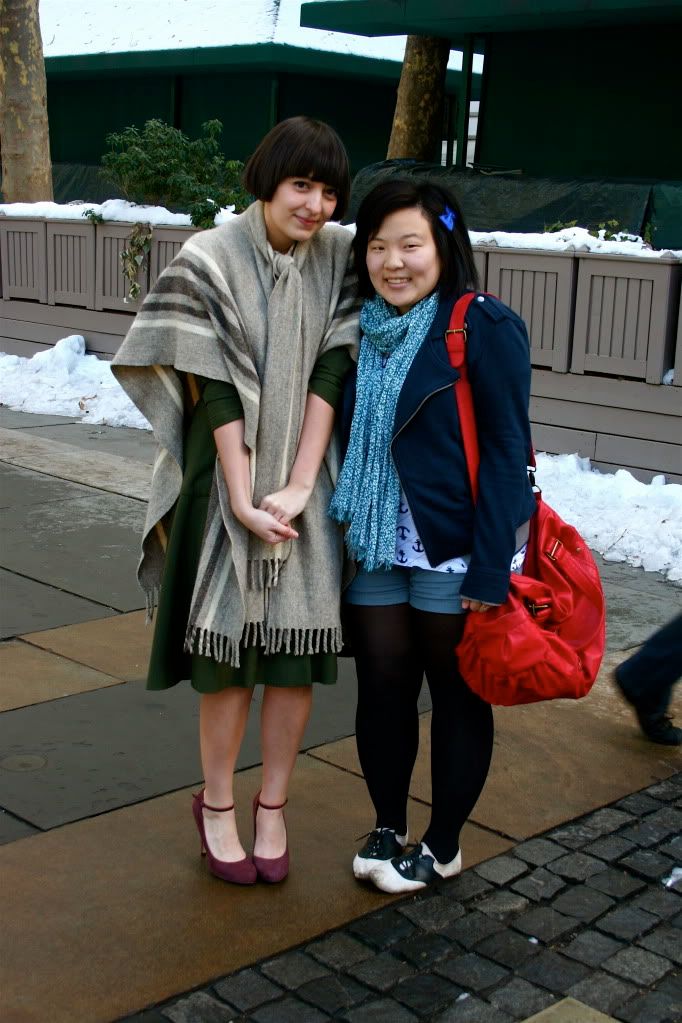 (You probably know both of these ladies--Rebecca from The Clothes Horse and Erin from Calivintage. It was seriously like meeting celebrities! I adore their blogs so much! I wish I had gotten more chances to chat with them more, but Erin and I will hopefully see each other again the next time I go up to San Francisco! She can then show me her secrets of vintage-shopping!)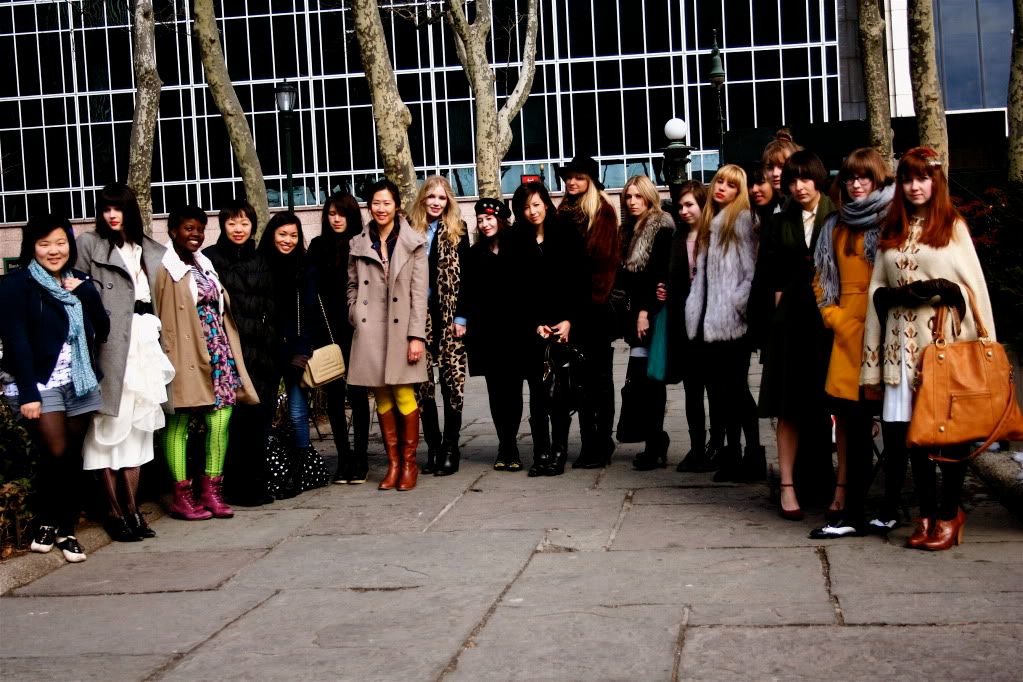 Being the Project Runway fanatic that I am, just being at Bryant Part and seeing all those white tents was so surreal! Bryant Park is so stunning being surrounded by sky-high buildings. After the photo shoot, we all headed to Spice Market with people from Modcloth and other bloggers for lunch. I wish I had gotten some shots of the restaurant. It was such a beautiful place--very oriental. The food (especially the chicken samosas) and passion fruit iced tea were delicious. Robert and I were so sad that we had to leave early to catch our 4:25pm flight home. I regretfully missed out on dessert, and the shopping tour after lunch!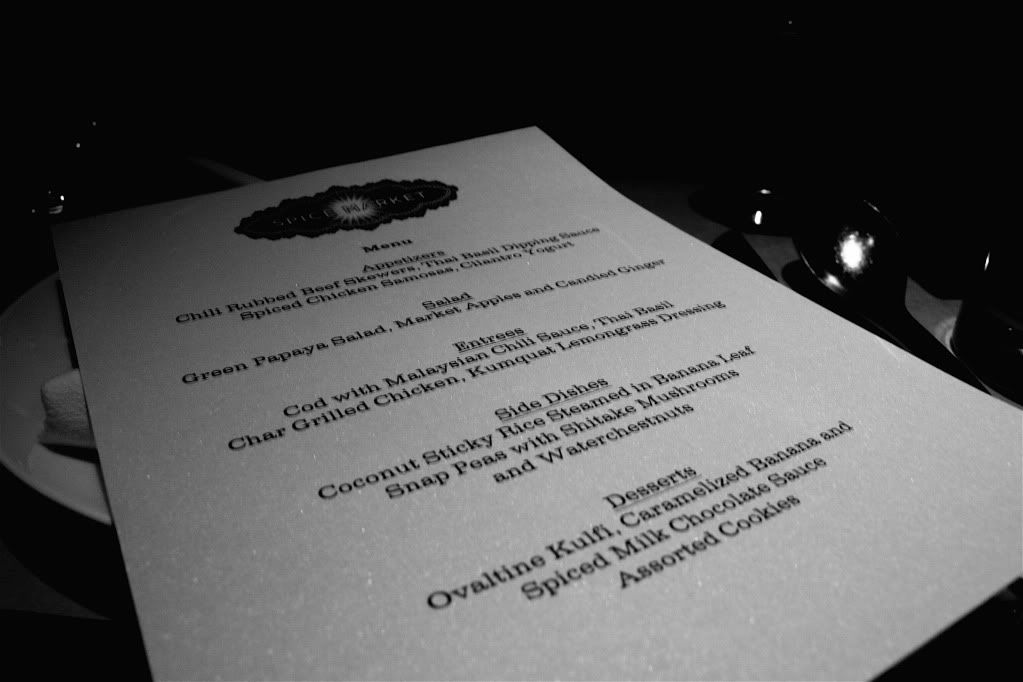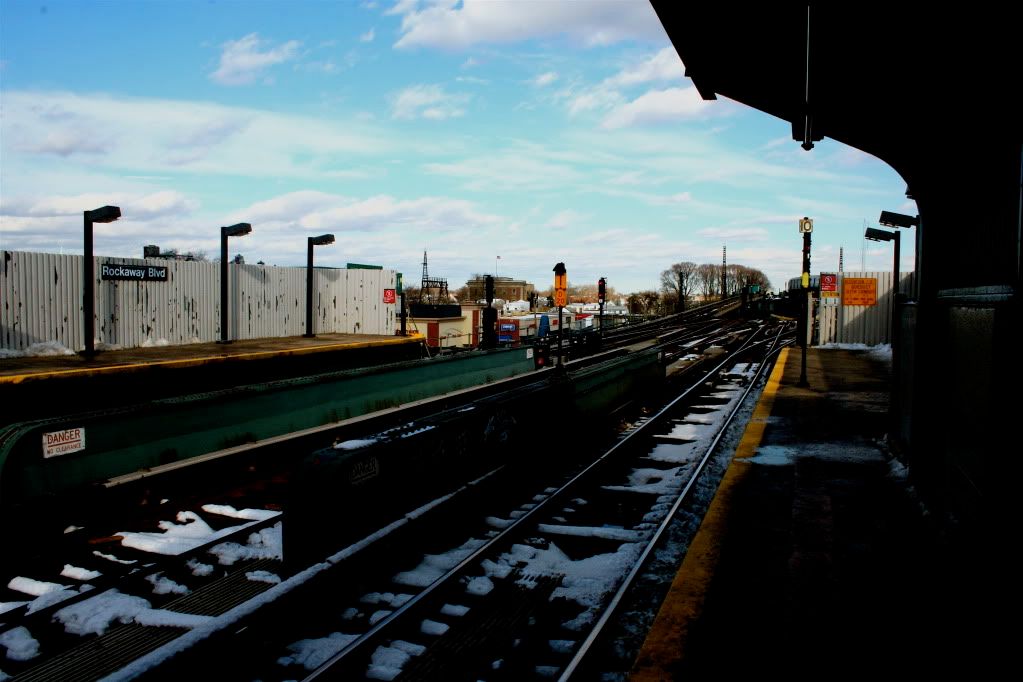 We left lunch at around 2pm and got to the airport at around 3:35. On the way to the airport, the strap to my red bag broke... :( I guess it just wasn't meant for heavy-duty traveling! When we went to check in at the airport, we couldn't because apparently we were too late.
What?
! It was ridiculous. We didn't have any luggage besides our carry-on items, and could've easily made the flight. Basically, we ended up missing our flights to Detroit (and then home) because we were 5-minutes late to check-in. I don't even know how to explain what happened...I ended up having a melt down at the airport. As we tried to figure out what to do, I sobbed in Robert's arms, saying I didn't deserve to win and that we shouldn't be here in New York; and that if I didn't win, we wouldn't be in this horrible, expensive mess. We ended up having to pay a $180 flight-change fee each and another hotel night's stay. It was a
nightmare.
I'm never booking flights from Delta ever again! I was in shock while on the subway back to the hotel. After such a traumatizing afternoon, Robert and I decided to have a nice quiet night to ourselves at the hotel for Valentine's Day. We bought some food and brought it up to our room, and watched Figure Skating.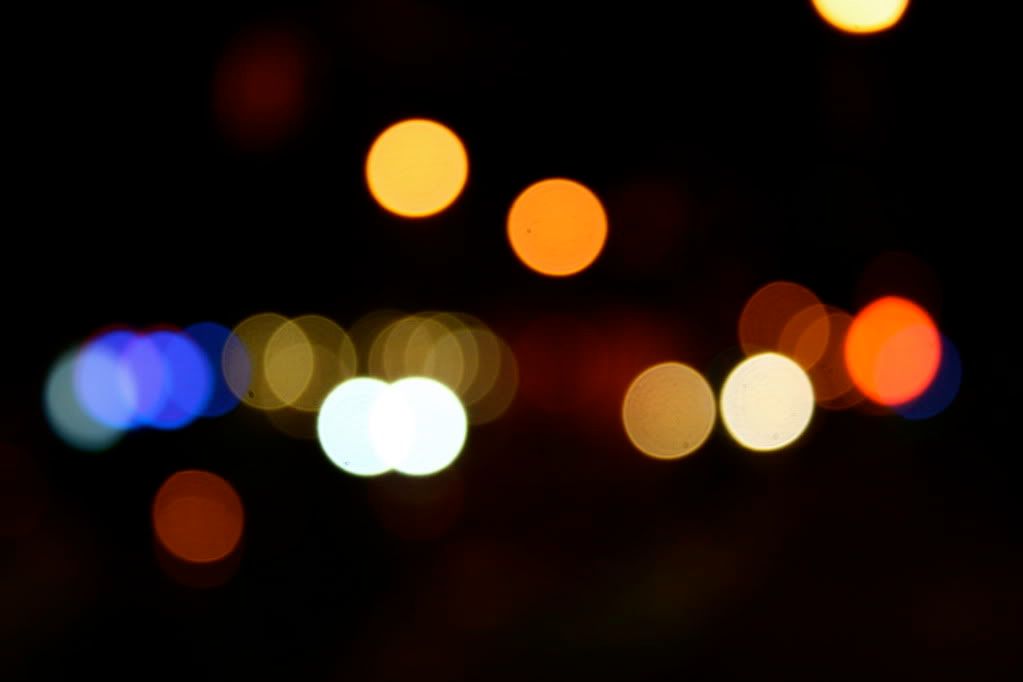 Day Four: Monday, February 15, 2010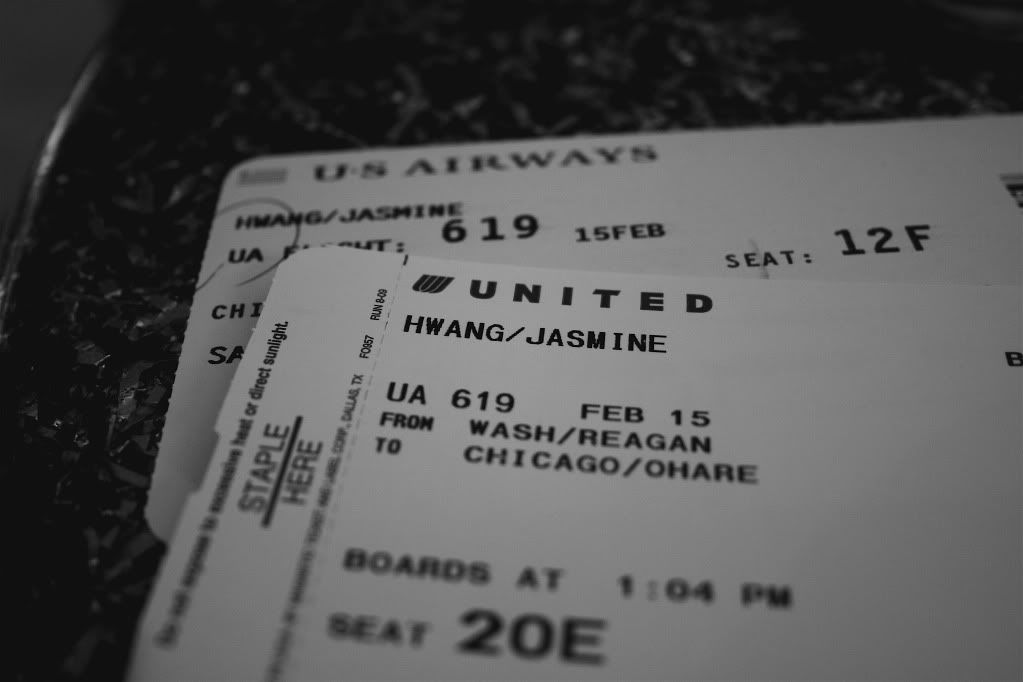 Oy. We woke up late. Again! We had planned on taking the subway and the bus to the airport since it's a lot cheaper and we had money left on our metro cards; but we couldn't afford to miss our flights again and I giggled at myself as I called us a cab for the first time (it really is just like in the movies!). The cab ride to the airport was so bittersweet--the scenery was so breathtaking, but I was so reluctant to leave! We made it to the airport on time, and three (New York to Washington D.C., Washington D.C. to Chicago, Chicago to Orange County) plane rides later, we are home safely. I can't believe we spent a whole day either on a plane or in an airplane terminal. I actually typed this whole blog post out last night, but I was too dizzy from motion sickness to continue...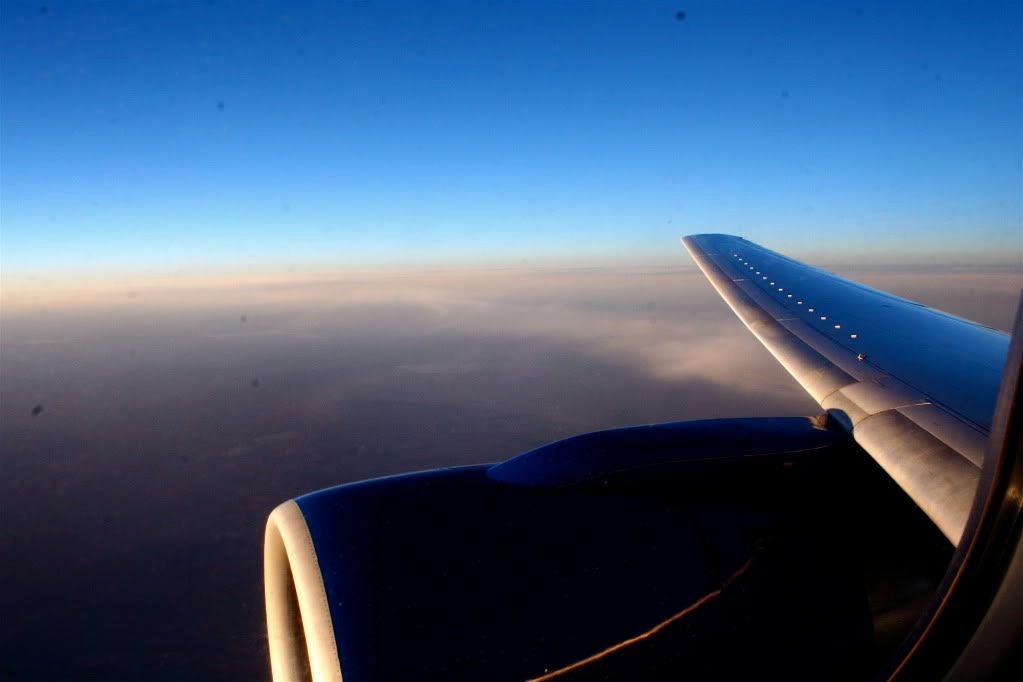 Overall, this trip was so, so, so amazing! I'm really glad I got to go with Robert, and meet so many of you in real life! I really hope I get to go to another conference (they're trying to plan one for September's NYFW!)! I'm a bit disappointed I didn't get to shop at all in New York, but I can always get clothes here in Irvine. But all the memories and new friends I have are so irreplaceable and priceless! Thank you so much Chictopia for giving me this opportunity. I had a blast!
It's going to be tough, but I must be getting back to reality now. Waking up this morning was horrible. New York has definitely made me want to leave this sub-urban bubble even more. It's so different here. California is like spring/summer right now with 80-degree weather. I miss the snow and a "real" winter, but I miss the bustling city life even more! Robert and I are more determined than ever to get out of this little town and move to a big city, hopefully New York. I actually have even more things to show you from this trip, so just watch as they trickle in upcoming posts! I really missed you all! I can't wait to catch up on all your blogs! Thank you again for all your support!
Until next post,
Jasmine
Thank you
Robert
for everything! I love you so much!