After over a week, I finally got around to doing laundry. I'm usually on top of my weekly laundry, mostly because I miss my go-to striped tops too much to be apart from them for too long. Despite having my full range of striped tops to choose from, I couldn't come up with a post-worthy outfit today...It's just one of those days I guess. Oh, how I wish I could be as creative as
Erin
on her laundry days!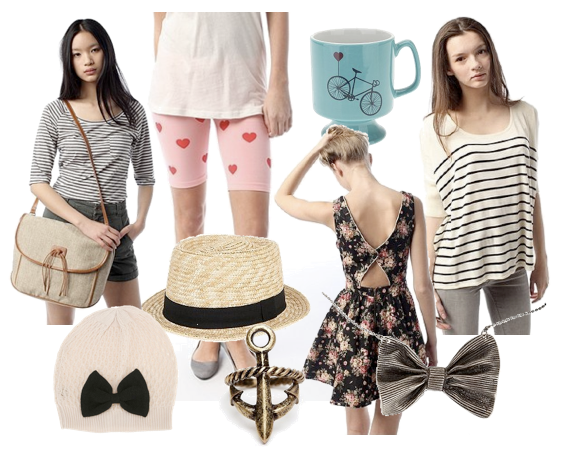 (collage using Polyvore, items from Urban Outfitter's website)
I haven't window-shopped online in a while, but after writing down a list of things (aka
5
essays) to do over the next couple of weeks, nothing sounded better to have mini-adrenaline rushes when anything striped or anything with a bow on it scrolled into view.
I don't know what it is about Urban Outfitters that pushes away all reason and allows myself to pay too much for simple items--everything's just so...pretty! I've been on their website for about an hour now, and it has definitely satisfied my inner adrenaline-junkie. I'm completely smitten with their spring clothes. When I saw there was a "
Nautical
" category on Urban Outfitter's website, I couldn't resist clicking on it! Ah! I'm seriously drooling over that
anchor ring
! The rest of their new items have made me even more anxious for spring! Oh how I wish I could afford those
$79 heart biker shorts
...
I think my spring must-haves are the same pretty much every year: florals, and soft pastels mixed in with my usual year-long obsessions of stripes and bows.

Winter quarter is winding down over the next couple of weeks, so I apologize ahead of time if I ever go on a random hiatus. I can't believe it's already eighth week! For those of you who don't know, the quarter system goes by 10-week instruction periods, followed by a week of final exams. It goes by incredibly quickly, which is good for those disgusting required classes.
I also apologize for the malfunctioning of pictures in my previous posts. I've had the same Photobucket account for six years, and this is the first time I've exceeded the bandwith. It took me three tries to re-upload all the pictures from my New York post because my Firefox kept crashing, so...either I'll find some time (and patience) to fix the other posts or just wait until this month is over so my bandwith resets.
Until next post,
Jasmine