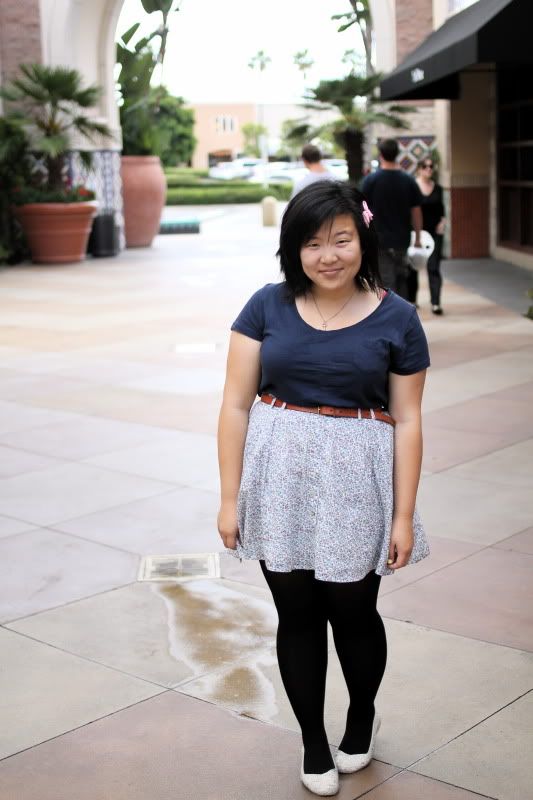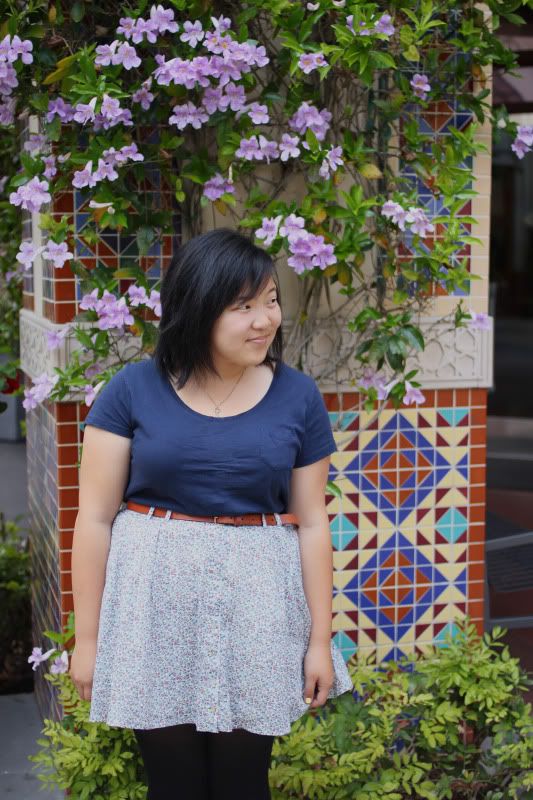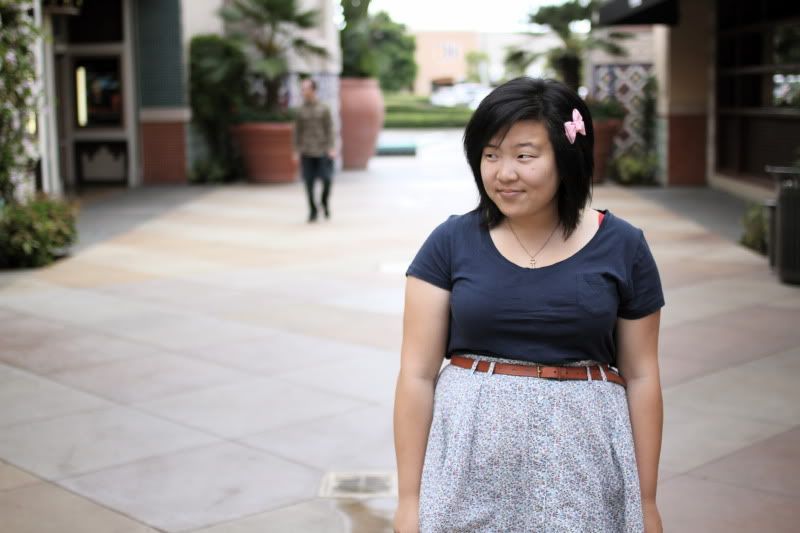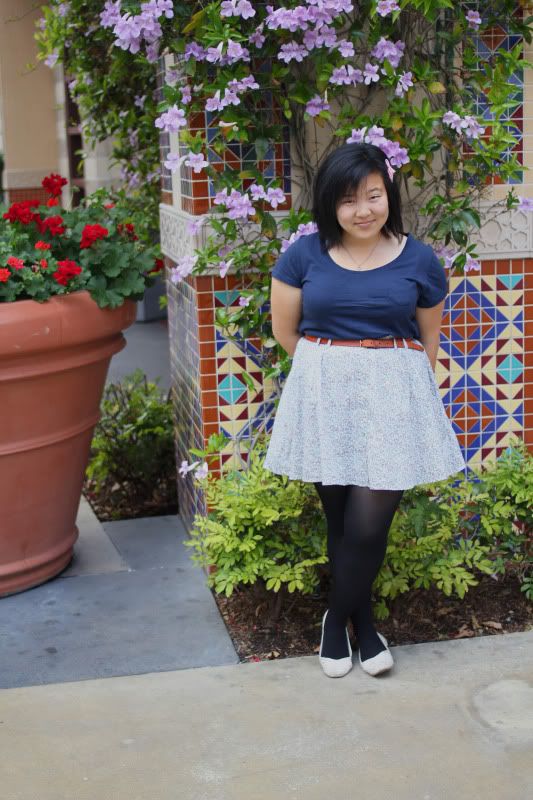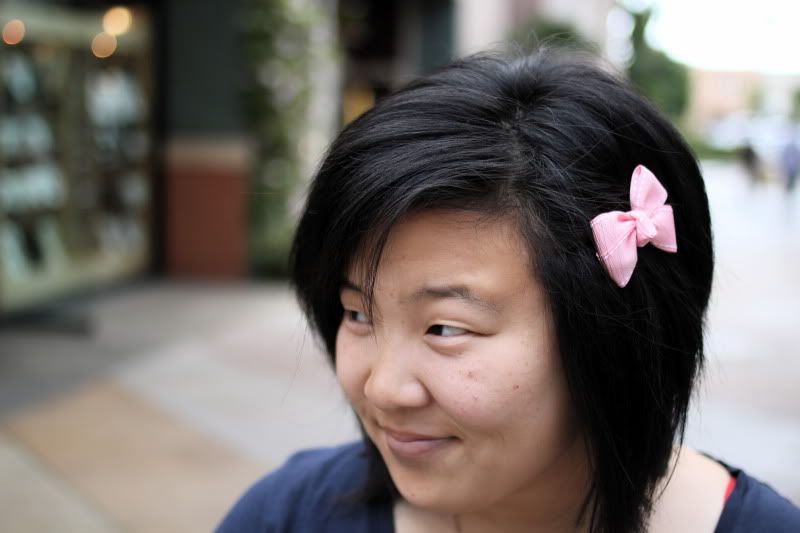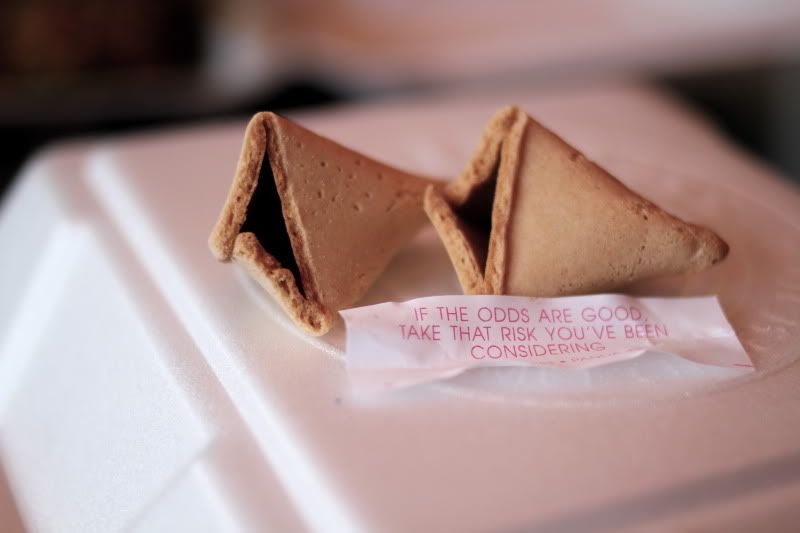 outfit: top --- h&m; belt -- topshop; skirt -- f21; shoes -- aldo; bow -- crafts store
Hello!
Is it just me or does this week seem to be flying by? Minutes, hours, and days are just blending together so it only seems like one really long day has passed, but tomorrow is Friday and then it's the weekend! I guess this is why I haven't blogged in a while. So as you can see in between posts, I finally got my hair cut--back to the a-line bob. It is so much easier to maintain! I have really thick hair so the less I have to tame in the mornings, the better (though I think bed head is worse with short hair since it's more fro-like rather than messy waves hehe). I can't wait for it grow out a bit because I feel like it's a little too short right now and so I can try curling the front longer pieces.
I haven't shopped in actual stores in a few weeks, for which I am proud of myself. I have been wearing things I already own, but recently I have been bitten by this shoe bug where I'm suddenly craving all kinds of shoes: sandals, espadrilles, basket weave loafers, boat shoes, and canvas shoes. So yesterday, Robert took me to look for shoes. We found
the
boat shoes at Nordstroms but they were half a size too small, so we're going to another Nordstroms to see if they have my size tomorrow. They're so cute--even Robert wants boat shoes now. One down, four more to go! Robert told me I have the shoe taste of a grandma and I couldn't agree more and be happier. Other women were looking at crazy heels, but I love my flats and I'm sure my feet thank me for it. My spring fever is still burning too--I have been wanting nothing else but pretty, dainty florals. Even admist the remodeling of our house, I'm considering foregoing striped wallpaper for a pretty floral one; but being the fashion blogger I am, I'm seriously trying to pattern mix wallpaper and find a striped and a floral that will compliment each other. Does that sound crazy? I'm sure the next girl who takes over my room will think I was crazy.
Until next post,
Jasmine