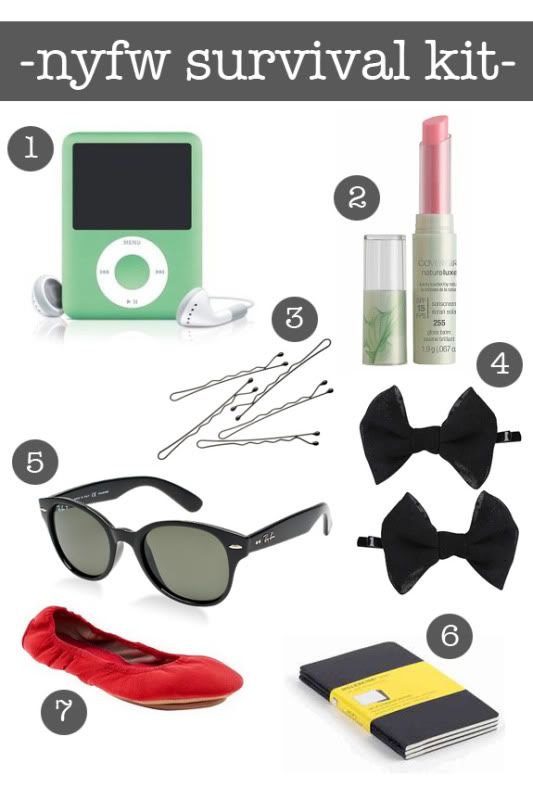 1. ipod nano 3rd gen / 2. covergirl nature luxe gloss balm / 3. bobby pins / 4. bows / 5. rayban 4141 / 6. journal / 7. gap city flats
Hello!
When I saw Kim's
NYFW Survival Kit,
I decided to do one of my own just for fun since NYFW is now less than a week away for me. This will be my third NYFW, but I'm still kinda stressing over planning outfits and packing, but hopefully I'll be smarter than I was last time. On Sunday, I found a nice huge bag to lug everything I need around the city. These are the things that'll be in that bag along with the necessities: phone, camera, and wallet. I don't wear make up often; but when I do, it's just mascara and lip gloss. I love this gloss balm by Cover Girl since it's moisturizing but still gives my lips some color. I usually carry bobby pins and some accessories in my bag so I can change up my look quickly if I forget or if I was in a hurry to leave. I think during NYFW, accessories can help you change your looks from day to night for after parties and such. Also, since that weekend will be the first time I spend so much time in heels, my feet will definitely be needing breaks from time to time--hence the super comfortable Gap City Flats.
I am so sorry I've been so MIA from the blogging world this week. I've been subbing at one center as well as working shifts at my base center--so it's been a little crazy. Outfits were the last thing on my mind when I had to be at work by 8AM (I usually take my outfit photos in the morning) and by the time I got off at 5:30PM, all I wanted to do was eat and sleep. I think the craziness will die down now that I'm done with subbing. One good (or bad) thing about having put in all these hours is that I'll definitely be able to shop while in NYC.
Back to normal posting real soon! Have a wonderful Labor Day weekend my U.S. friends! Also let me know if you are going to NYFW and what's in your traveling kit.
Until next post,
Jasmine