Hello!
I am home from my weekend getaway to Las Vegas with Robert. I used to go with my family at least once a year as a kid, but we stopped as my brother and I got older. Vegas has changed so much since then! It has become so much more...fashion-orientated. Each hotel has a mall of some sort--some bigger than others. Vegas is just so magical with all the neck-breaking and breath-taking architecture, and at night with all the dancing lights. We're definitely going back again, and again, and again! I wasn't sure how to divide the photos between posts. I didn't take too many photos on the day we arrived and the day we left, so separating by day and/or by outfit would be kinda pointless. So here goes a giant blob of photos and text...Enjoy!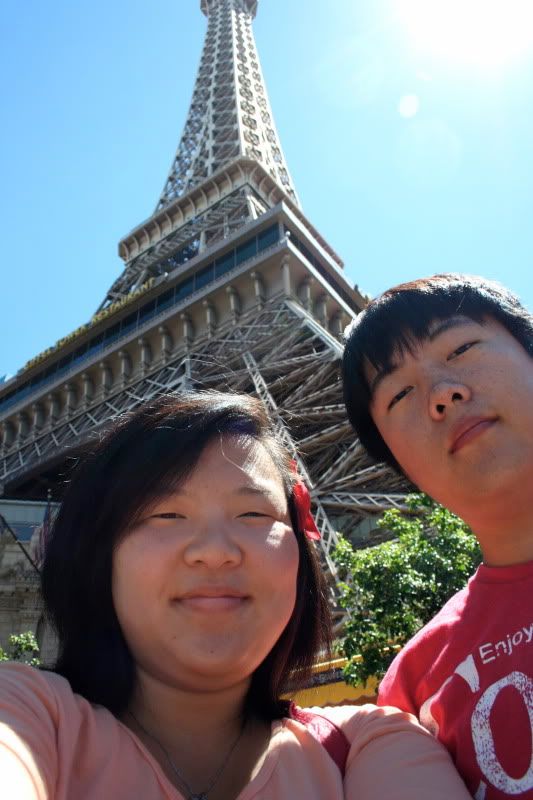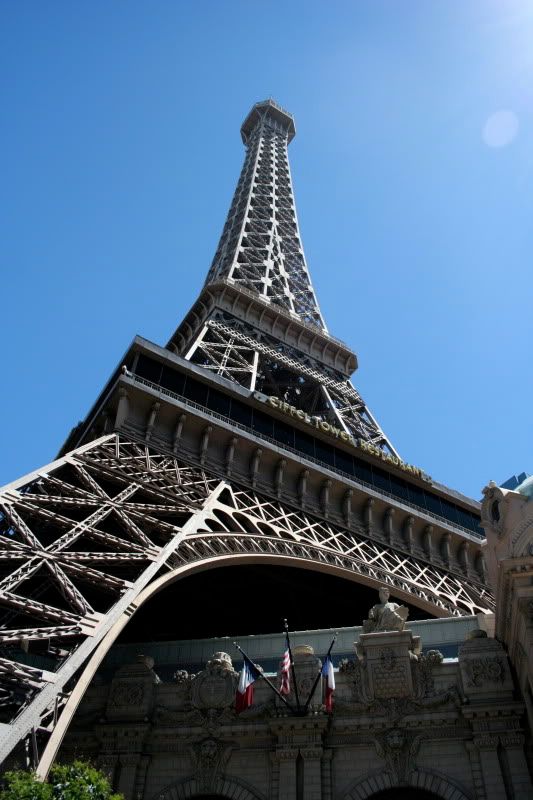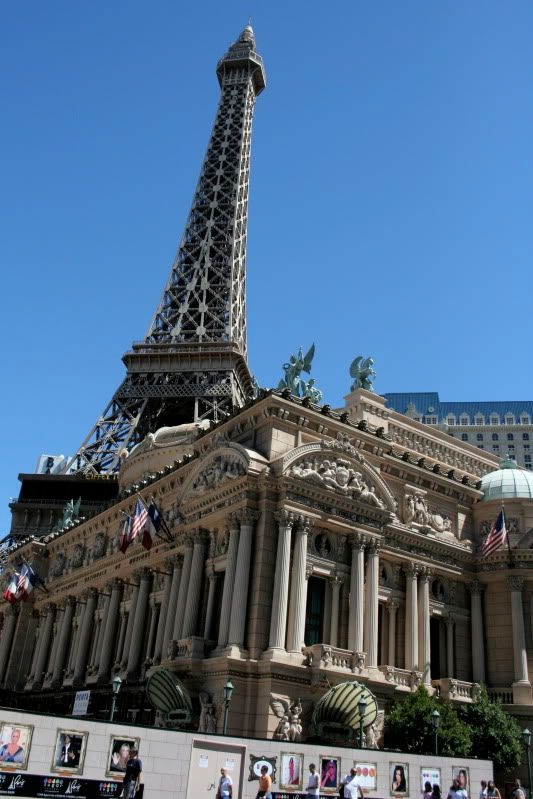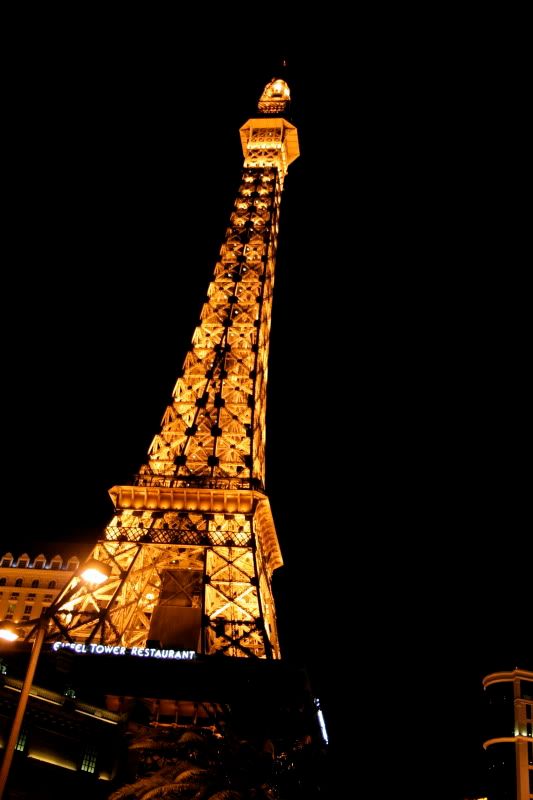 So the first hotel we visited was Planet Hollywood. The shopping there was too good that I didn't get any photos of it. I walked into my first American Apparel store and bought myself my first fully-priced, overpriced basic. I used to hate AA because of their raunchy ad campaigns, but now I'm coming around to see just how versatile their pieces are. I'm a simple gal anyway so a basic can go a long way. I'm going to try really hard to save the skirt I bought for New York, but that probably won't happen. This newfound love cannot be good for my wallet... Anyway, the next hotel we visited was Paris. Isn't the outside so gorgeous?! Until I can visit the real Paris, this is the next best thing!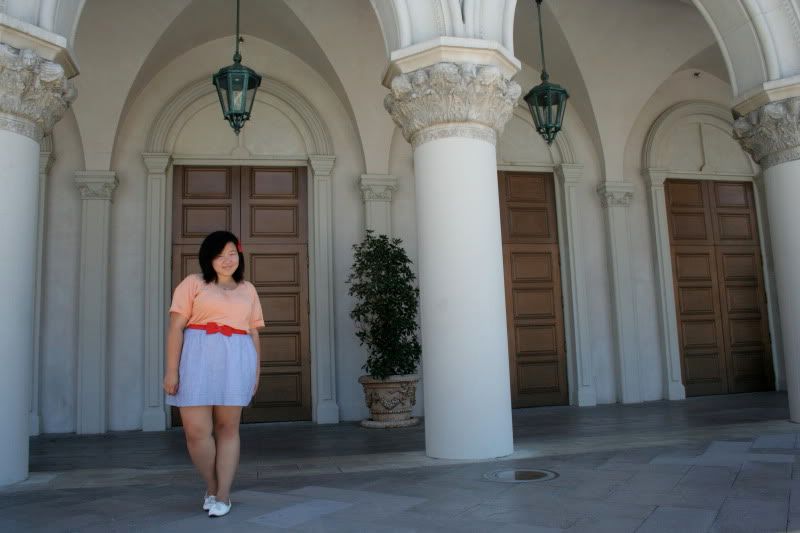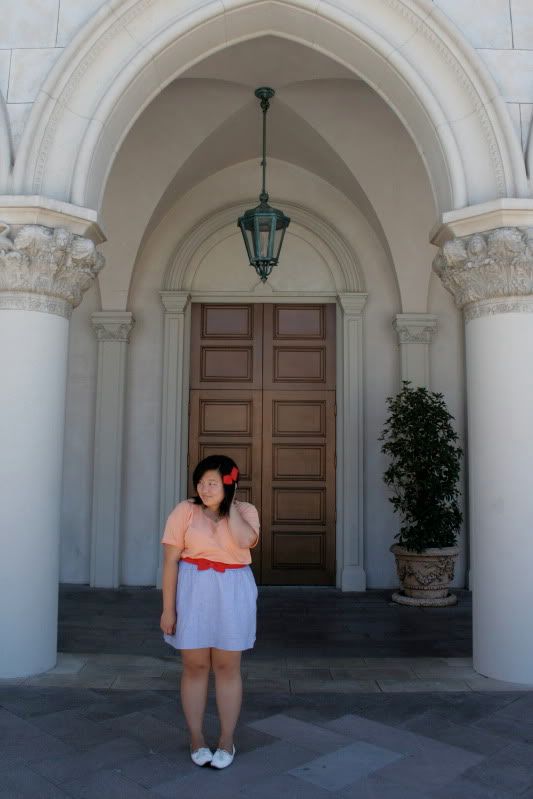 I redeemed a striped tank from ChicRewards, and I was pleasantly surprised when I found two shirts instead of one. With the package there was a note that said that they had included this extra orange top for me to enjoy as a Summer-to-Fall transition piece. It is
extremely
comfortable and relaxed (perfect for the 105-degree weather in Vegas), and I don't have anything of this color. I will definitely be wearing this top a lot. I think I like it more than the actual reward I redeemed, which you'll see soon. So thank you Michelle from American Apparel for this gift! I'm baffled how they can make tops one size fits all though...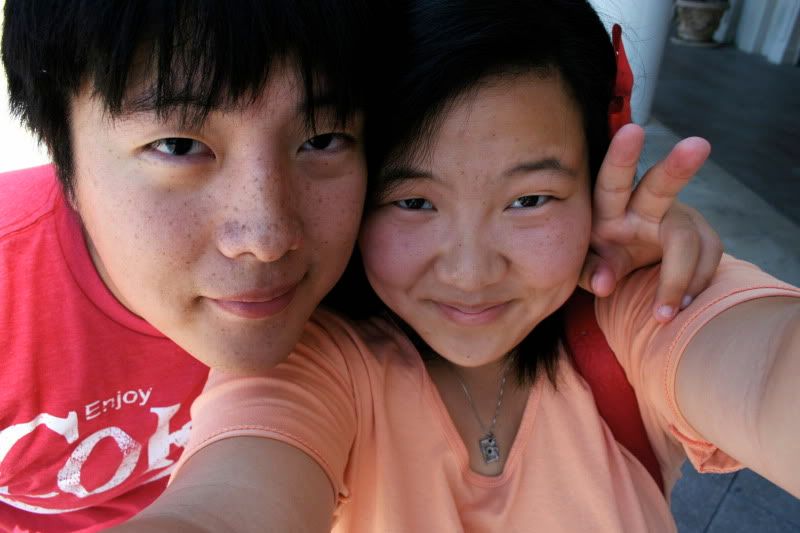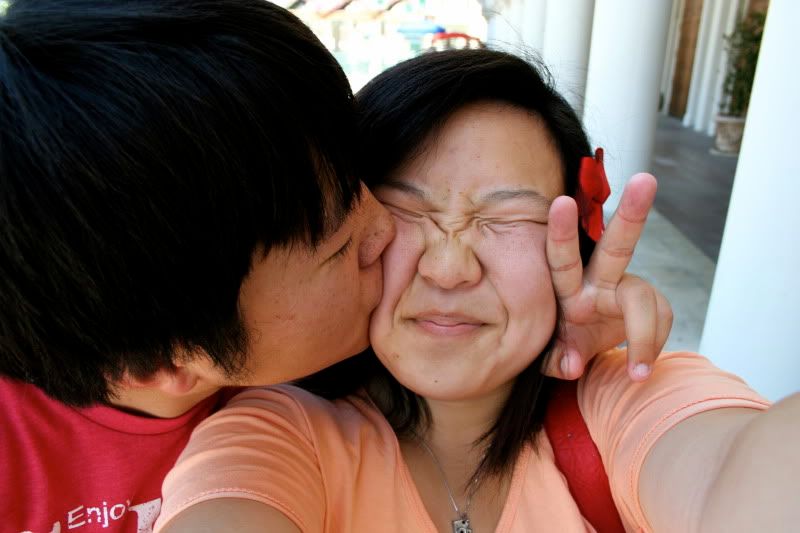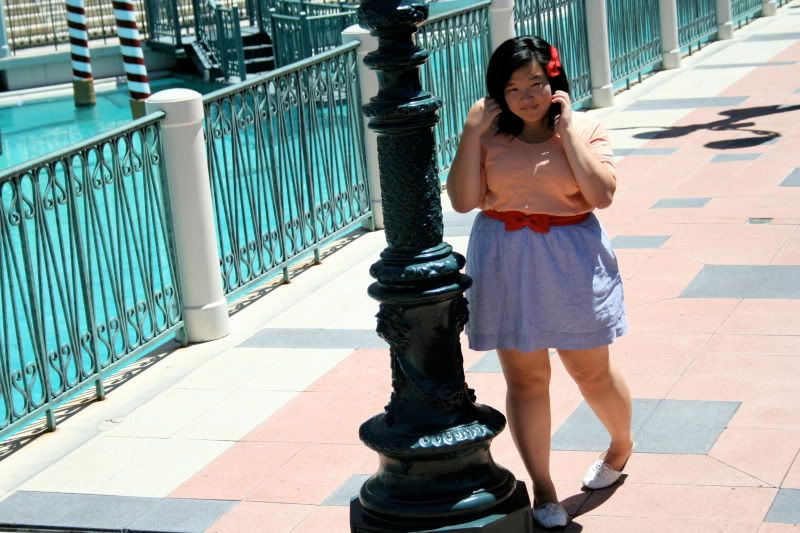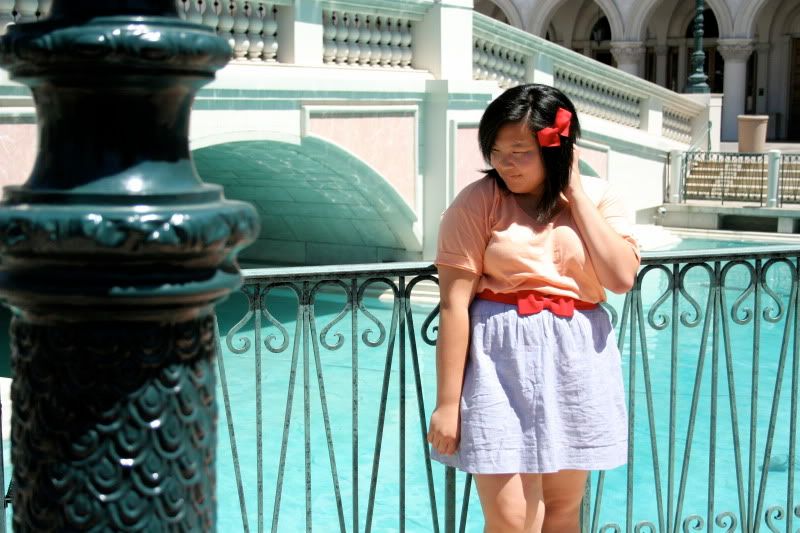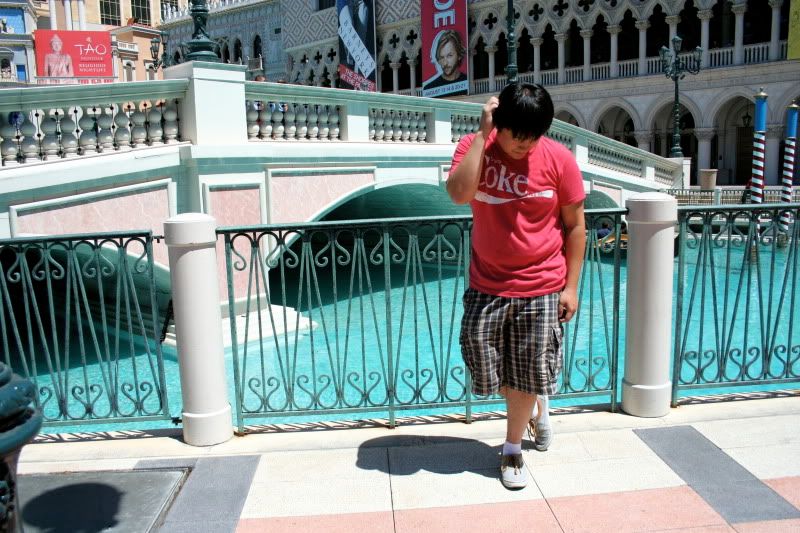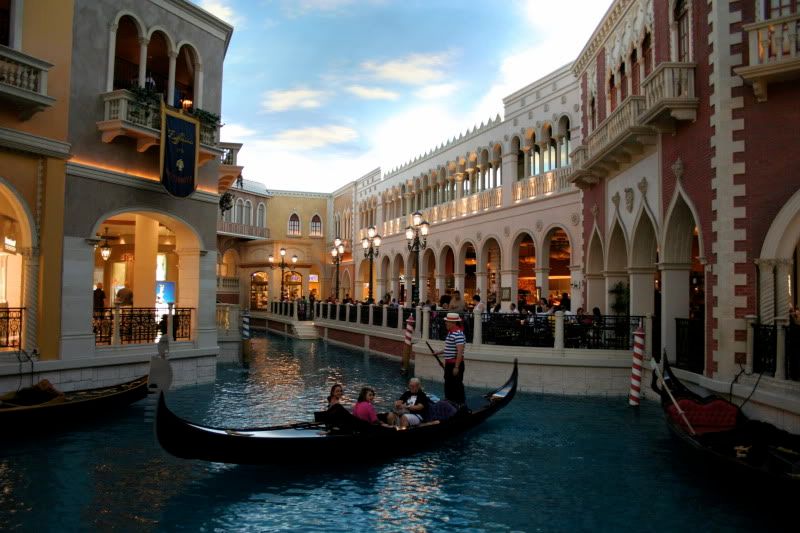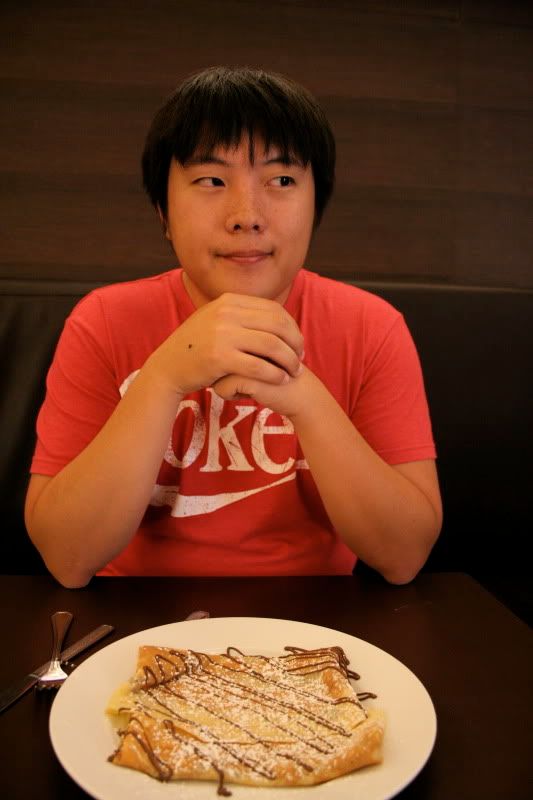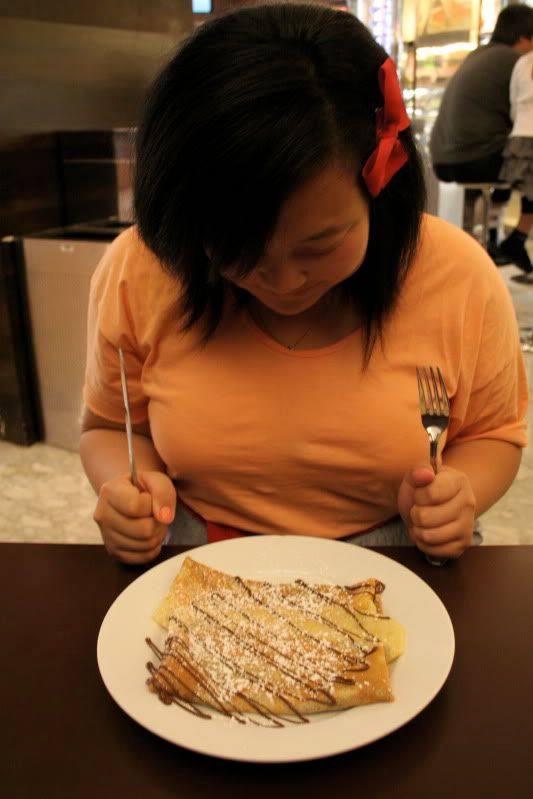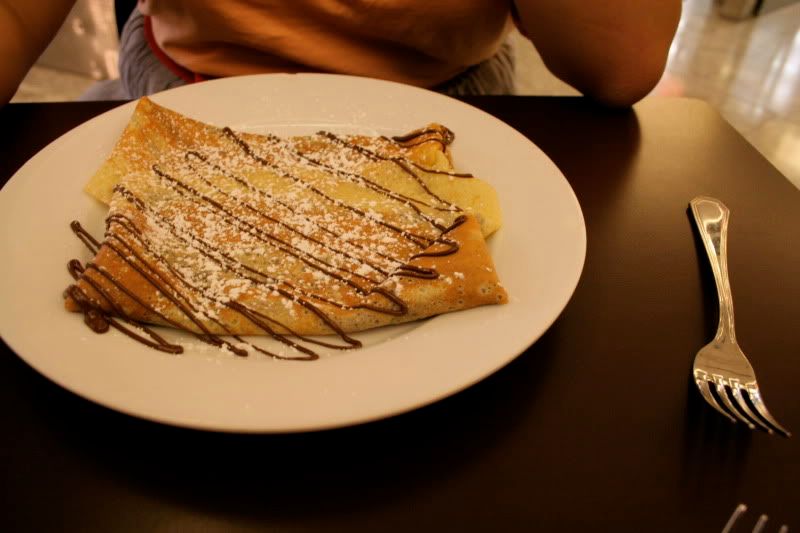 The next hotel we visited was the Venetian, which is my favorite! One day I'm going to take a gondola ride here. The gondolier even sings to you all the while pushing you inside and outside of the hotel and wearing a really cute outfit! Ever since the first Harry Potter movie came out, I always wanted the ceiling of my future house to be painted like the sky. We got a crepe at the Venetian too. This was my first crepe ever and it was delicious! And yes...that
is
Robert mocking my outfit photo poses...psh.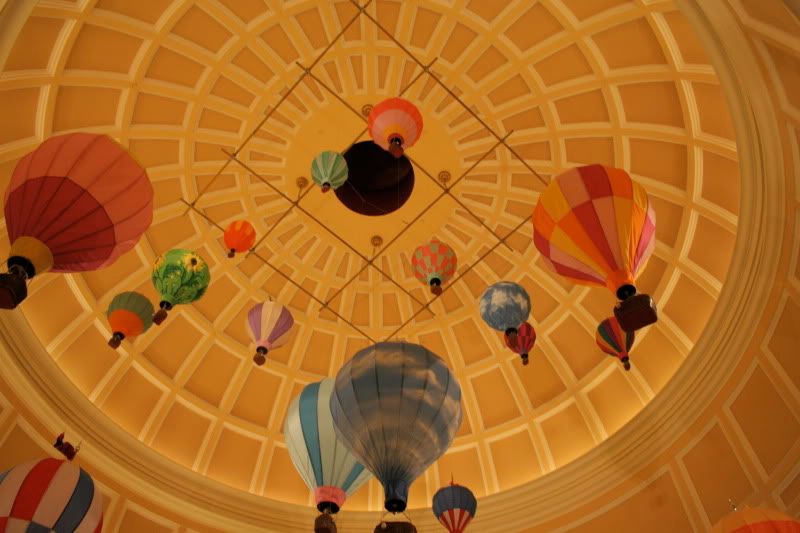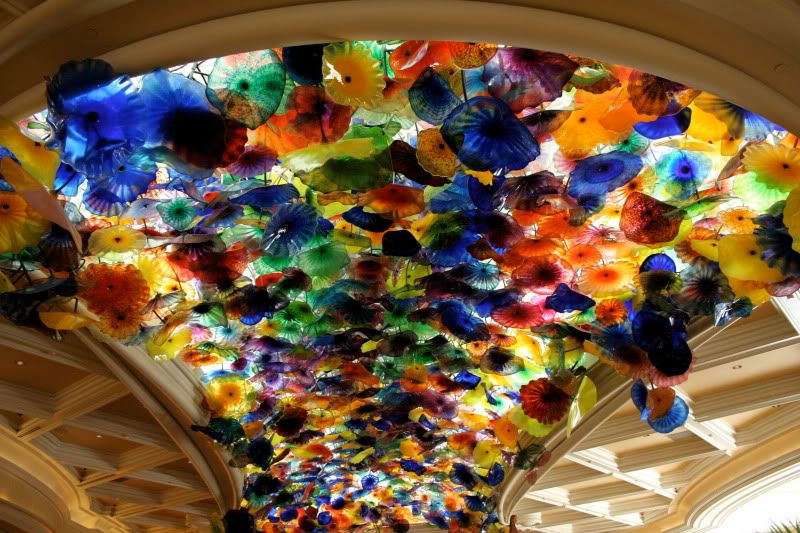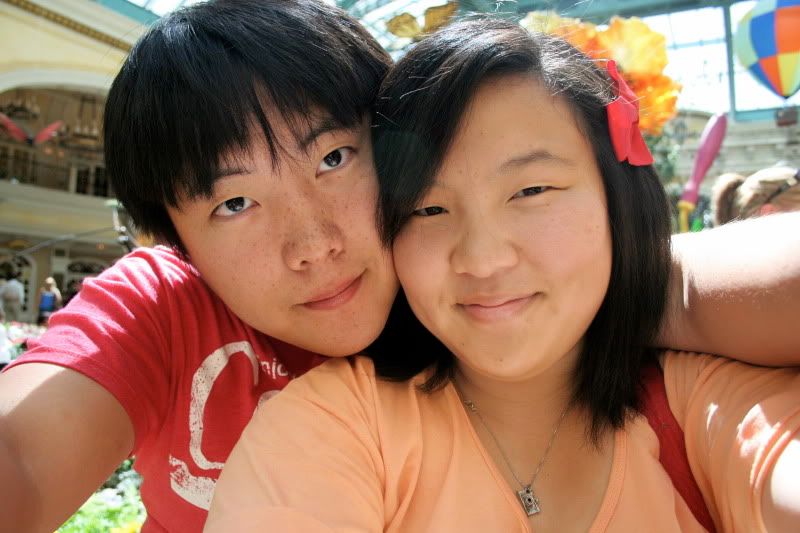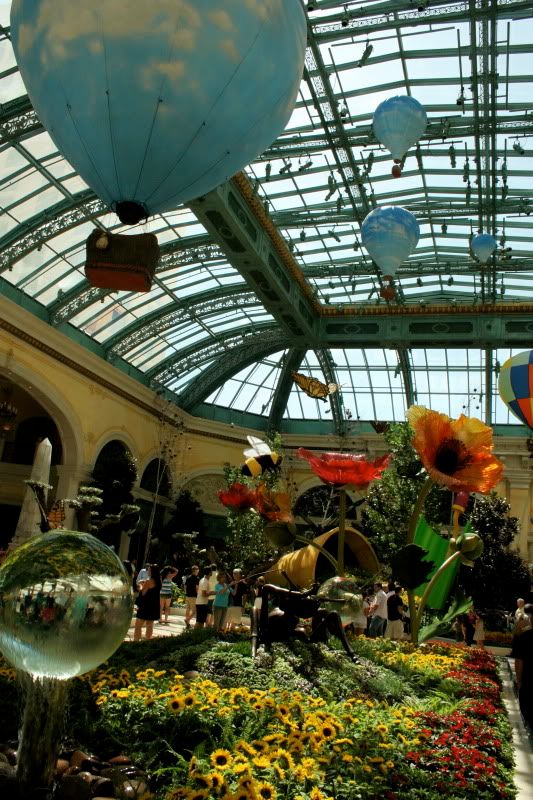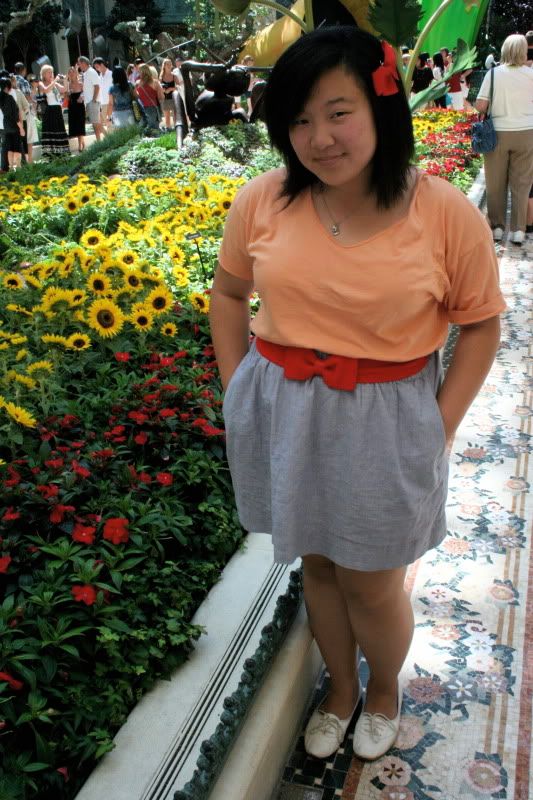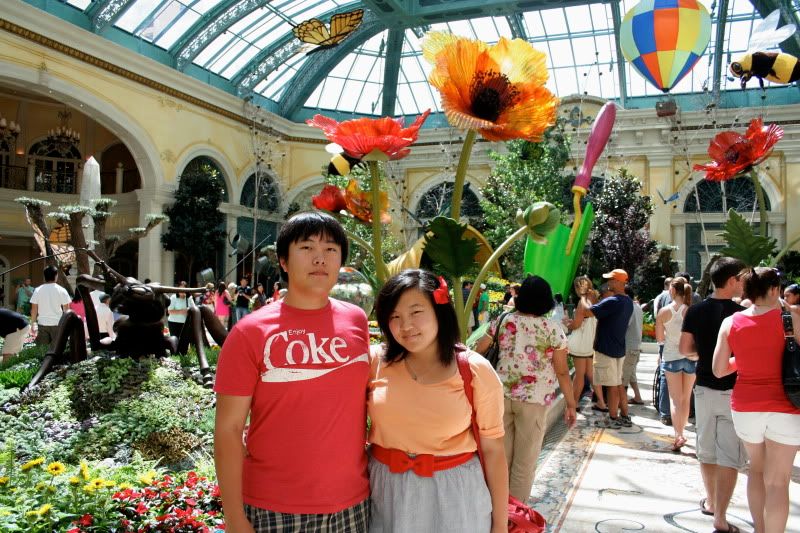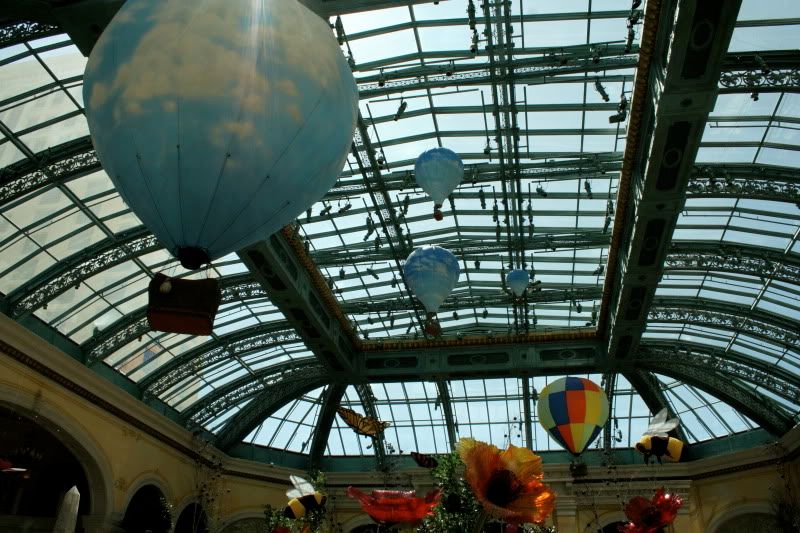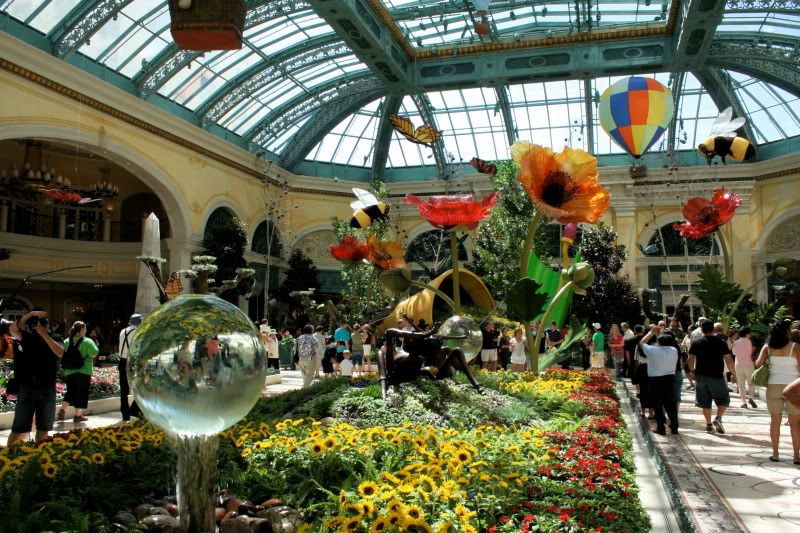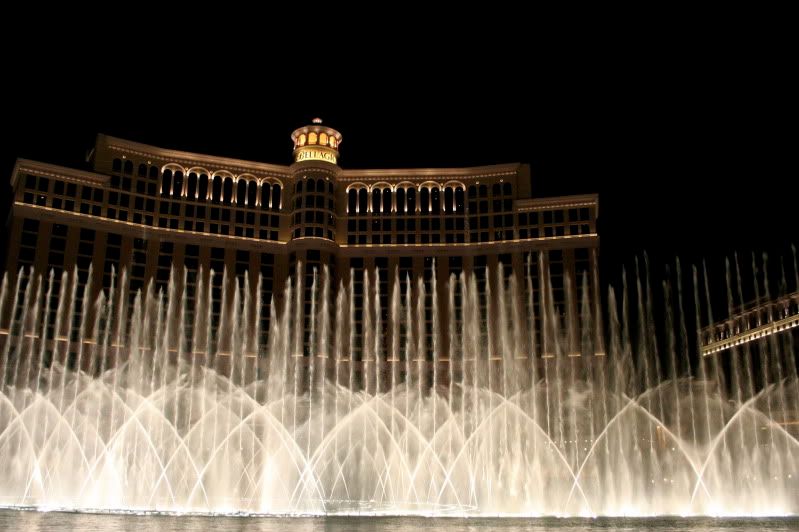 This next hotel, the Bellagio, is my second favorite. The conservatory is my dream garden, well minus the ginormous ants and bees. To me, it's a mix between UP! and Alice in Wonderland. I was so giddy to see so many sunflowers in one place! Even though this time around they played a dumb song to go with it, the water show at night is something I don't think I'll ever grow tired of watching. It was even better when Robert bought me a rose from a lady selling them on the walkway.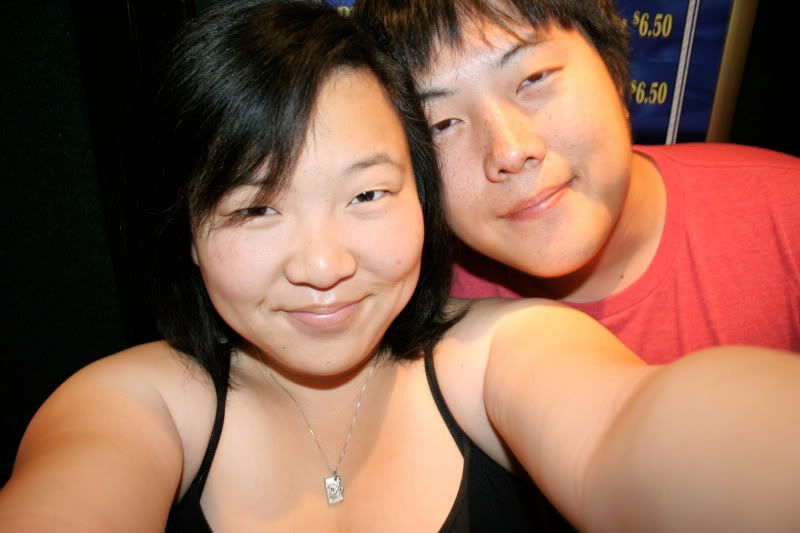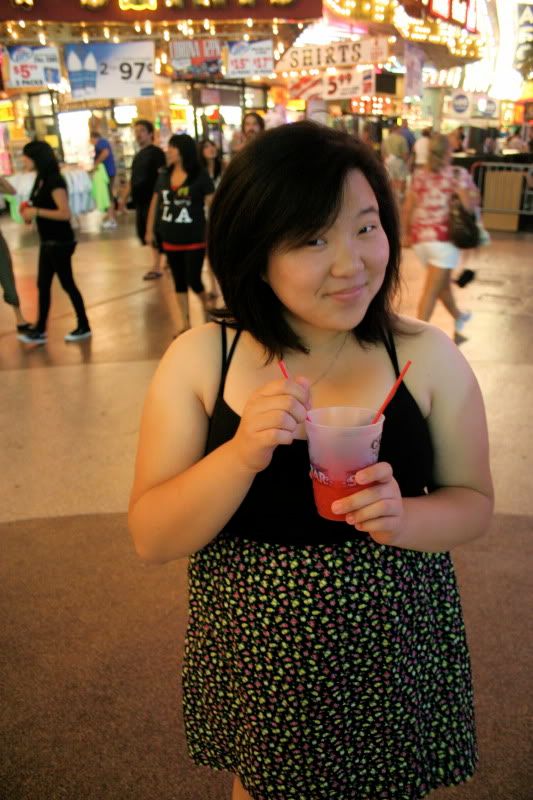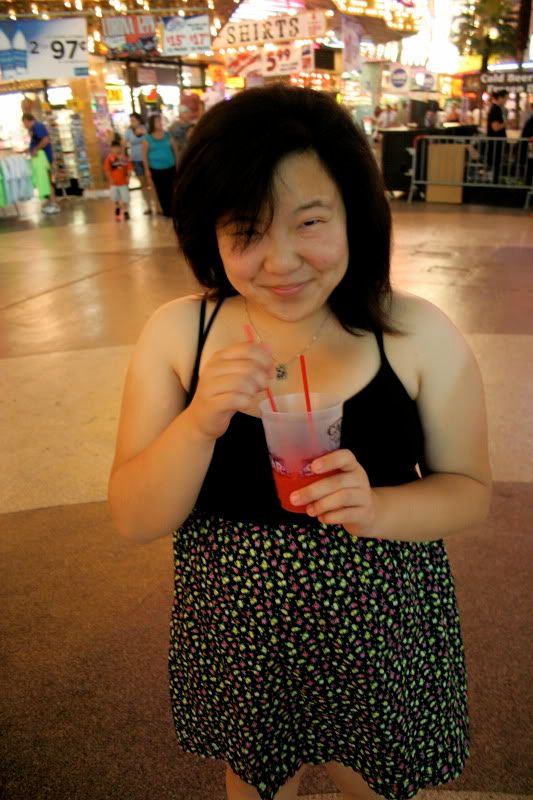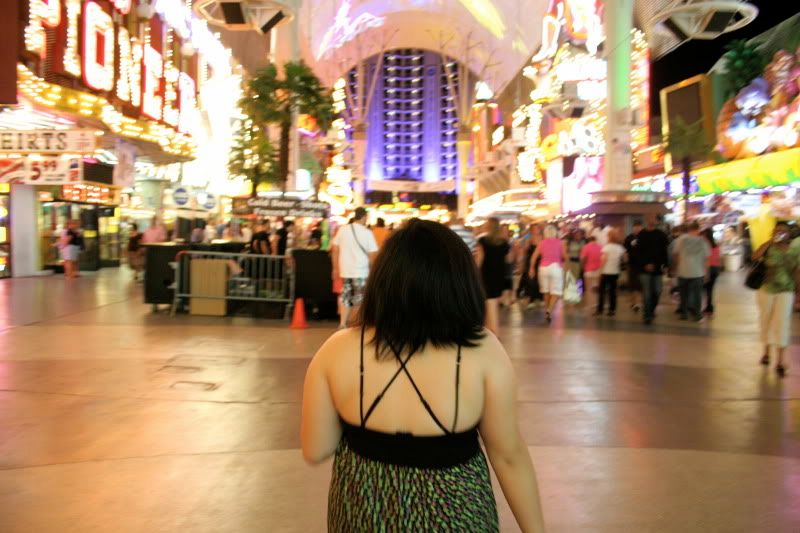 After shopping and dinner at Aria, we headed back to the hotel in downtown Vegas and cleaned up before heading out to the ally next to our hotel where the light show was shown. The light show was pretty nifty! I also really enjoyed my time in downtown--the people there were a lot more...interesting, and I finally got my strawberry margarita (the only alcohol I'll ever drink)! This was the dress I bought the first day I was allowed to shop after my 21 for 21 challenge. I had planned to wear it during the day and do the outfit photo shoot in the conservatory, but it was too hot to wear black. I'll wear it again soon though and style it properly. I don't know why but I feel much cooler (in temperature, not in social status) in a oversized t-shirt than in a spaghetti strap tank. Do you feel this way too?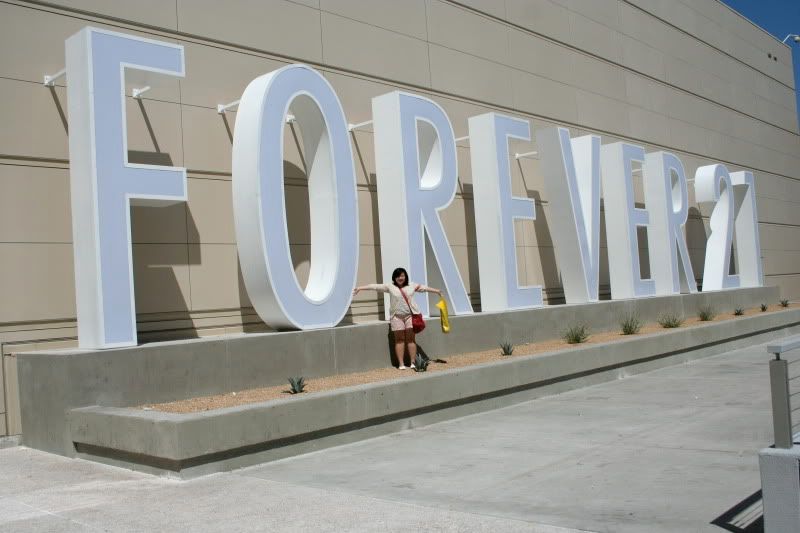 The last day was spent at the Fashion Show mall (that had the hugest F21 I've ever seen) and at an outlet. So are you anxious to know how much stuff I got? Well I'll tell you...I got
two
things total: a skirt from AA and a purse from F21. Yup, that's it. Even Robert bought more than I did, like 5 times more! I don't know what's with me these days...Ever since my challenge ended, I've become so picky when it comes to clothes. Nothing seems to impress me anymore in stores, and we must have visited about 100 of them this past weekend. Even a three story UO wasn't enough to break me. I think this is a good thing...right?
All in all, this trip was
amazing
. There were so many more photos, but you get the gist of my trip. I can't wait to go again! My next adventure? New York with
Jen
and
Jenny
in less than a month! Wooo!
Until next post,
Jasmine
outfits:

orange shirt -- c/o american apparel; chambray skirt -- j crew; bow belt -- h&m; red bow -- etsy; oxford flats -- aldo; red purse -- uo; floral dress -- victoria secret