Hello!
Today was a simple day and here's a simple outfit to go along with it. Robert and I watched a movie at my house and then we went shopping for a bit. I'm looking for clothes that I can wear in New York in September, but today I walked away empty-handed. I already have one outfit planned and I need two or three more. I want to pack as lightly as possible to make room for the new goodies I'll probably get there and because I won't have Robert there to lift my bag into the luggage compartment for me. Last time, I think I wore half of what I packed. I'm definitely an over-packer, but I figure if I plan out my outfits ahead of time I won't pack too many things this time around. Any tips on packing lightly?

I have a horrible farmer's tan! I usually don't wear tanks but it was too hot to wear a cardigan over this outfit today. I redeemed this tank from
ChicRewards
. I still can't figure out if I'm wearing it backwards since it's the same on both sides, but I think that's the point. I don't know why I keep going back to my 21 pieces. Shouldn't I be sick of them by now? I think a lot of them became my new favorites. I need to get around to doing laundry so I can be reunited with them. Perhaps this is why I can't find anything when I go shopping...
Ever since
Kristy
got this bag, I've been hunting it down and I found it in Vegas over the weekend. I googled how big the Vegas F21 is and it is a whopping...
126,000
square feet! It is the biggest one in the world. I found it pretty overwhelming actually and couldn't find anything other than this purse. I find this purse to be a nice change from my gigantic red one. This one is big, but it also has structure. It's a stand-in until I can afford the real Mulberry Alexa.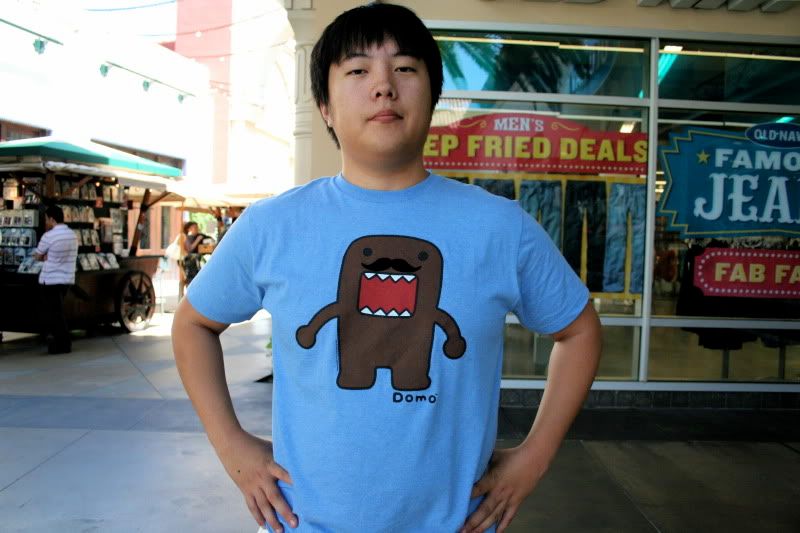 Isn't Robert's shirt cute?! I picked it out for him at the UO in Las Vegas. The mustache is even fuzzy! I hope everyone is having a lovely week so far! This is my last week of summer and I'm going to live it up!
Until next post,
Jasmine
outfit:

striped tank -- aa; polka dot skirt -- cotton on; bow belt -- h&m; pink bow, navy purse -- f21; oxford flats -- aldo