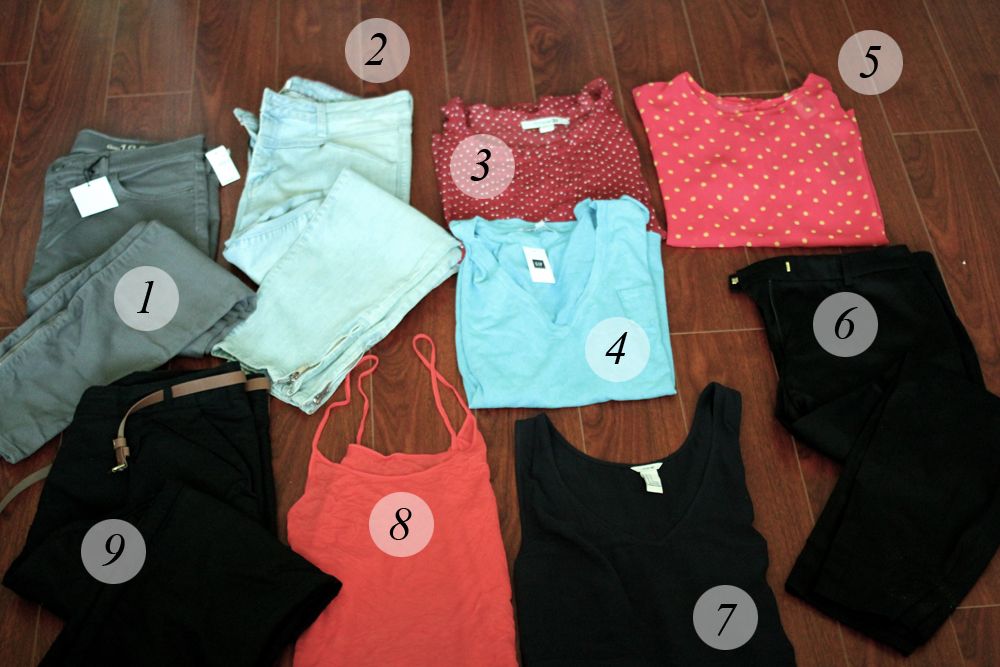 1. gap grey legging jeans ($9) / 2 and 3. forever 21 skinny jeans and maroon polka dot blouse ($15 bogo deal) / 4. gap blue t-shirt ($15) / 5. francesca's collections red and yellow polka dot blouse ($15) / 6. h&m black trousers ($17) / 7. forever 21 navy tank ($16) / 8. brandy melville orange tank ($14) / 9. h&m black trousers with belt ($25)
In the span of a week, I managed to do a lot of swiping of my credit card. I haven't shopped this much in a long while, but most of these things were necessary buys and I really tried to make sure that nothing went over $25--even the nicer clothes for fieldwork. I also tried not to bring home any t-shirts since I really don't need anymore of those, but of course one had to slip through the cracks and it would be a Gap t-shirt too. I got really lucky with good deals: I had a coupon for 30% off my entire purchase and I had $40 in Gap rewards so I was able to get the $70 Gap legging jeans for $9! I also scored two polka dot blouses that will be perfect to wear with the trousers from H&M.
Cardigans, v-neck t-shirts, skinny jeans, and ballet flats are usually my back to school must haves, but this year, I can't be so casual all the time. I went in shopping for this year's basics after assessing what I already had and what I actually needed in my closet. Looking over my
closet inventory
, I knew that I had more than enough cardigans, skirts, dresses, shoes, and t-shirts to get me through this next year. I had to really focus on replacing my jeans, and on getting some pants and blouses for fieldwork. Since I don't have an income right now, I had to get things that could be reworked many ways but I also wanted to get things that would last me longer than my grad program. I think I accomplished what I set out to do. I'm definitely less worried about not having appropriate clothes to wear now. The only things I'm still looking for are a pair of navy blue trousers and a few button up blouses. With school resuming in five days though, I'm pretty sure shopping will have to take a back seat until Black Friday especially with my full course load of seven classes. My bank account is probably screaming for joy at the mention of this. I think it will be the season of pants for me. Usually in the Fall, I live in skirts and tights, but I'm just not sure how practical skirts will be in a classroom setting. Wearing more shorts and pants was one of my
style resolutions
this year so it looks like I'll be keeping it! I think my closet is slowly become more well-rounded.
What are your back to school basics? Or if you're not in school anymore, what are your Fall must haves this year?
Until next post,
Jasmine