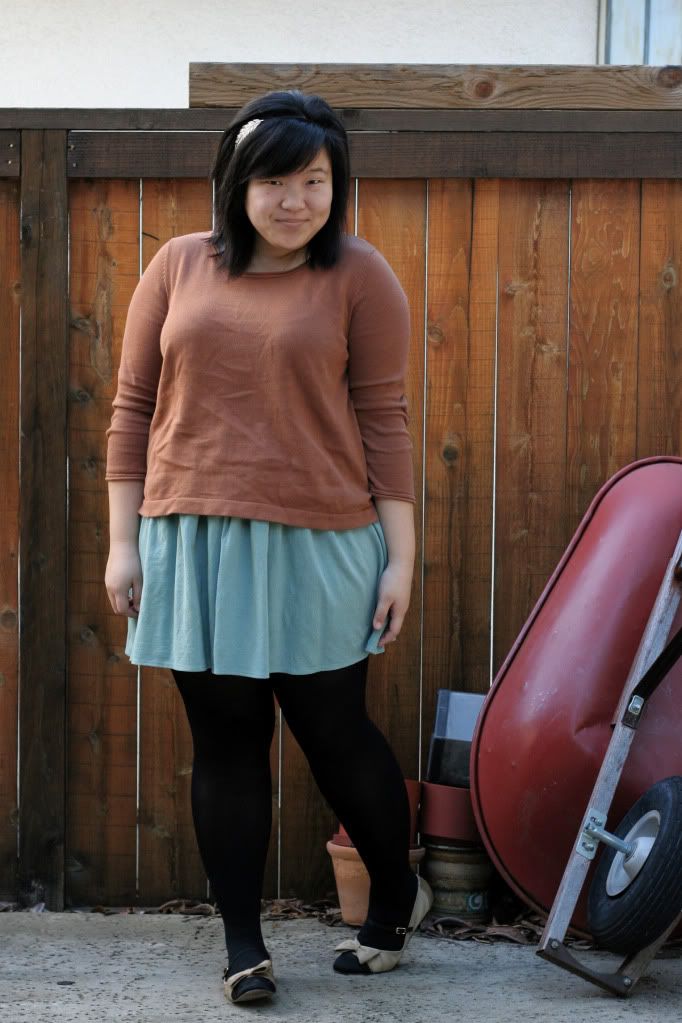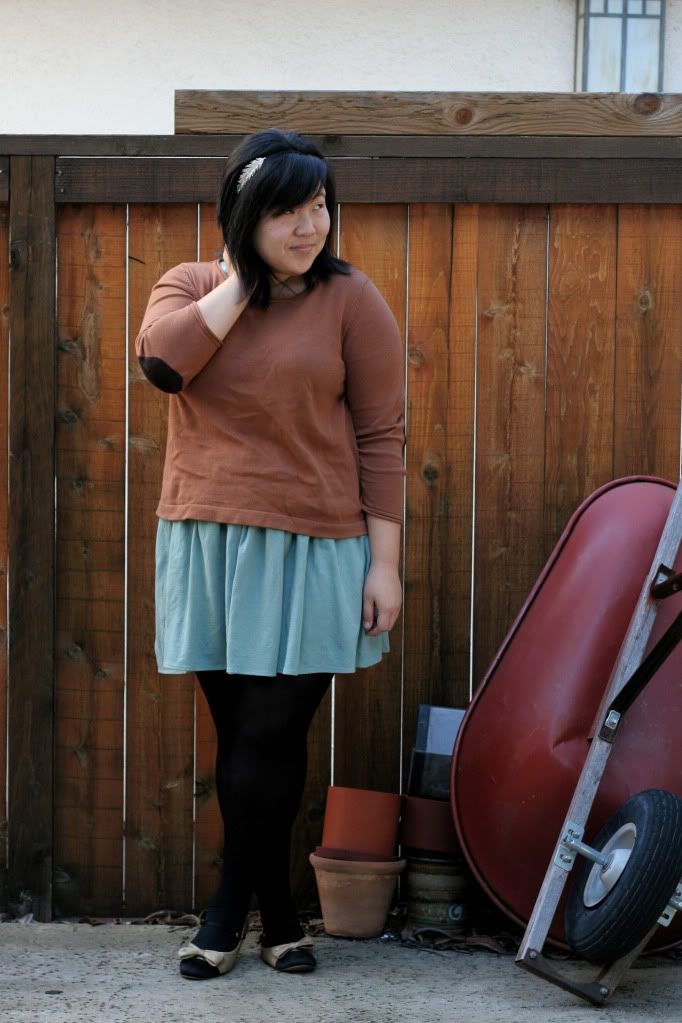 outfit:

elbow-patched camel sweater -- h&m; leaf headband -- f21; skirt -- aa; flats -- marais usa
Hello!
First, I'd like to wish one of my favorite bloggers
--Amanda--a happy 21st birthday!
She's actually the one who inspired me to try this pullover over a skirt/dress look and I've been hooked ever since!
I really liked this outfit, not really sure why. I just felt super good and comfy all day. I even made myself laugh a little when I thought that I resembled a tree by wearing brown and green together and this leaf headband. This was also the first outfit I tried today. There really is no methodology to how I get dressed everyday. I don't really have any rules either. It's mostly just trial and error. Some days I end up with a massive pile of discards, but other days like today it's a one hit wonder. I forgot how much I loved this skirt. I loved it so much that I bought it in two other colors. I went through an American Apparel phase last Fall, but now I've found a better, more honorable store to get my basics--Gap. I love this sweater so much that I bought its striped brother. Robert then made it a rule that starting tomorrow I can't get anymore multiples unless it's Buy One, Get One Free; basic t-shirts; cardigans; and tights. That gives me an hour and a half to buy its cream cousin...Just kidding. They didn't have my size, otherwise I just might have. Maybe this rule is a good thing. No more striped fraternal twins for me!
In tune with my
2011 Style Resolutions
, I've been looking into other hair accessories that aren't bows. I am in love with this leaf headband that I found under heaps of headbands at F21. It hasn't left my head since I bought it Saturday night. Right after I paid for it, I tore off the price tag and put it on. I want to find some big flowers to put in my hair in preparation for Spring, particularly a sunflower since that's my favorite flower. School resumes tomorrow and I'm really not looking forward to it.
Until next post,
Jasmine