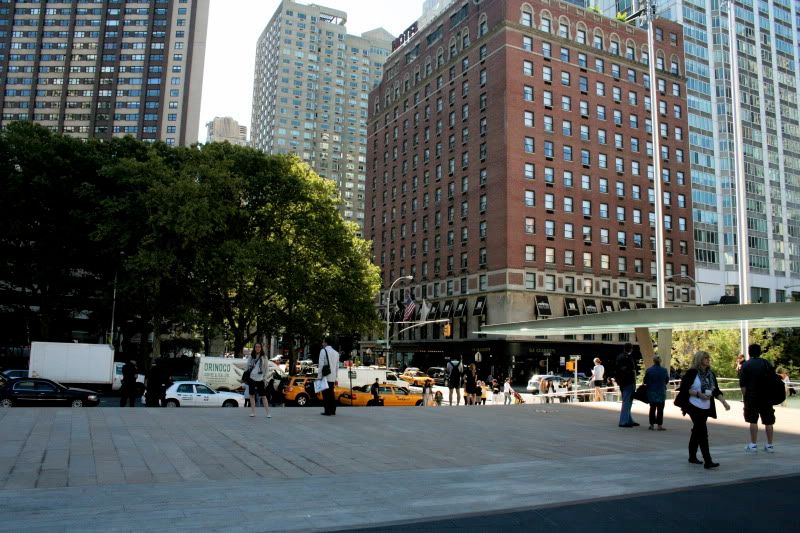 Hello!
I'm so sorry it's taking so long to get these posts done. Jen and I mainly used her camera since it's new and better than mine. It was also more accessible always being on her shoulder while mine was buried under everything in my bag. I totally forgot to get these these photos while I was there (via flash drive) so I had to wait for her to find the time to either email them to me or put them up on flickr.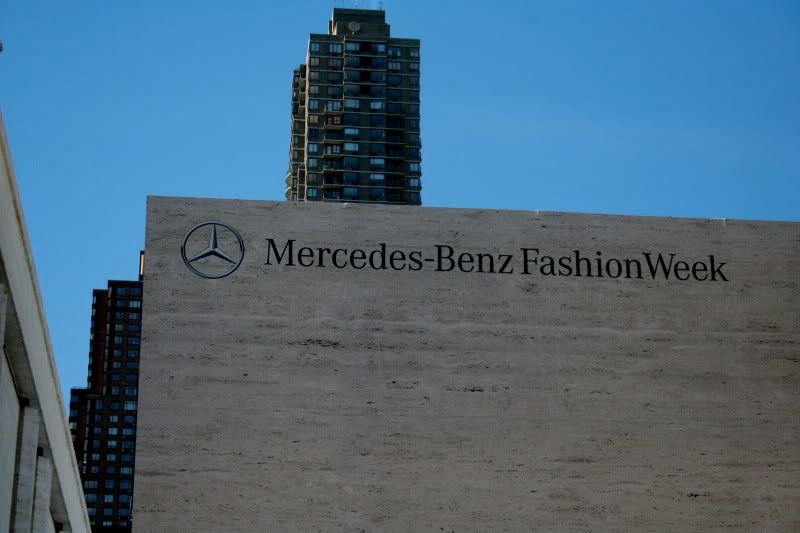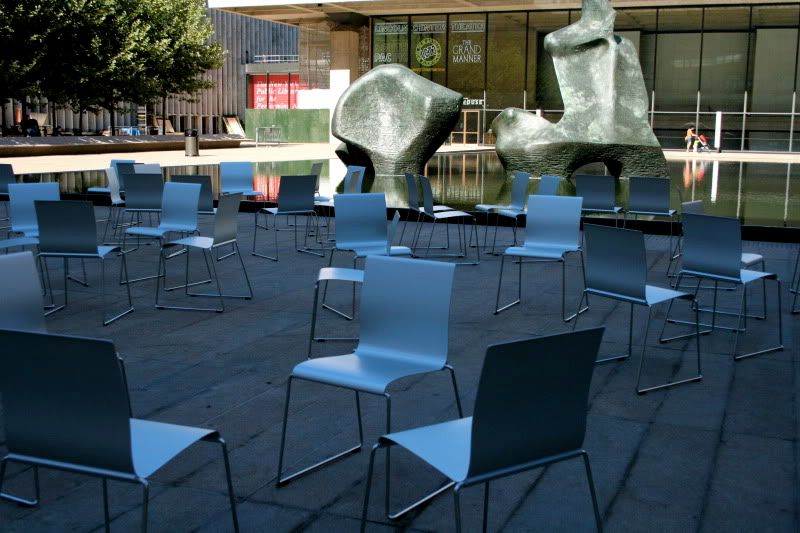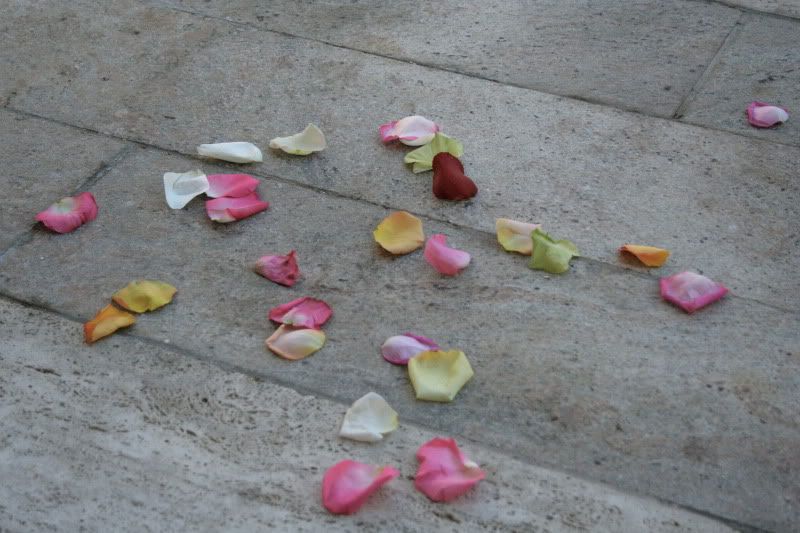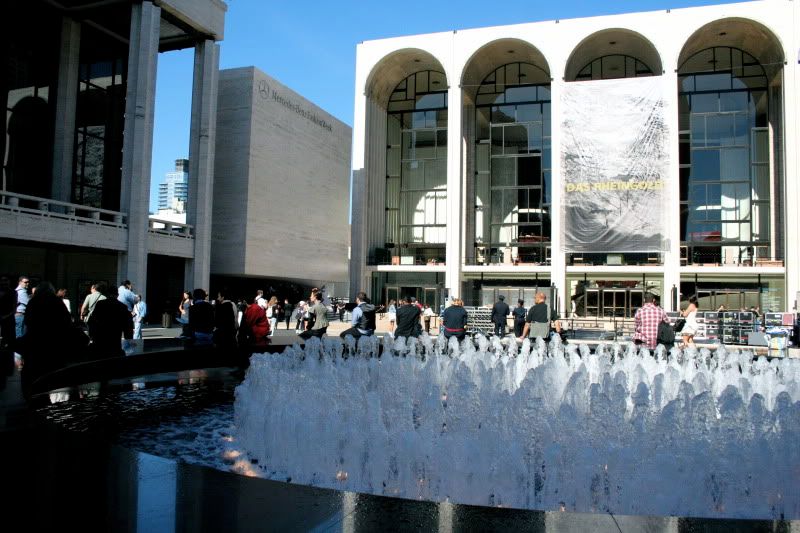 So on the second day, I ventured to the city by myself again since I had two shows to catch in the morning. I attended the Binetti show with Annie from
Time Enough for Drums
at the Lincoln Center. I'm so mad I didn't get a picture with her. I assumed that I would get some later on that evening during the blogger meet up she,
Annie
, and
Starr
had planned; but it ended up being cancelled since their hotel messed up their reservations. I then left for my very last show, Kaelen, which was in a different location in Chelsea. Afterward, I met Jen at Penn Station and we continued our adventures. I went for a more comfortable look that day because I knew there'd be lots of walking. I actually got this skirt during my trip to Las Vegas and I'm in love with it. I can't wait to wear it more! Green is my (and Jen's!) favorite color so I'm so glad I have found a way to incorporate it into my outfits.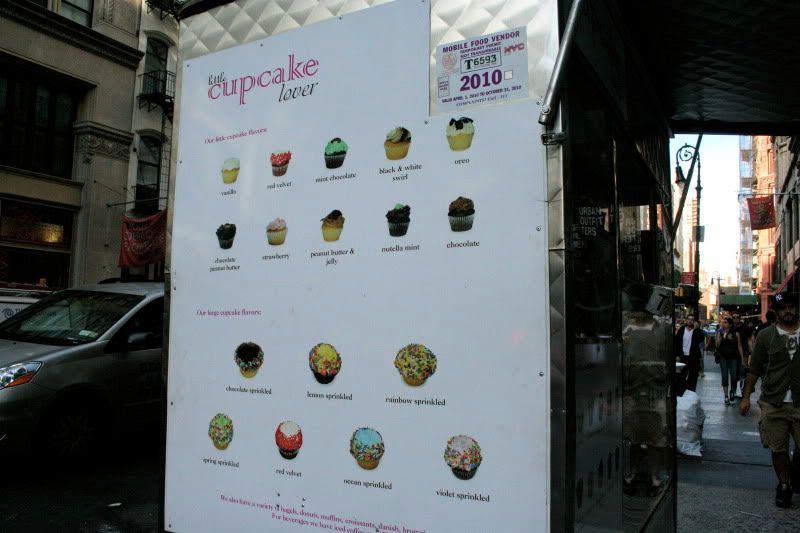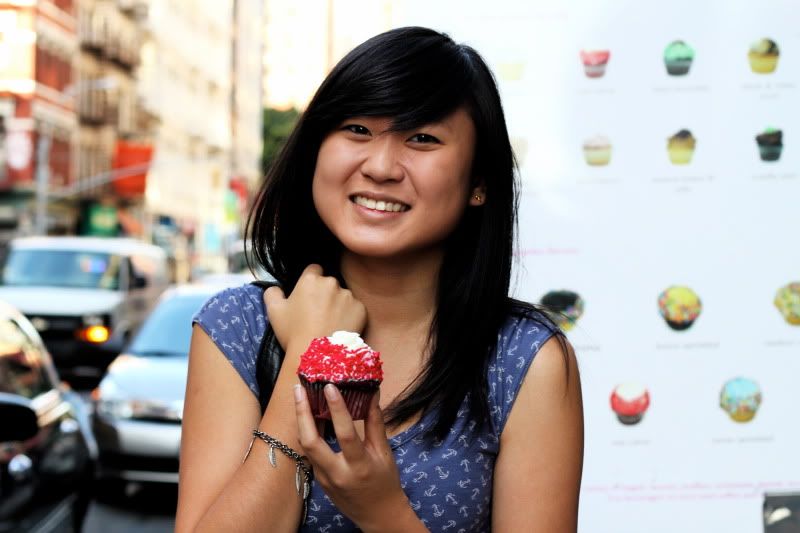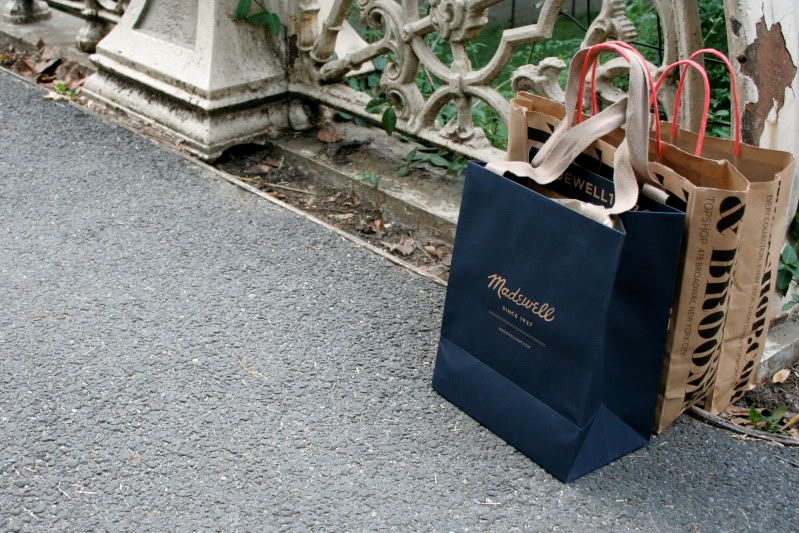 We headed over to SoHo, of course. We went to the Madewell store to check out the Alexa Chung collection, and it was amazing! But of course the prices were ridiculous! I did walk out with a bow pin that I ended up wearing to the Chictopia 10 Conference the next day. Topshop was right next to Madewell (a deadly combination) and I bought these shoes because the flats I brought along with me (the floral F21 pair) were killing my feet. I love how the laces are ribbon! I want to do this to all of my oxfords. We got hot dogs and cupcakes from food stands. They were all delicious! I got two mini ones: mint chocolate and oreo; while Jen got a big red velvet. We also went to Urban Outfitters, where surprisingly I didn't buy anything, but we did rest on a couch there for an hour. It's crazy how there are no benches around the city, but I'd take UO's air conditioning and comfy, over-priced couches any day.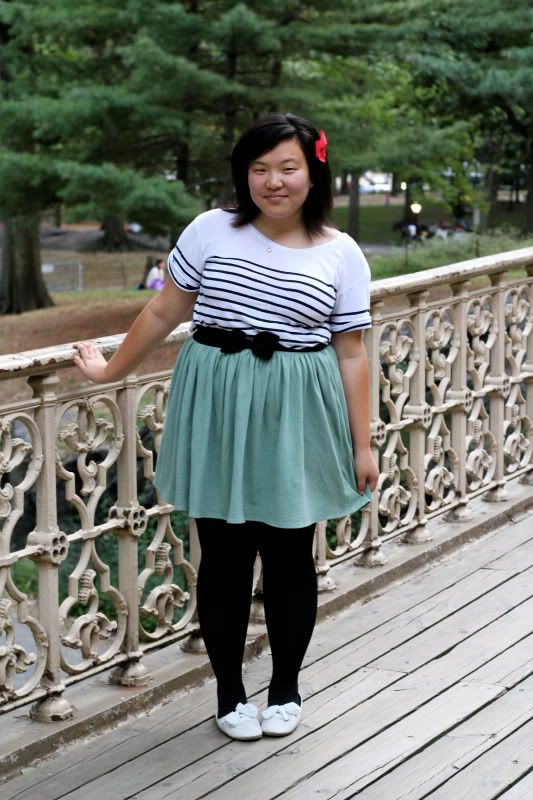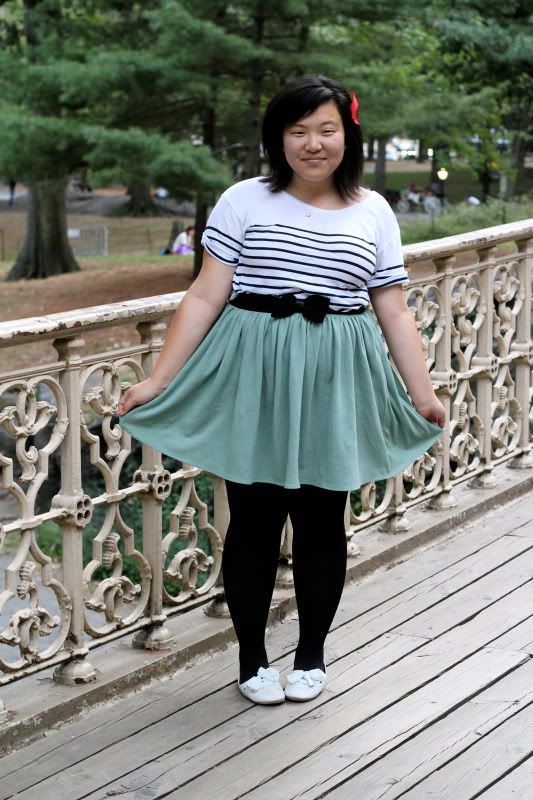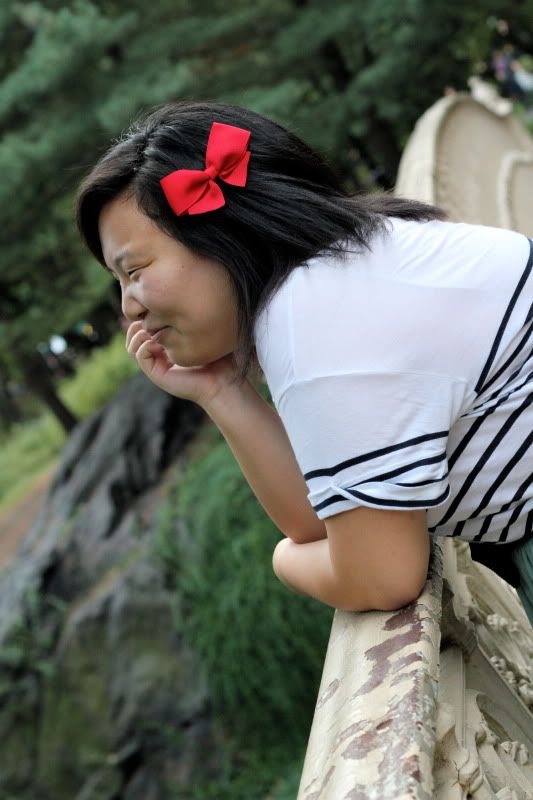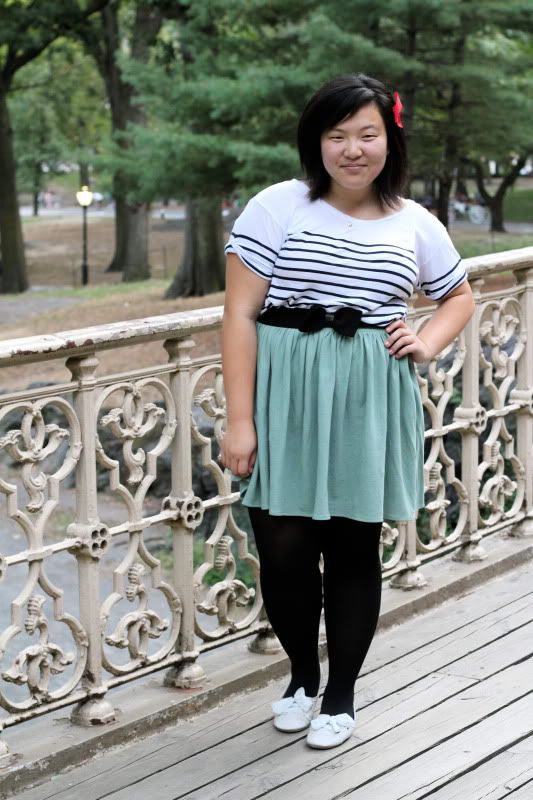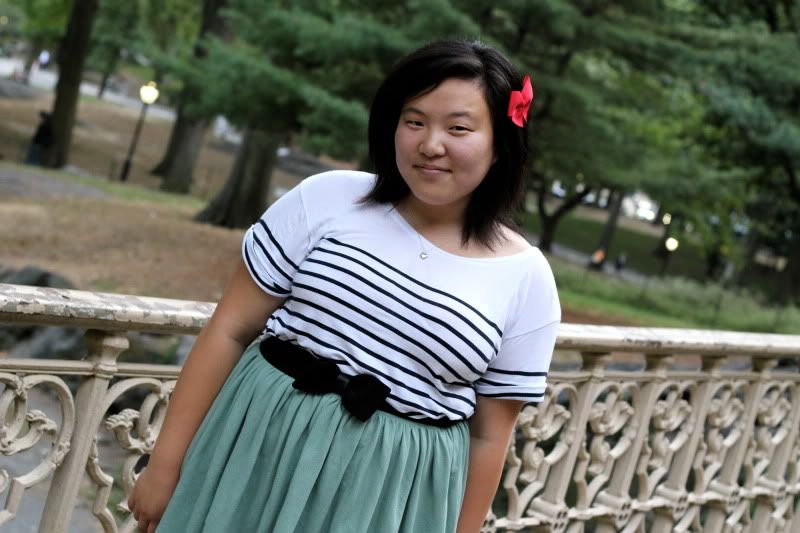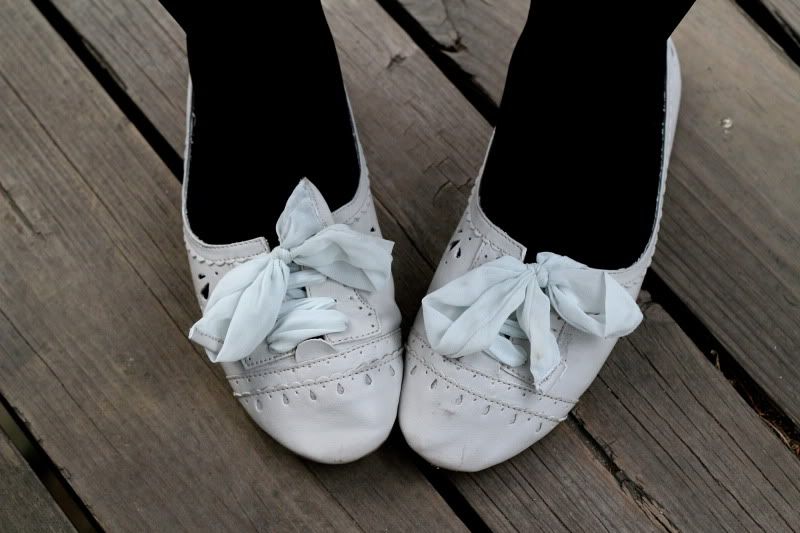 After shopping, we headed over to Central Park for outfit photos. I loved Central Park in the winter with its bare trees and being blanketed by snow, but it's so much more pretty green and luscious! This is definitely my favorite spot in NYC. I could probably spend hours here. We then got dinner at a cafe that's located in the middle of the park. I ate there before the Renegade Blogger Meet up the day before, and I'm definitely going back the next time I go. We both ordered burgers and shared a seemingly bottomless basket of chips and guacamole. With the blogger meet up cancelled, we went home early and relaxed in her apartment.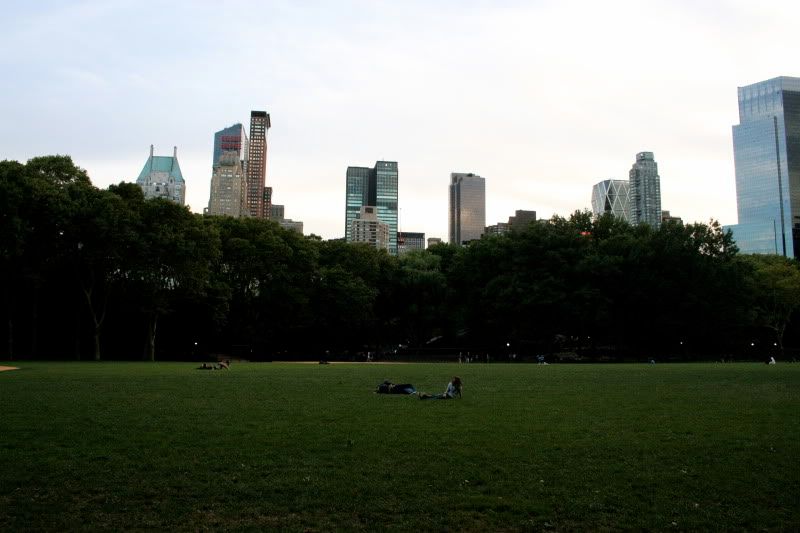 Sorry for the lack of photos from this day...I guess Jen and I were too preoccupied with shopping that day, but we more than made up for it on the next day so stay tuned for that!
Until next post,
Jasmine
PS. I finally got a twitter so
TWEET ME
!
photos taken by me and jen
outfit:

striped top -- gap; green skirt -- aa; red bow -- etsy; black bow belt -- h&m; tights -- f21; flats -- topshop