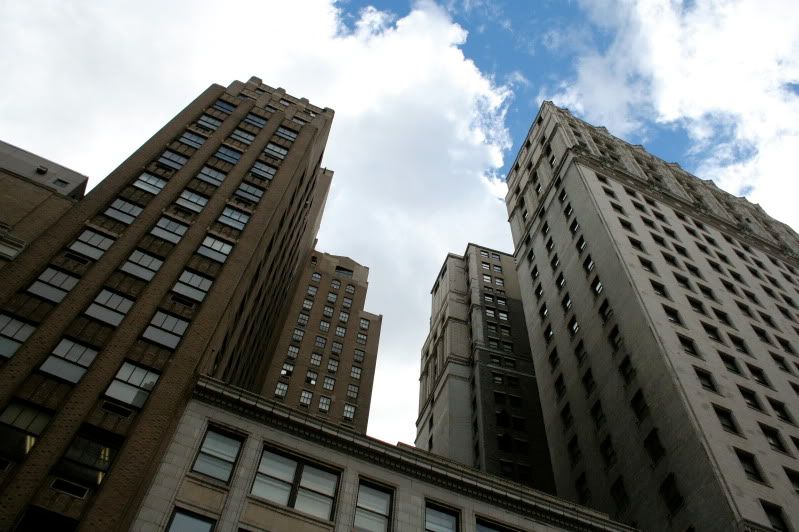 Hi everyone!
I'm here sitting in Jen's apartment sipping milk tea and recovering from the past two days. I feel like my feet are broken from all the walking I've done! I have mastered the subway system though; it's pretty simple actually, the hardest part is finding the station. Like today, I was walking for an hour in a huge circle looking for one and eventually had to call Robert to ask him to use google maps to find the nearest one for me since I'm not lucky enough to have internet on my phone (though now I think I might need it...). But let me just start with the first day.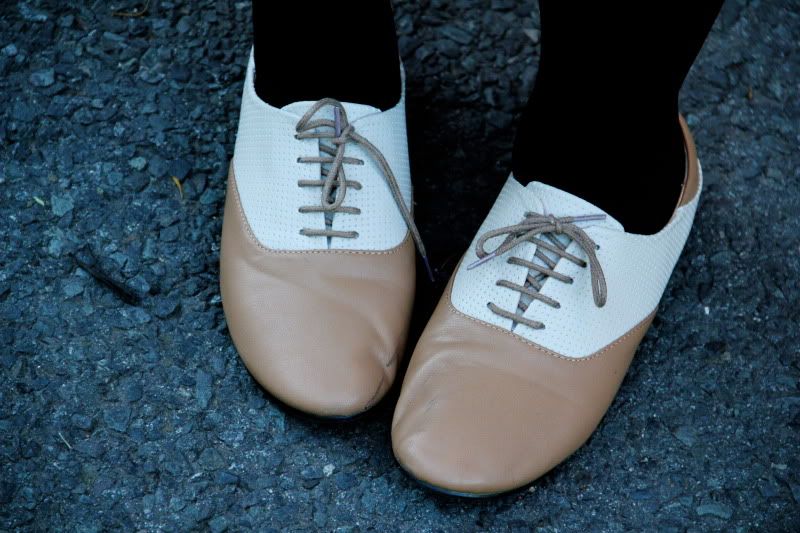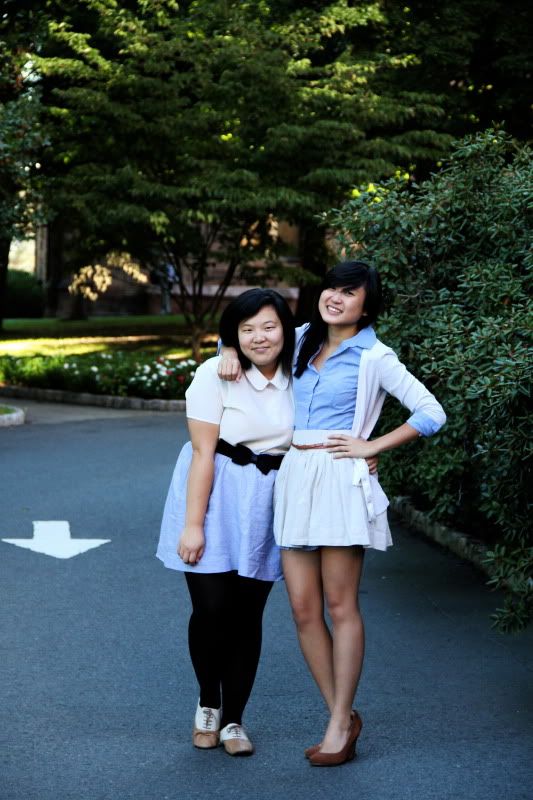 My journey began when I left on Thursday night and I only managed to sleep an hour total on the plane. I just can't sleep in public spaces that easily...So I arrived in New Jersey at 6 A.M and Jen was waiting for me at the train station. It feels like we've been friends forever with how easy it is to talk with her. We dropped off my luggage and changed at her apartment, and then took some (awkward) outfit photos at her school, which is
gorgeous
! I'm so jealous that she's surrounded by brick buildings--that's what I love about the east coast: there's just so much history
everywhere!
I love how our outfits matched inversely, which was totally unintentional! While taking photos, these two (really well-dressed) men rolled in with a tantem bike which we posed with because it matched our outfits.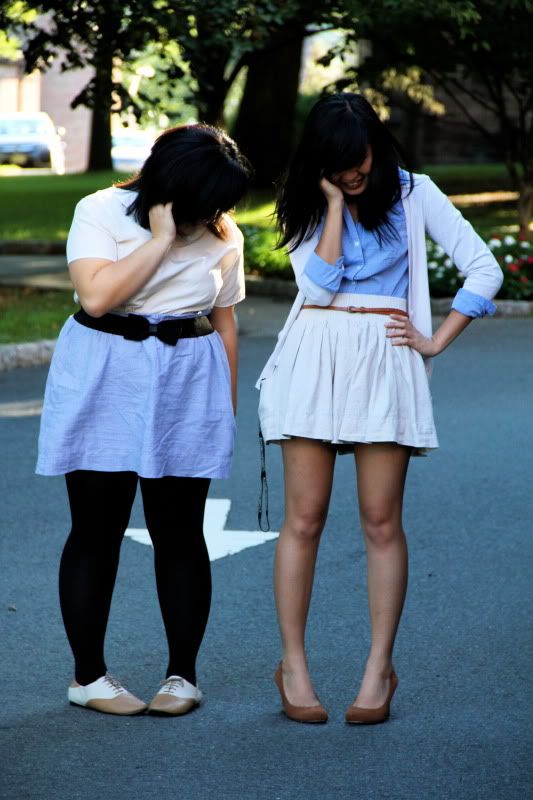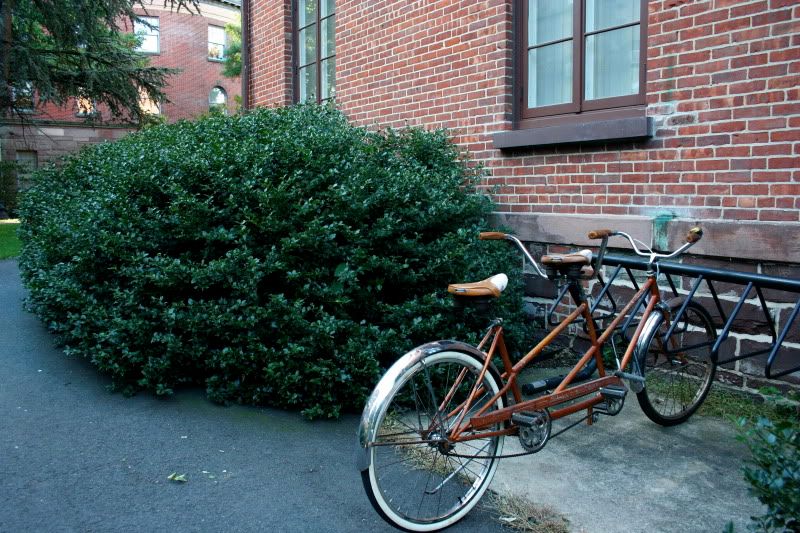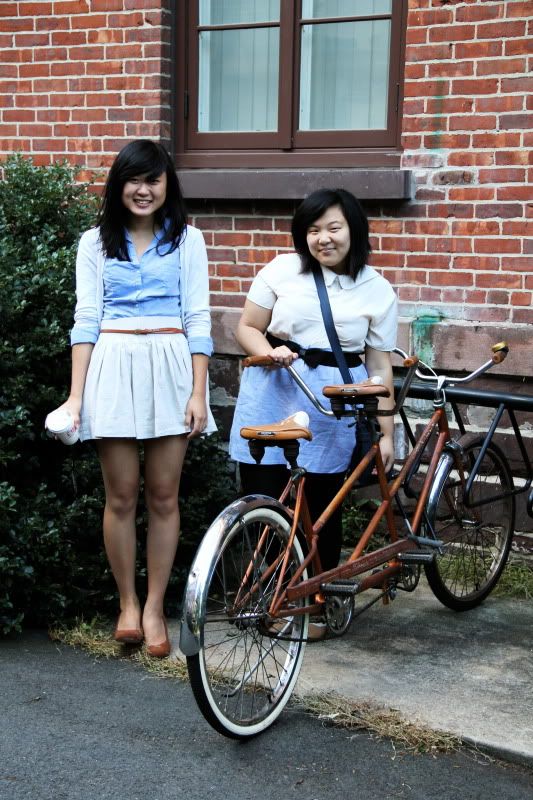 After we took some pictures, I headed to New York on my own since she had class and work. My first stop was to grab the Mercedes-Benz Fashion Week invitations at a hotel where the Chictopia team is staying. It was near Ground Zero, where the bombing on 9/11 happened, and I got a glimpse of the new one that's being built. My brother's birthday is September 11th actually. What a happy one that one turned out to be for him...I got lost trying to find the hotel but it was nice since I got to see a lot of that area, which is one I wouldn't go to voluntarily.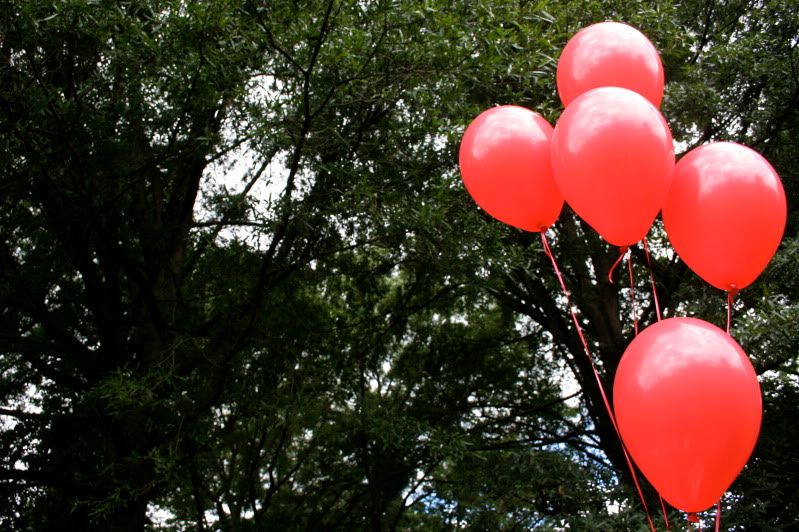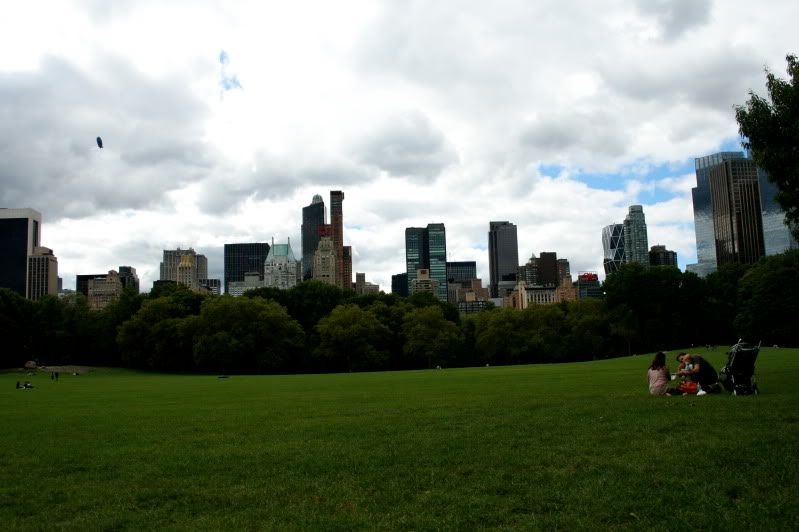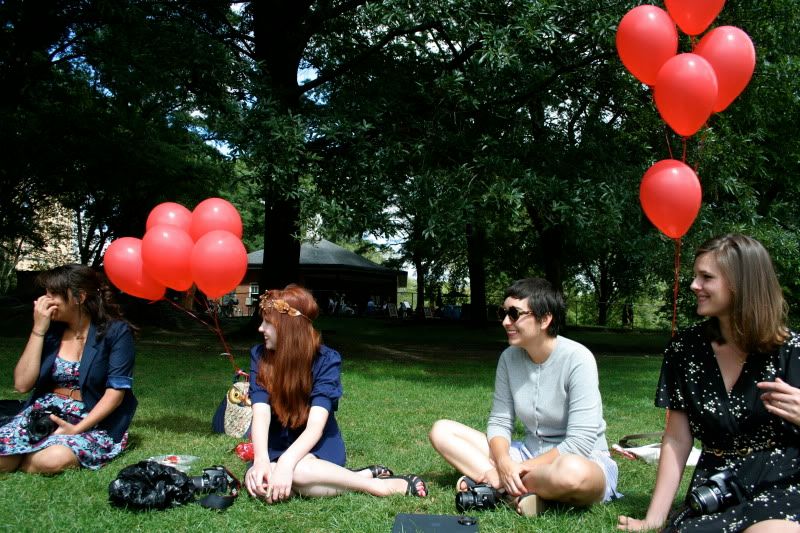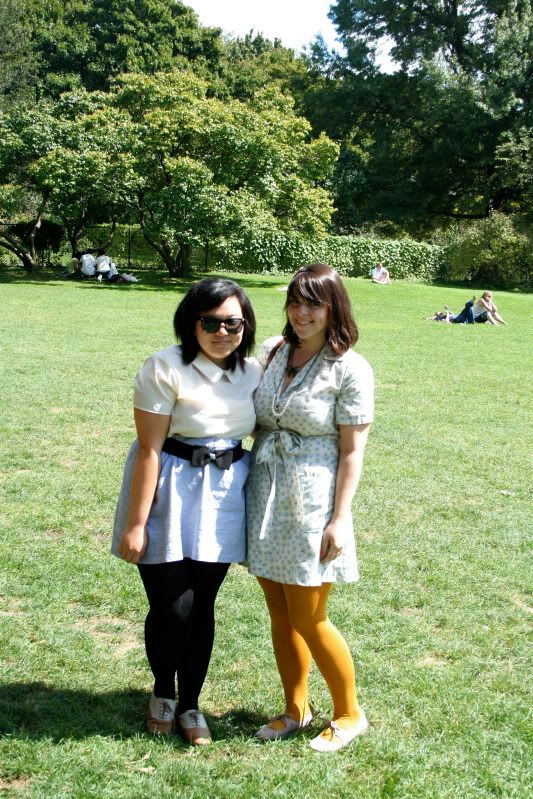 (with Nicole from
Coco Maria
)
After grabbing the invites, I stopped by the Renegade Blogger Meet Up in Central Park. I met
Julia
while on the subway. She approached me and was so nice and bubbly! We grabbed hot dogs at a cute little cafe in Central Park and then made our way to Sheep's Meadow. I'm so bummed I didn't get to stay longer and to take more photos, but it was great seeing new and old faces for a few minutes. I then spent my afternoon at three S/S 2011 fashion shows: Buckler, Ports 1961, and Alexander Berardi. It was really exhausting and overwhelming, but it was still pretty exciting getting to watch models walk the runway. All the clothes were beautiful! I already want it to be Spring/Summer again so I can try some things out. I'll be writing individual posts on each show as the week progresses here on my blog and on my Chictopia account. In between shows, I had a break and went to meet Jenny in SoHo where we shopped a little and she drank champagne at Prada (I'm not 21 quite yet!). I didn't get to stay very long, which I regret because she got to meet Mondo from Project Runway later that night! I had one last show on my first day, which was the Academy of Art fashion show.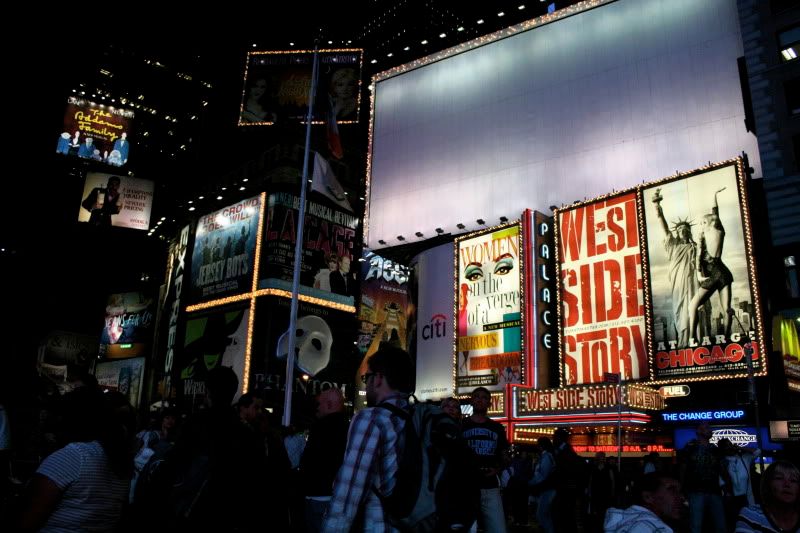 After I took care of all my Chictopia business for the day, Jen and I headed to Times Square, grabbed a slice of pizza and explored the huge, new F21 in Times Square. Jenny later met us there and we chatted before we went on the train home. I have had this outfit in my head for about a month now and I can't wait to wear it again in different variations and when I'm not running on an hour of sleep. I can't wait to wear my brother's bow-tie with it! I found these oxfords for $20 at UO! They're definitely going to be my shoe through out Fall and Winter.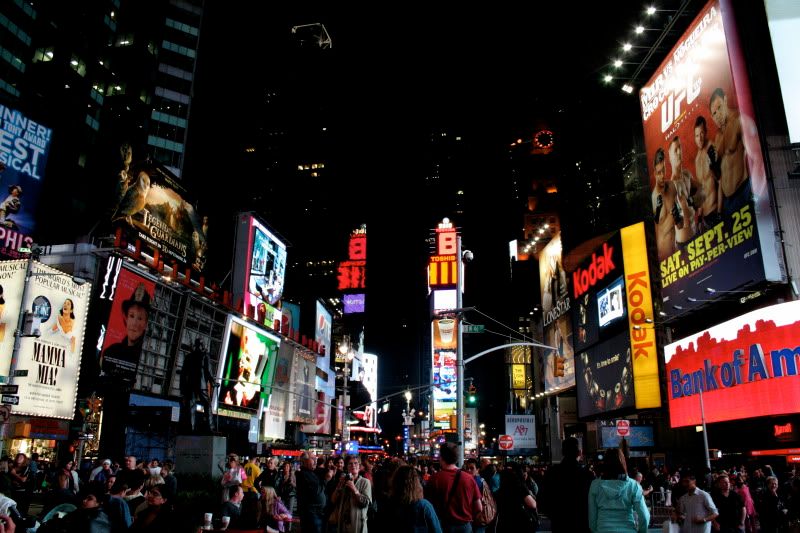 I hope you are all having a wonderful weekend! I'll be back to catch up on your blogs soon! I'm sorry I haven't taken too many photos. I've been so overwhelmed with everything, but I'll take a bunch of photos tomorrow at the conference. See some of you there!
Until next post,
Jasmine
outfit: peter pan collar blouse -- aa; chambray skirt -- j crew; black bow belt -- h&m; brown oxfords and sunglasses -- uo; tights -- f21