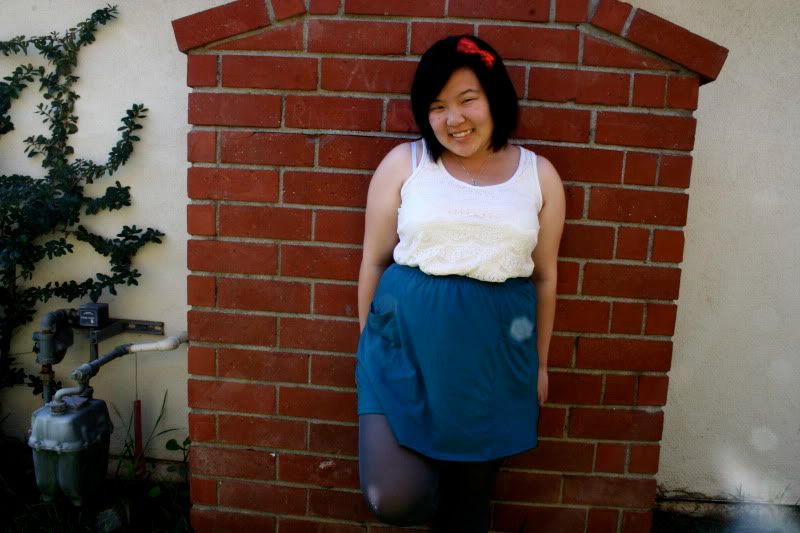 Hello!
Thank you all for your input on my last discussion post! I truly love reading all your thoughts! Some of you said that if they judge me wrongly because of my blog, then they're not truly my friends; and I think that's why I don't tell people because I don't have a lot of "true friends." The people who do know I trust completely. So I am content with my secrecy. Some of you also said that having your friends read your blog could change your content too, and that is true. The carefreeness and bliss I do enjoy from blogging is because it's secret! And I love it, and I love you all! :)
Onto today's outfit...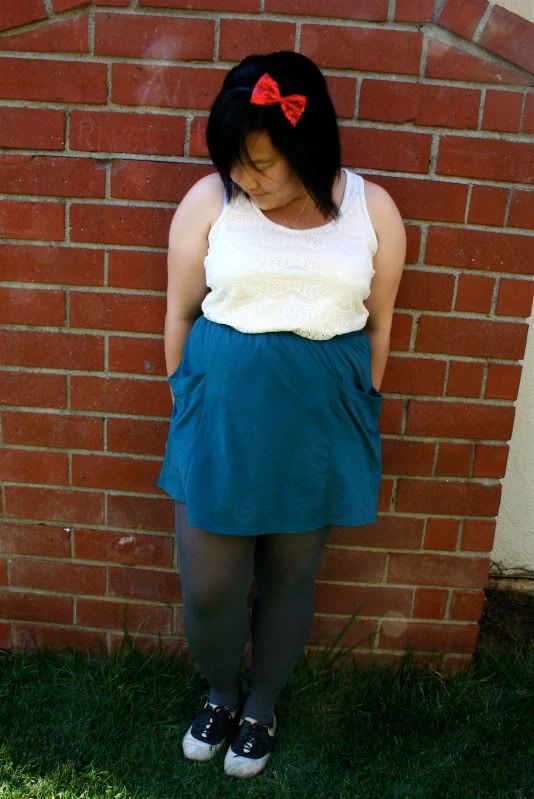 (wearing: red sequined bow--kaitlyn; white lace tank top--forever 21; teal skirt and saddle oxfords--urban outfitters; gray tights--walmart)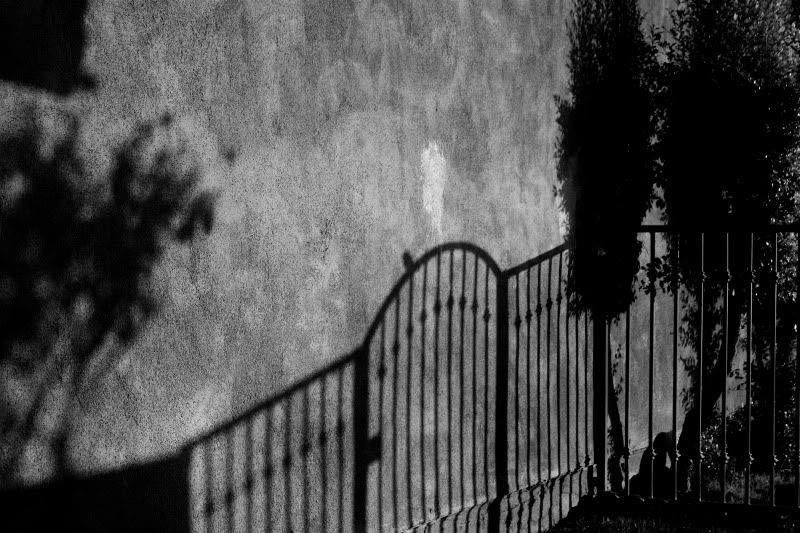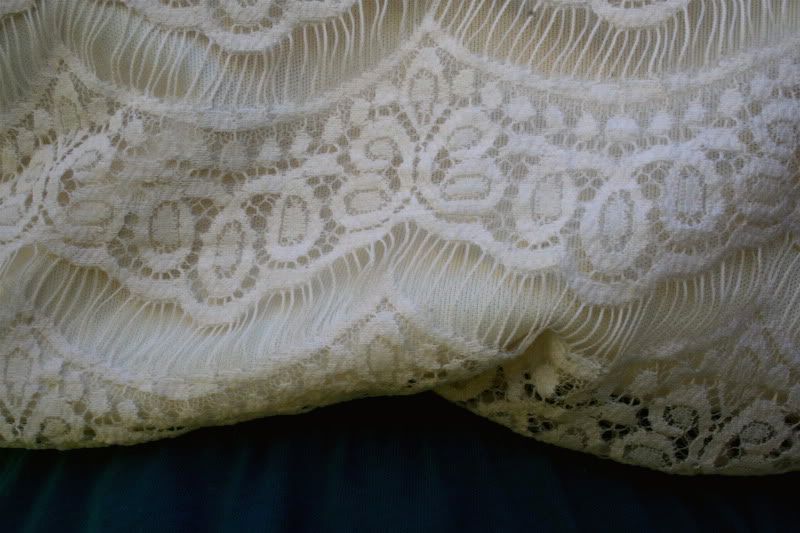 I've been wanting to take photos with my brick chimney for a while, but since I don't own a tripod I couldn't. The weather has been hot recently so the sun was glaring in my usual photo spot, so I dragged a trash can and a notebook and set up a makeshift tripod. I really should invest in one, especially since I'm going into photography, but I find them so cumbersome. I actually borrowed one for Saturday's wedding, but ended up not using it at all. But it'd be useful for outfit shots...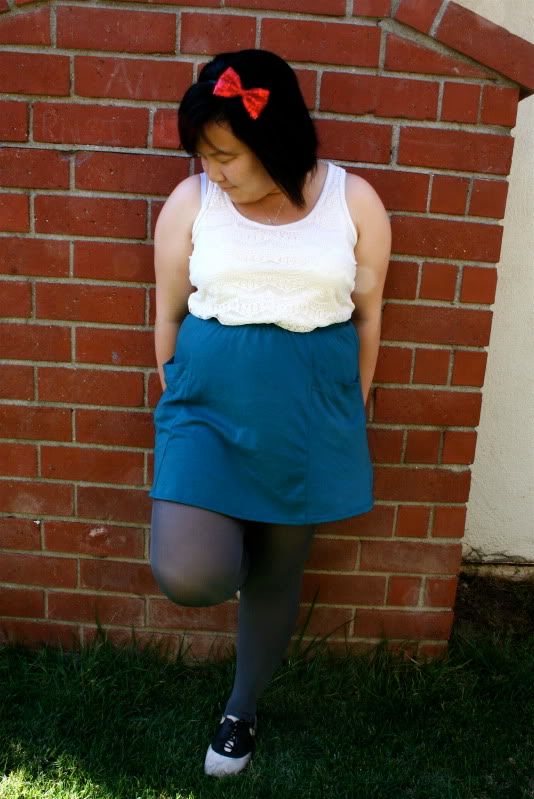 Somewhere in between realizing I pressed "off" on my alarm instead of "snooze" and running out the door, I always manage to make time to read a few blogs in the morning, usually while my flat iron is heating up or while I'm brushing my teeth. So it's sort of inevitable I ended up wearing my white-lace top today after seeing Jen's
post
and Diya's
post
.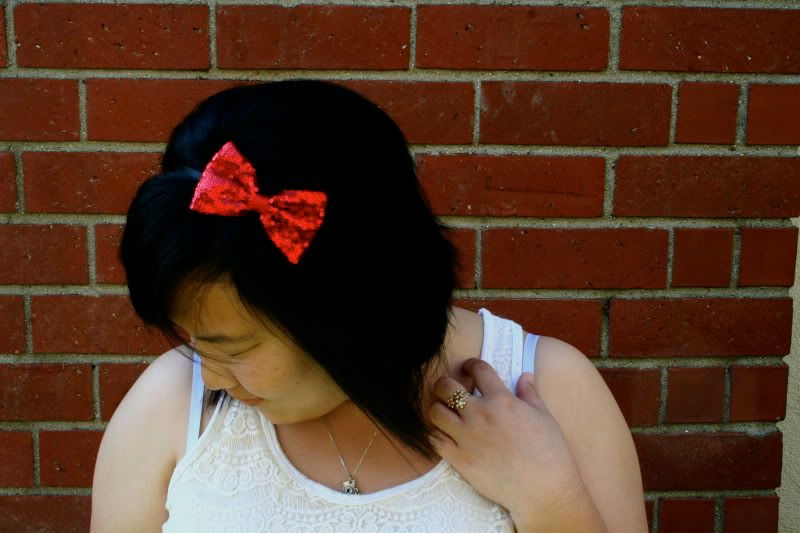 Today is the last day of the quarter, and next week is finals week. I'm lucky that I only have two finals (Tuesday and Wednesday), because usually I overload myself and have four finals! Today was also supposed to be my last day at my internship, but I couldn't leave the kids just yet so I signed on for another quarter! Yay! I'm sort of relieved I've found a back-up plan if photography never works out...Having a day-care center would be so fulfilling and fun! The kids all loved my bow today!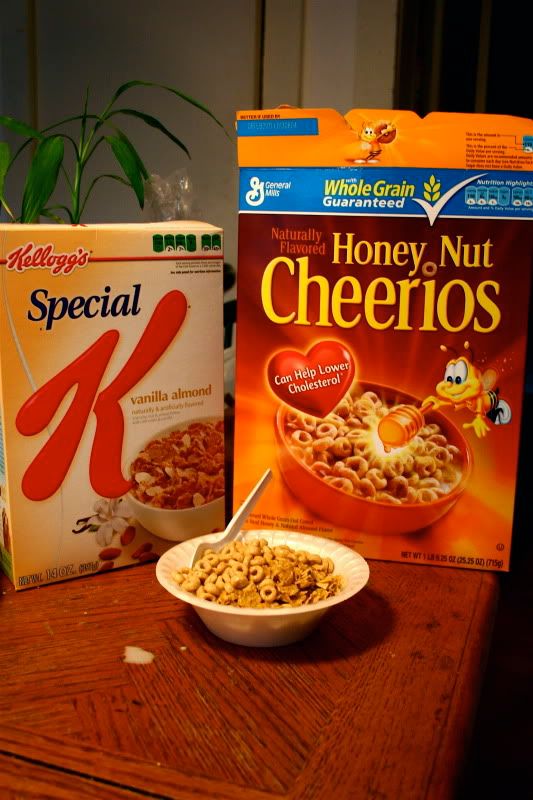 I also wanted to share with you my recent obsession...Special K's Vanilla Almond + Honey Nut Cheerios!
So
amazing together! I never really eat breakfast, but lately I have been. I've also been eating this for snack and sometimes dinner...! In fact I think I'll go get some after this post... :) As you can see, I barely put any milk in my cereal; how do you eat yours?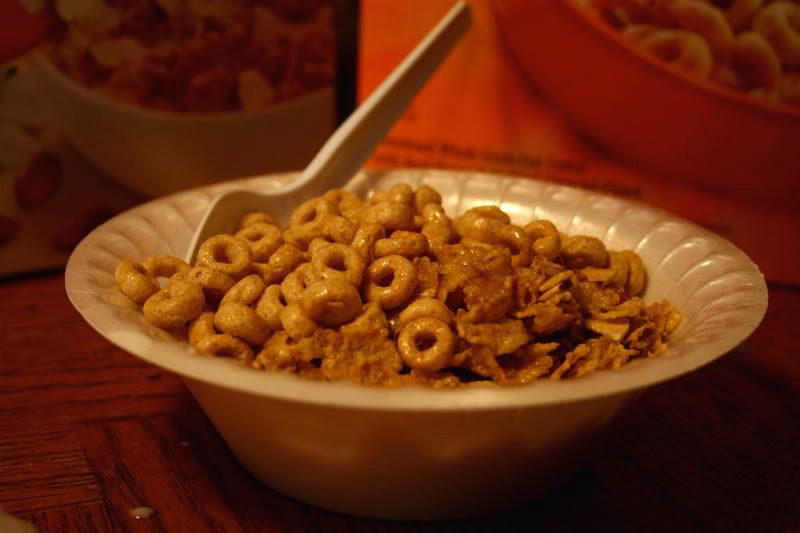 I'm simultaneously uploading photos for the newly wed couple to see! I'll do a post with some photos soon, most likely after finals! These next few days are going to suck...but after, I'll be on spring break! Yay!
Until next post,
Jasmine
PS. Did you catch
Lady Gaga's newest video
?! I forced it into my morning routine this morning. Amazing as always! Her cigarette sunglasses were so awesome! I hated how much product placement there was in the video (ie. virgin mobile, polaroid, diet coke, etc.). My friends' degrading comments on her videos via facebook definitely reaffirmed my want to keep this blog secret. They just don't understand how amazing the fashion is in that video and all her other videos. Only you would know she wore McQueen in the last video!