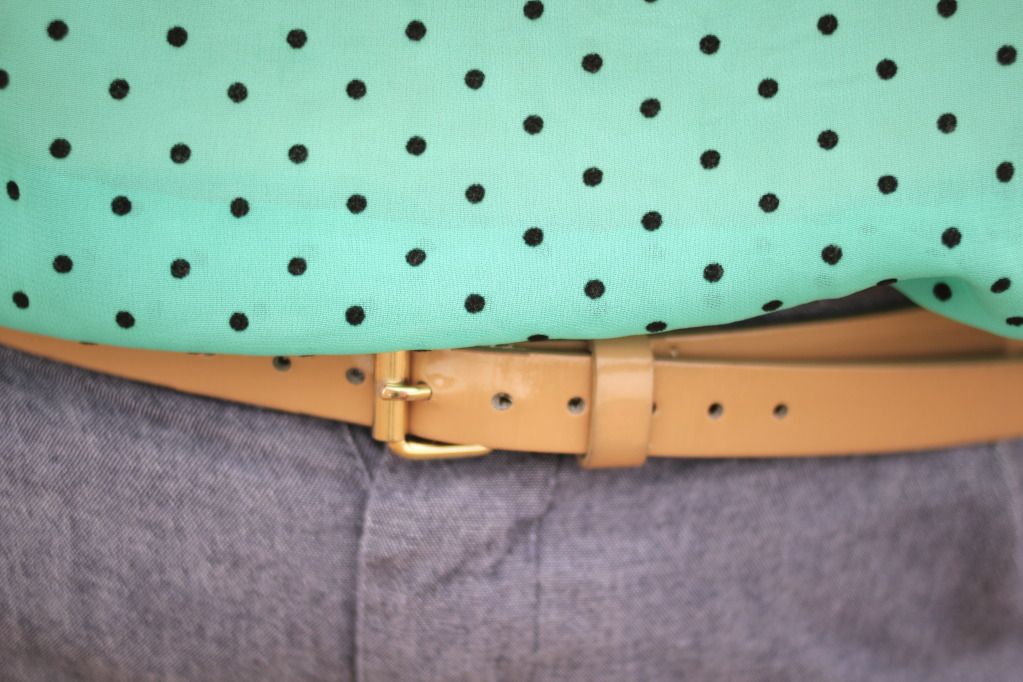 On Thursday I was inspired to get out of my neutrals and wear this mint top again after reading
Maggie's post
on what she wore on the Fourth of July. And I had a presentation for one of my classes that day too, so I wanted to look a little more put together than normal. I've been on a major blouse-kick lately too. This top is one of my favorites in my closet, and yet, I don't wear it nearly as much as I should. Green has been my favorite color since I was in Kindergarten, so I'm glad the whole mint-trend has finally caught on. I remember that I was always the weird girl who didn't like pink or purple (actually I really dislike the color purple). Back in high school, I made it a point to wear green almost everyday. Even though it was rather difficult to find, my winter formal dress was green too. I would never go back to that, but with pretty mint blouses like these, I could wear almost everyday. I actually really love this outfit and will definitely wear it again.
I took these photos by myself before class, and it felt so good to get away from the books and channel a bit of creativity. I think I've gotten the hang of taking my blog pictures on my own. All of last week, Robert was out of town and it gave me a taste of what it's going to be like when he really leaves for school in Hawaii. As sad as I get sometimes at the though of him leaving and the more I progress in my grad program, the more I realize that it was the right decision to make. I'm just so busy already. I also feel with every passing day that I spend in grad school, learning about what I love, I'm developing a new identity. I don't think I've ever been so active in class before. It feels good. As much as I complain about being busy and having to read so many articles, I'm truly happy that I'm in this program. I can't imagine myself doing anything else. What I love most is that all of this is my own. I'm doing this for
me
, and I'm focused. I realized that while I wasn't happy that Robert was gone, I was happy being alone. I needed to realize this--that I am more than capable of being alone--before he leaves in a few weeks; but I never expected to actually find myself enjoying it.
Until next post,
Jasmine
top - francesca's collections