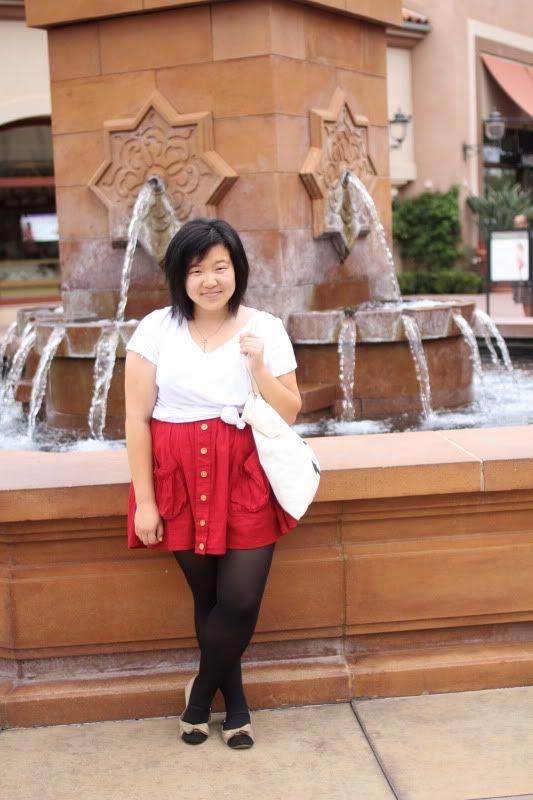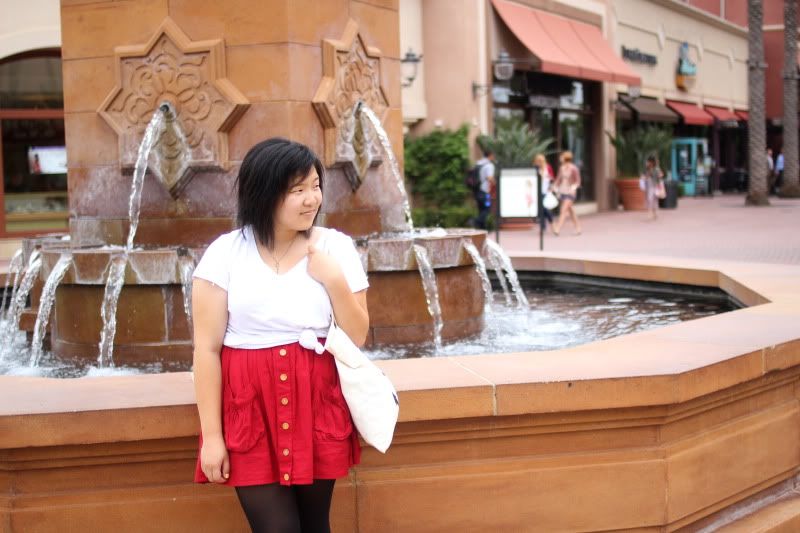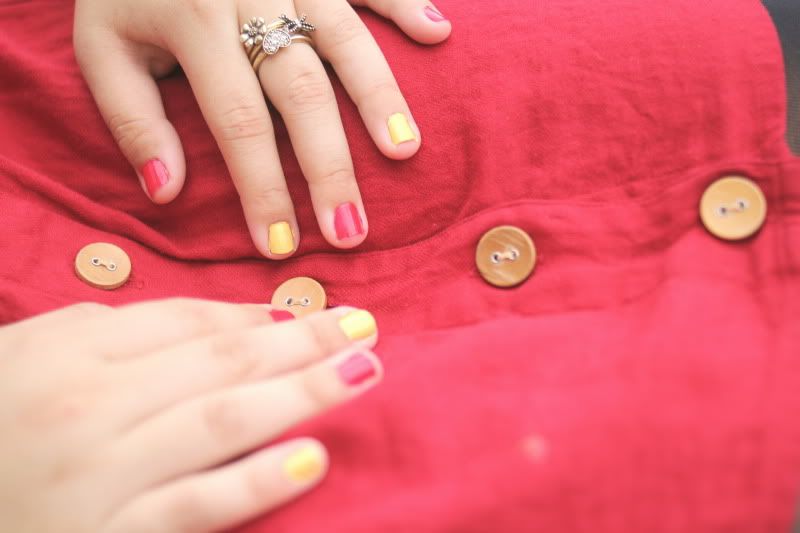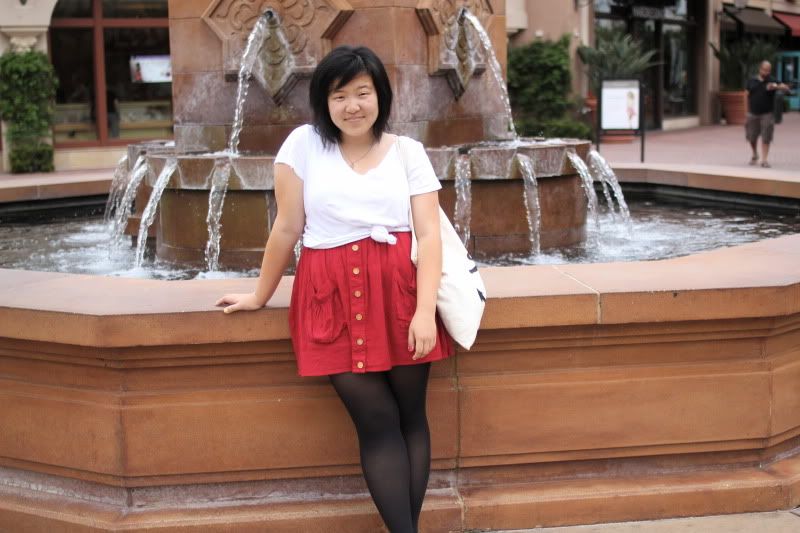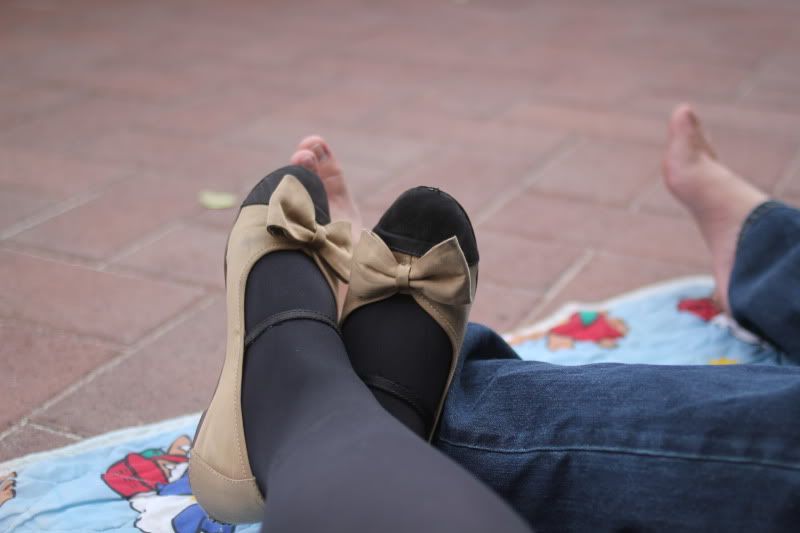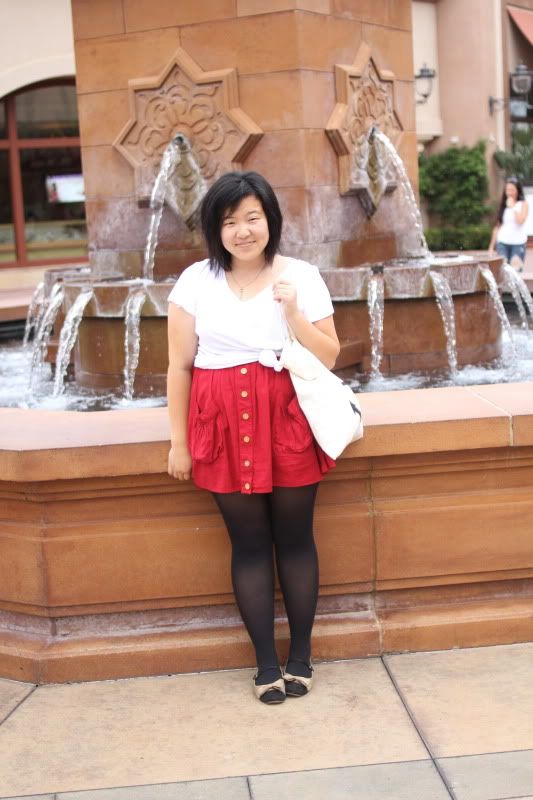 top - gap / skirt - uo / tights - gap / shoes - marais usa

Greetings Muggles!
This is what I wore to watch the midnight showing of Harry Potter last Thursday. I intended to buy a Deathly Hallows t-shirt from Hot Topic and tie it the same way before getting into line, but I should've known better to wait until the last minute since they were sold out of the good ones so I settled with a Quidditch key chain instead. At least my nails were festive. Robert teased me for having ketchup and mustard nails, but I didn't care and later felt better when the girls next to us in line saw my nails and decided to paint their own nails scarlet and gold too.
It was raining earlier that morning which explains the tights, but strangely it became really hot later that afternoon. It was pretty uncomfortable sitting in the sun with tights on; but once the sun set and it became chilly, I was glad I decided to wear them. This was my first midnight premiere ever so Robert and I were a little ill-prepared. Luckily, this mall has all my favorite stores: UO, F21, H&M, Target, and Barnes and Nobles; so we made our way to Target for snacks and patio chairs, and Barnes and Nobles for drinks, games, and books. Monopoly Deal is such a good game that I recently learned. With these, Harry Potter audio books on my iPod, and Harry Potter movies on Robert's Macbook, we were set. We started lining up after lunch and ended up getting a really good seat in the theater. The movie was so good. So so so good. I'm so sad that there are no more movies to look forward to, but I'll never truly say goodbye to Harry Potter. Rereading the series and having a HP movie marathon is always an annual tradition that I foresee continuing forever. I can't wait to get the trunk set of DVDs. I have been holding off buying any of the movies so I can get them all as a set. Robert already knows that this is what I want for my birthday, Christmas, or our next anniversary depending on when it comes out.
Until next post,
Jasmine