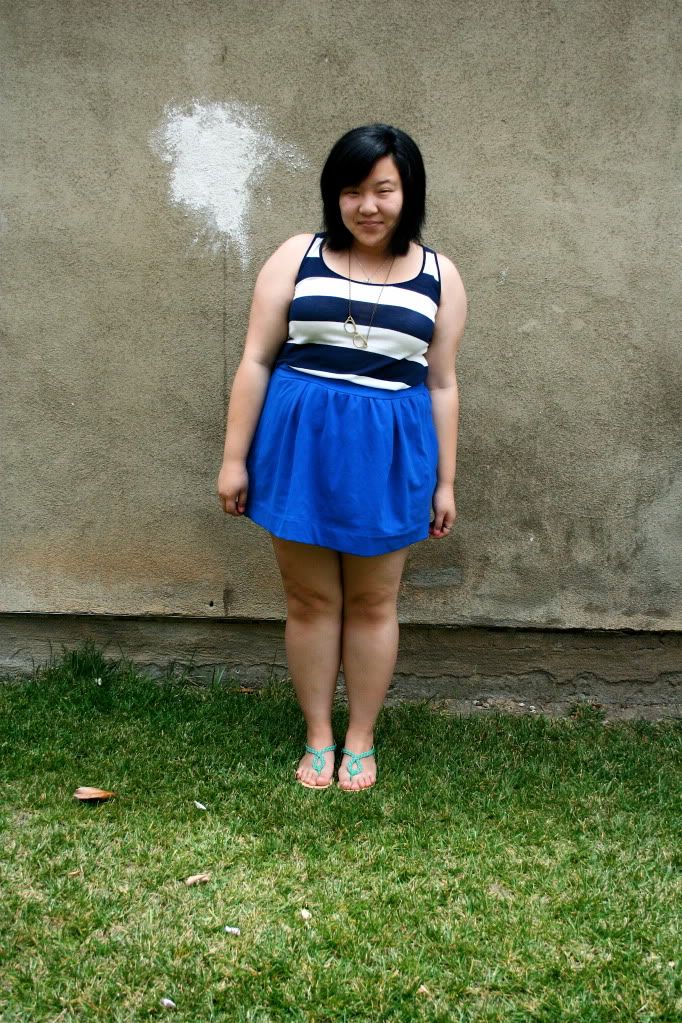 Hello!
Can someone explain why it's June in Southern California and I'm still considering wearing tights in the morning? I'm supposed to be melting even in this outfit by now, but it's currently 65 degrees. I'm so confused.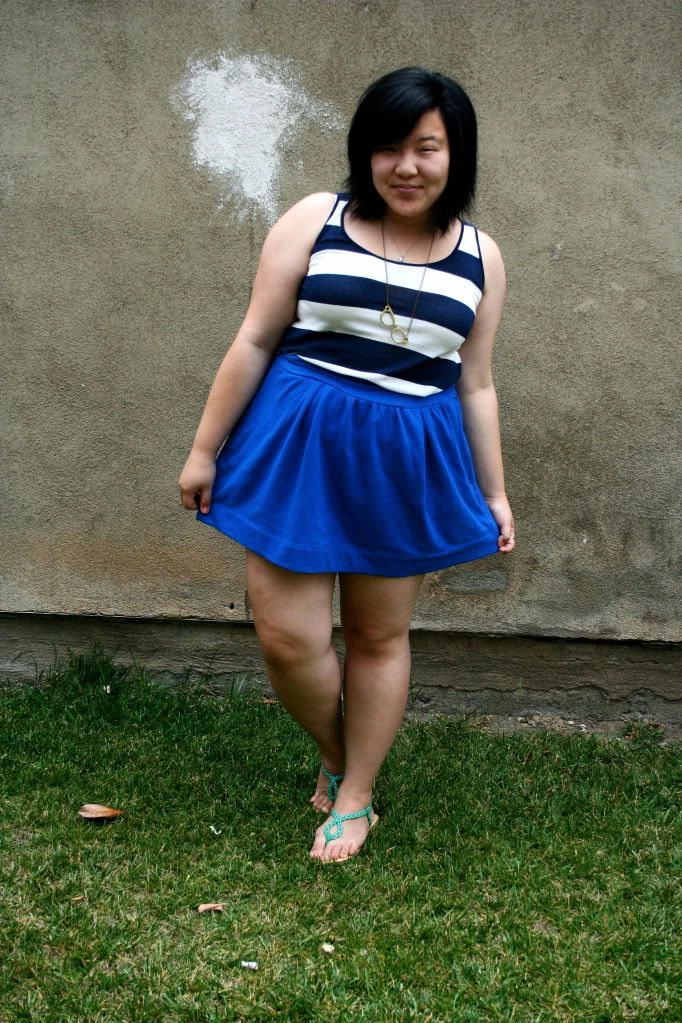 I hope you all had a wonderful long weekend! I know I did. On Friday, I was reunited with my bestie and we caught up while shopping. I bought this top from F21. It's my first wide-striped top, but I think I'm going to return it since I found a better one at UO for about the same price. I showed her my blog too and she loves it (Hi Kristine if you're reading this!)! I spent Sunday afternoon at Robert's place gnawing on a cheese pizza, sipping on Arizona Green Tea, and cuddling with him on the couch while watching "UP!" aka my favorite movie. No matter how many times I watch that movie, I still crack up at all the cute and funny parts and still get on the verge of tears when Ellie dies (I cried the first time I saw it). I definitely want to do a photoshoot of some sort inspired by the movie. A couple has even based their
engagement photos
on this movie.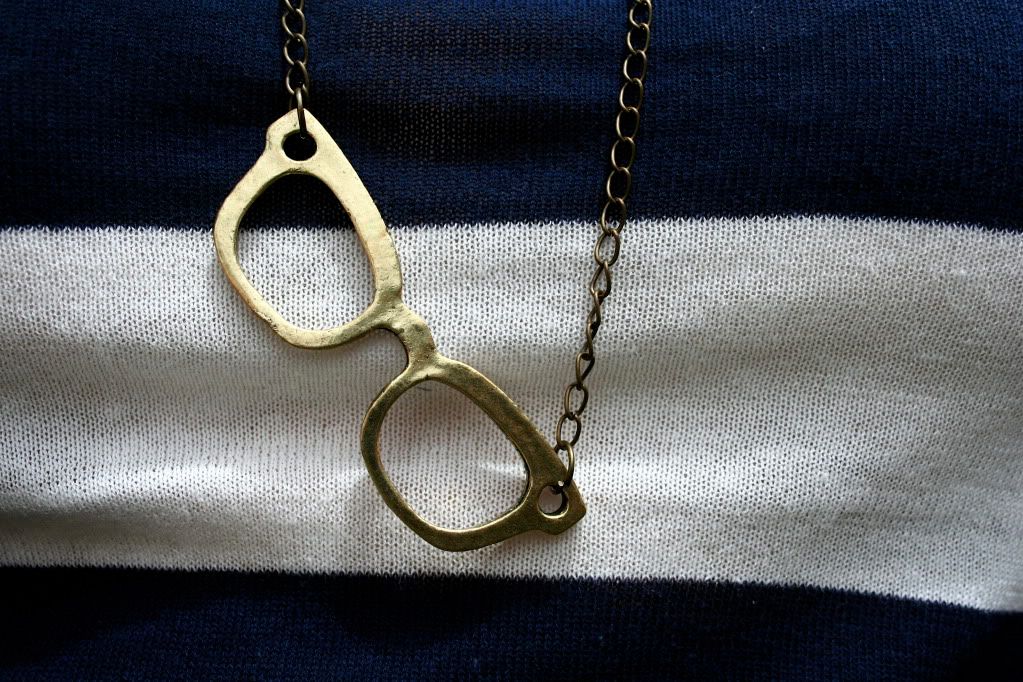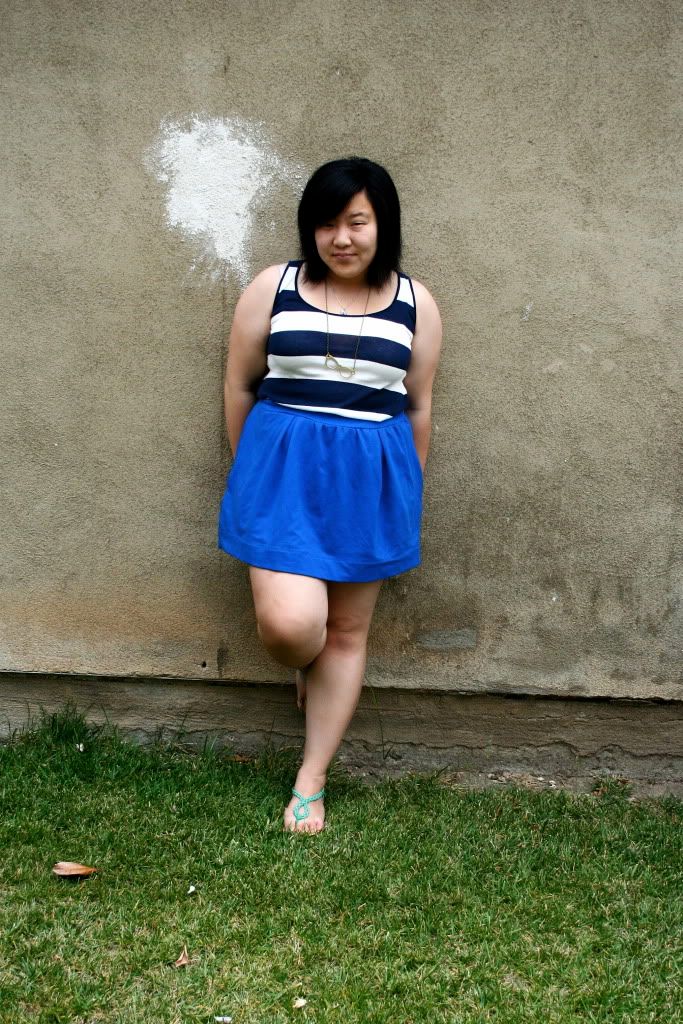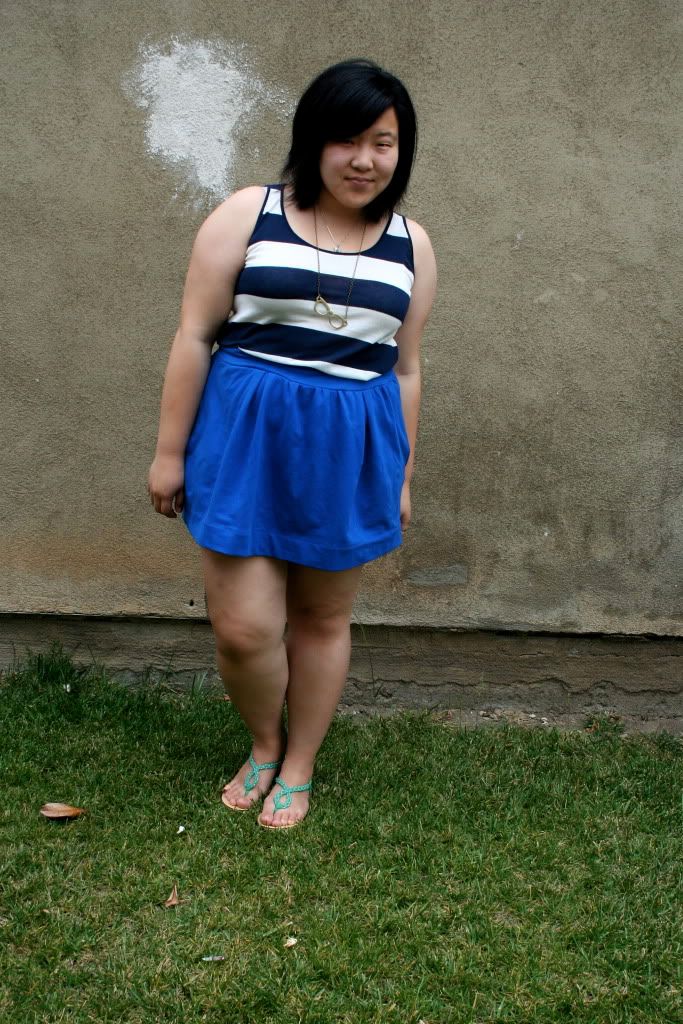 Yesterday, Robert and I did a bit of shopping. I scored these sandals at UO for $10 and a dress at F21 for $8, but I don't think I'll debut that until...my birthday or whenever Robert and I go on a date. It finally feels like summer is about to start because I found a cute pair of sandals for the season. Excuse the band-aid, I stubbed my toe on Robert's foot. I'm so clumsy! I know I'm so late in getting this necklace but when it was in the box of goodies
Aimi
sent over, I got so excited because I remember how I used to want one.
The long weekend really couldn't have come at a better time. I'm feeling so refreshed and I think I'm ready to tackle the next 9 days of intense studying. Good luck to those who have finals!
Until next post,
Jasmine
outfit:

striped top--f21; royal blue skirt, sandals--uo; glasses necklace--courtesy of aimi boutique
- - - - - - - - - - - - - - - - - - - - - - - - - - - - - - - - - - - - - - - - - - - - - - - - - - - - - - - - - - - - - - - - - - - -

To accompany this post,
Jess
has tagged me in a little questionnaire...
1. What shoe size are you?
7/8 depending on the shoe; I think my feet are growing actually...Kind of frustrating because I can never order shoes online anymore (which is good for my wallet).
2. Where do you work?
Concession stand at a movie theater--not the most glamarous or fashion-related (our uniforms are hideous!) job, but it pays for my shopping addiction and Robert and I get free movies.
3. Favorite piece of clothing you own.
This is tough...I can't choose so I'm just going to give you a top five: a) my white and black striped top from H&M that I wear pretty much every week (seen in last post); b) my royal blue UO skirt because it goes with every shirt I have; c) my anchor printed t-shirt from UO; d) my clock-locket necklace from AE; and e) the items that I'm about to get in the mail...!
4. Your favorite blog?
Again, this is tough; so besides the obvious ones (ie.
Calivintage
;
The Clothes Horse
), I'll give you a top five:
Selective Potential
,
Jennifhsieh
,
A Thought is the Blossom
,
Hedvig
, and last but not least,
Idée Géniale
. More favorites are listed on the left.
5. Do you have any pets?
Nope, but in the future, Robert and I are going to own three dogs to make up for the lack of pets in my childhood: one welsh corgi that I will name Stumpy, one bulldog that I'll name Bowser, and one newfoundland that I will name Snorlax. If there's a pet store at the mall, we'll always stop by and I always walk out with a new dog to add to the list.
6. How many siblings do you have?
One younger brother.
7. If you could live anywhere, where would it be?
In a beach house in Newport Beach, CA. I love the beach and cannot imagine not being near one.
8. What were you doing before this?
Taking outfit photos for you!
9. Your favorite food?
Again, I cannot choose...So, I'll just give you a top five: a) chocolate covered pretzels; b) cookies n' cream ice cream; c) french fries; d) Korean BBQ; and e) seafood.
10. Do you have a middle name?
Yes, Tien-Roe, which is my Chinese name.
11. Your favorite websites?
Blogs, Chictopia, Tumblr, Youtube, and Urban Outfitters
12. Who do you tag?
Kristy from
Monochromachic
and Bestie from
The Capricious Club